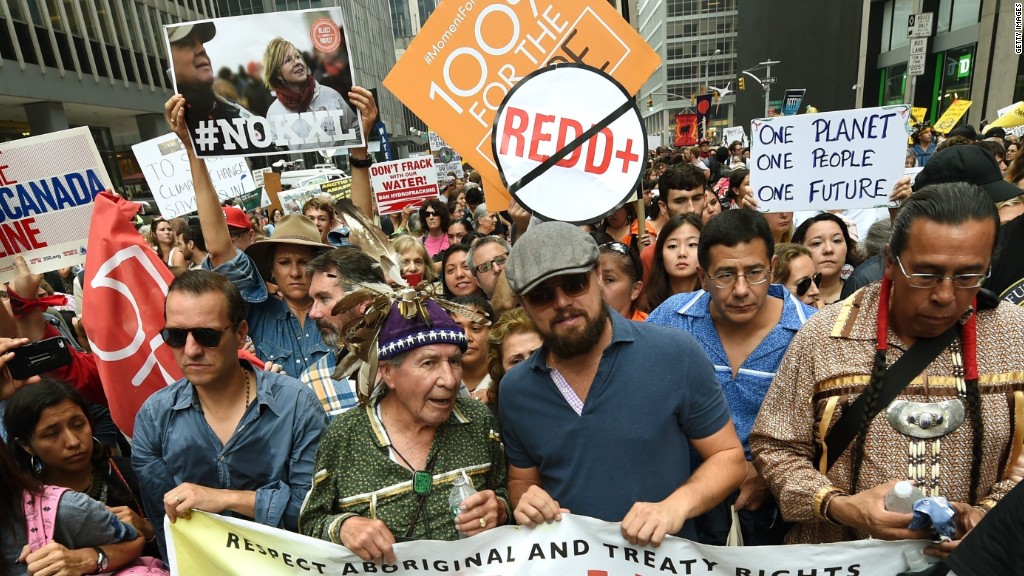 Hundreds of environmentalists marched in New York's financial district on Monday to protest the relationship between global warming and Big Business.
The protesters blocked traffic as they staged a sit-in and shouted slogans on climate change. But they couldn't march on the actual Wall Street after running into barricades and had to abandon plans to "shut down" the New York Stock Exchange.
At the event, dubbed #FloodWallStreet, the marchers surrounded the iconic bull statue in lower Manhattan and chanted slogans demanding "climate justice" and carried signs saying "Corporate capitalism = climate chaos."
Their beef: the fossil fuels industry and other companies are profiting at the expense of the environment. The activists said they were willing to be arrested to drive home the link between global capitalism and worsening climate change. However, there weren't reports of any arrests by early afternoon.
Related: Scenes from #FloodWallStreet: "Corporate capitalism = Climate chaos"
"The climate crisis is fundamentally an issue of the economy," one activist told CNN. "Flood Wall Street is an attempt to bring the problem to the doorstep of the people who are fundamentally responsible for the crisis we find ourselves in now."
Organizers estimated that 2,500 people took part in the demonstration. They planned to remain in place until forced to leave.
Protesters unfurled a 300-foot banner that read "Flood Wall Street," and inflated two 15-foot "carbon bubbles." The atmosphere was boisterous, with protesters wearing costumes and dancing to the beat of a marching band.
The New York Police Department was out in full force, with some cops on horses.
Monday's demonstration comes one day after tens of thousands of people took part in the People's Climate March in New York City, which organizers said was the largest demonstration of its kind ever.
Related: Hey Occupy Wall Street, abolish my debt too!
In addition to environmentalists, the marchers on Sunday included labor activists and clergy, as well as celebrities and politicians.
U.N. Secretary General Ban Ki-moon walked with former U.S. Vice President Al Gore along the two-and-a-half mile route. Celebrity protesters included comedian Chris Rock, as well as actors Leonard DiCaprio and Mark Ruffalo.
Rallies were also held in London, Paris, Berlin, Tokyo and Bogota, Colombia.
Protesters are calling on world leaders to take more aggressive action to curb the emissions of greenhouse gasses.
Global leaders will gather Tuesday in New York for a United Nations summit on climate change. The UN is not expected to take any major steps, but officials are hoping to create momentum for a bigger commitment next year.
-- CNN's Alison Kosik contributed to this report.