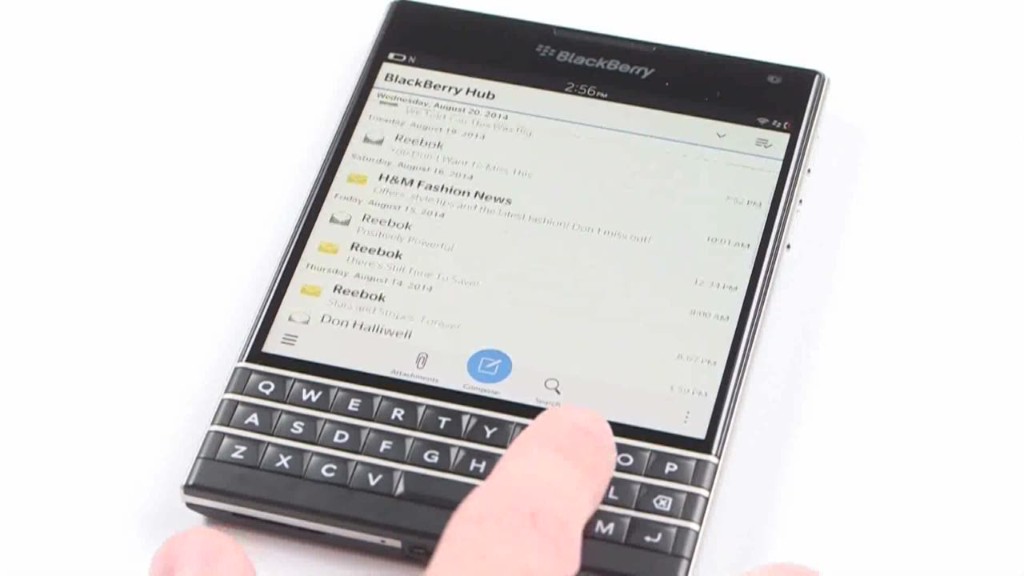 BlackBerry's sales plunged more than 40% in its most recent quarter and were below forecasts. The company reported another loss too.
But investors ignored the bad news in favor of some more hopeful signs.
Shares of BlackBerry (BBRY) gained nearly 5% Friday following a volatile morning of premarket action. The stock, which was pummeled Thursday along with the rest of the tech sector, surged shortly after the company's results were released before the opening bell but then gave up all of those gains.
Still, there was some good news. The Canadian smartphone maker said its cash level rose slightly from its last quarter to $3.1 billion.
That's very encouraging considering that many investors have been worried about whether or not the company would run out of money at some point in the next few years.
And even though BlackBerry reported red ink again, the loss was smaller than what Wall Street analysts expected. The company also said that it shipped 2.4 million phones in the quarter. That was also a pleasant surprise to analysts.
The financial results cap a busy week for the company. BlackBerry just released the new square-shaped Passport phone on Wednesday.
The Passport is being viewed by some as BlackBerry's last chance to remain relevant in the mobile device market.
During a conference call with analysts, BlackBerry CEO John Chen said the Passport will be profitable for the company at its price of $599. He added that demand for the Passport was strong on BlackBerry's site and on Amazon (AMZN).
Related: A BlackBerry ... designed by Porsche
The company has lost millions of subscribers during the past few years as It struggled to keep up with Apple (AAPL) and companies such as Samsung (SSNLF) and LG that sell phones and tablets running on Google's (GOOGL) Android. Microsoft (MSFT)has also emerged as a tougher competitor.
BlackBerry's core market of corporate customers and governments has been aggressively targeted by Apple, which announced a partnership with IBM (IBM) earlier this year. Big Blue will sell customized iPhones and iPads to businesses.
But under Chen, BlackBerry has taken steps to focus more on software. It has ambitious plans to be a big player in the connected devices market, the so-called Internet of Things.
The company's QNX software is already used by several automotive makers to power mapping, entertainment and communication technology in cars.
Investors have applauded Chen's turnaround efforts. The stock has surged nearly 40% this year. Chen took over at BlackBerry in November 2013.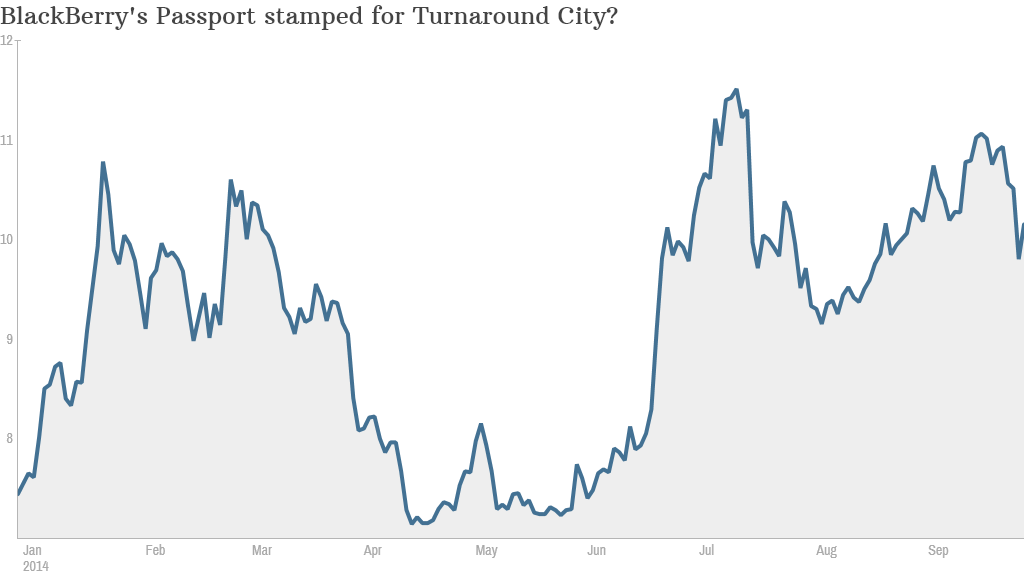 BlackBerry also got a boost after Facebook (FB) bought messaging service WhatsApp this year for nearly $20 billion.
The purchase reminded many investors and consumers that Blackberry's own BBM messaging platform could be a valuable asset. The company said Friday that it had 91 million monthly active BBM users at the end of the quarter, up from 85 million in the prior quarter.
BlackBerry has even conceded that many of its customers are no longer addicted to a device that they used to refer to fondly as their CrackBerry.
Related: BlackBerry says it's not just about phones anymore
The company recently bought a startup that allows people to set up separate billing for personal and business uses on their smartphone -- and it works for Android and Apple's iOS as well as BlackBerry.
Still, BlackBerry isn't completely giving up on the hardware market. It continues to tout its stellar reputation for security.
After several celebrities had nude photos published online because their Apple iCloud accounts were hacked, several BlackBerry fans gleefully pointed out on Twitter that Jennifer Lawrence and others would not have had this problem if they had BlackBerries instead of iPhones.
But BlackBerry still faces an uphill battle.
Chen said that the company is still in the first half of a recovery effort that could take up to eight quarters. He added that sales may be close to bottoming.
And while Chen did reiterate that he expects the company to break even on a cash flow basis by the end of its current fiscal year, that's not the same thing as a real profit. Analysts still expect the company to report net losses this year and in fiscal 2016.