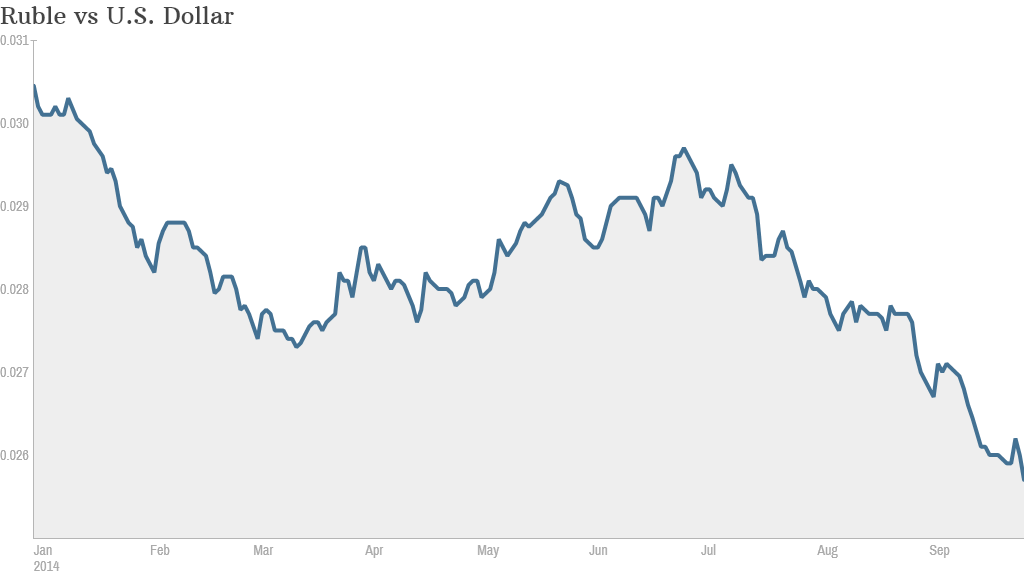 If you want a measure of the price Russia is paying for the Ukraine crisis, look no further than its free-falling currency.
The ruble fell another 1.6% against the U.S. dollar Friday, extending a slump that has wiped nearly 16% off its value since the start of the year.
Many emerging market currencies have tumbled this month as investors brace for higher interest rates in the U.S., which make the dollar more attractive.
But the ruble has been one of the worst performers. A ceasefire agreement between Ukraine and Russia-backed rebels signed last month appears to be holding, so why is the currency back on the skids?
Freezing assets: The Russian parliament is reportedly discussing a draft law that would allow courts to confiscate assets of foreign investors. That is only likely to accelerate the exodus of capital that saw $75 billion flee Russia in the first six months of the year -- more than in the whole of 2013.
And in a stark reminder of the risks of doing business in Russia, the state has turned on one of its own. State prosecutors on Friday seized an oil company belonging to one of the country's leading oligarchs, Vladimir Evtushenkov.
He was placed under house arrest last week and charged with money laundering when his holding company -- Sistema -- bought the Bashneft oil firm in 2009.
Sistema shares plunged 23% in London. Sistema, which has denied any wrongdoing, said it was "clarifying the situation."
The case has echos of the Yukos affair a decade ago, when Mikhail Khodorkovsky was thrown in jail and forced to sell most of his oil company to state energy giant Rosneft.
Related: 10 Western companies getting slammed in Russia
Lasting damage: Russia's oil-dependent economy was already slowing down before Moscow's annexation of Crimea, and its support for separatist rebels in eastern Ukraine prompted the West to impose successive rounds of ever tougher sanctions.
The measures are aimed at restricting Russia's access to Western finance, advanced energy technology and services, and arms. Russia's biggest banks, energy companies and a handful of businessmen close to President Vladimir Putin have been targeted.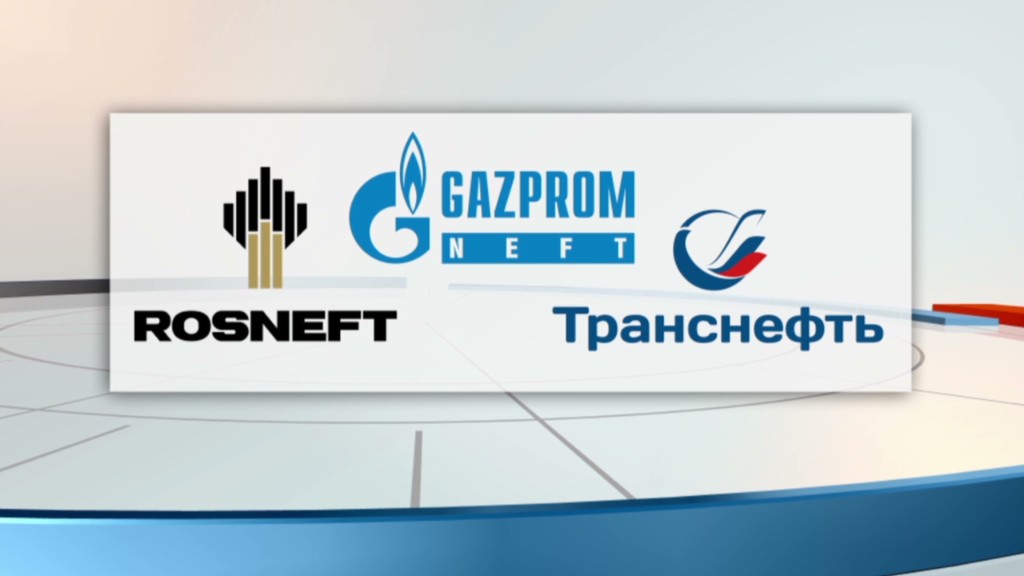 The chill in relations with key trading partners is damaging investment, and consumers are hurting from rising prices after Russia banned the import of many Western foodstuffs.
Russia's $2 trillion-a-year economy stalled in the first six months, and a new forecast from the World Bank predicts lasting damage for several years to come.
In a report published this week, it forecast growth of just 0.5% in 2014 and 0.3% in 2015. And the picture barely improves in 2016, according to its baseline forecast. A more pessimistic scenario foresees the Russian economy slipping into recession this year and contracting further in 2015 and 2016.