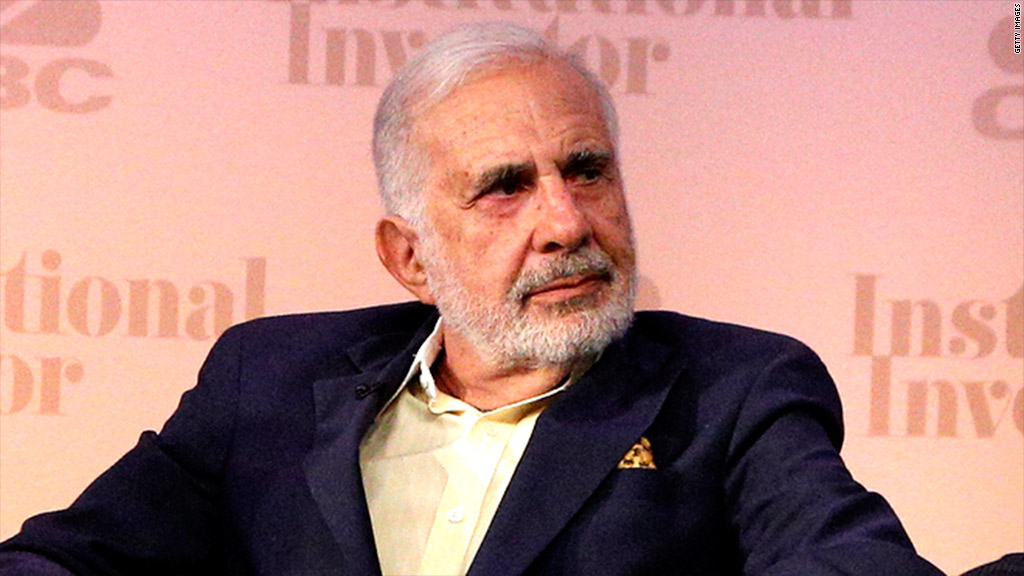 Love him or hate him, Carl Icahn's streak just got hotter.
The legendary investor is making out like a bandit from eBay's decision Tuesday to spinoff PayPal, a move that he's been openly campaigning for since earlier this year.
Exactly how much he'll profit is hard to say, but Icahn owned over 30 million shares of eBay (EBAY) at the end of June, according to a recent SEC filing. The stock rose about $3.90 a share today alone. That's a gain of almost $120 million in just a few hours.
But the eBay victory is just the latest in a series of recent wins for Icahn, who uses savvy investing, Twitter prowess and public shaming of corporate management to get results. It's the reason regular investors keep an eye on his bets and consider getting in too.
Icahn on fire: The veteran activist started acquiring a multi-billion stake in Apple (AAPL) in the summer of 2013, an investment that's paid off handsomely amidst the stock's record run.
"Believed $AAPL to be one of my 'no-brainers'. Anyone that invested at that time would be up 53% (including dividends)," Icahn tweeted on August 19th.
He didn't get all he wanted from Apple though. He demanded the company return more cash to shareholders with a $150 billion buyback, but he dropped that plan in February after a major shareholder advisory firm said they wouldn't support the measure.
Related: EU slams Apple's Irish tax deal
The billionaire cashed in quickly this summer when it was announced that Dollar Tree (DLTR) plans to buy Family Dollar (FDO) for $8.5 billion. Icahn had disclosed a 9.4% stake in Family Dollar on June 6th, and shares of the discount retailer spiked over 25% by the close of trading on July 28th, the day the acquisition agreement was announced. Icahn had been urging Family Dollar to put itself up for sale.
Another grand slam for Icahn this year was Forest Laboratories. He owned 11% of the pharmaceutical company when its sale to Actavis (ACT) was revealed and said on his website that investors who bought at the same time as him in 2009 would have realized a 209% return.
Other high profile success stories for Icahn in recent years have been investments in Netflix (NFLX), Chesapeake Energy, (CHK) and Herbalife (HLF).
Activist flavor: Of course, the 78-year-old has been shaking things up at public companies for some time. He was criticized as a"corporate raider" back in the 1980s after he instituted a hostile takeover of airline TWA and started selling off its assets and loading it up on debt while he made a big personal gain. The company ultimately filed for bankruptcy.
These days Icahn is more focused what he says is the creation of shareholder value. He regularly derides CEOs for spending too much time of the golf course and corporate board members for taking the company jet to the Super Bowl.
Related: Icahn, Mickelson insider trading hard to prove
His activist style is now a popular strategy for other hedge fund big whigs including Bill Ackman, Daniel Loeb, and Nelson Peltz, though Icahn more than any of them is known to successfully use the media as a pulpit to express his latest investment ideas.
That approach has put him at odds with some investors, who feel companies don't have the resources to effectively push back against Icahn's accusations. It's especially dangerous since something as simple as a tweet from Icahn has the ability to dramatically move a stock.
Still, Icahn believes he's fighting a noble cause and insists he often works constructively alongside corporate leaders to bring about change in their organizations. Irwin Simon of the Hain Celestial Group (HAIN) has said he had a good relationship with the billionaire when Icahn was an investor. The stock soared over that period.
Related: 5 bold ideas from hedge fund titans
The relationship between Icahn and management isn't usually that rosy, and Icahn isn't one to tread lightly.
On his website, there's a quote from Icahn at Texaco's annual meeting in January 1988.
"A lot of people died fighting tyranny. The least I can do is vote against it," it reads.