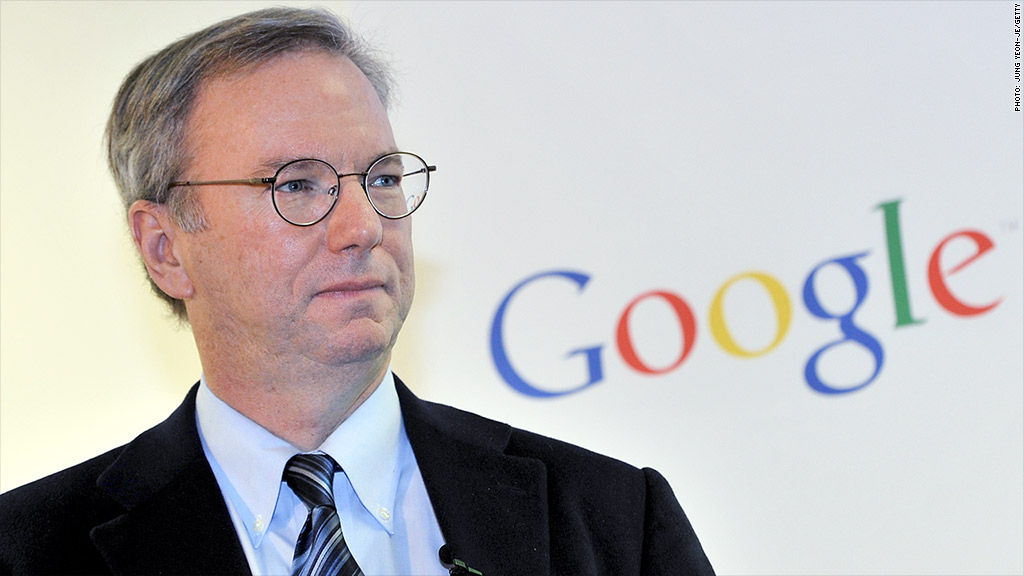 Apple got it wrong -- Google is the safest place on the Web, the search giant's chairman says.
"We have always been the leader in security and encryption," Eric Schmidt told CNNMoney. "Our systems are far more secure and encrypted than anyone else, including Apple. They're catching up, which is great."
Late last month, Apple (AAPL) CEO Tim Cook took jabs at Google (GOOGL). He said that when online services like Google are offered for free, the user is really the product -- not the customer.
"But at Apple, we believe a great customer experience shouldn't come at the expense of your privacy," Cook said on Apple's newly updated privacy website.
Related: Tim Cook didn't address Apple's real privacy problem
Schmidt fired back against Cook, saying Google works extremely hard to protect its users' information from other companies, the government, and hackers. He also noted customers have the option to change their settings and share less.
"Someone didn't brief him correctly on Google's policies," Schmidt said. "It's unfortunate for him."
Google recently unveiled a system that allows Gmail users to fully encrypt their emails, and the company said Android phones -- like iPhones -- will be encrypted by default when the next version of the operating system comes out this fall. That makes it difficult -- though not impossible -- for governments and law enforcement to look at the content stored in your email and phones.
Related: Naked celeb hack lesson - 'Delete' doesn't mean delete
In a year of huge hacking headlines from Home Depot (HD) to Apple's celebrity nude photo leak, Schmidt also pointed out there have been no significant data breaches of Google.
But Google doesn't exactly have a perfect privacy record. Its effort in 2012 to set a single privacy policy for all Google accounts across its multiple services was extremely controversial, with detractors saying Google was trying to make it easier to track its customers' behavior and sell that information to advertisers.
Google also paid a record $22.5 million fine to the FTC for getting around Apple's no-cookie policy on the Safari browser, and Google was caught purposefully snooping on people's Internet sessions while driving by with its Street View cars.
Schmidt and former Google Senior Vice President Jonathan Rosenberg just released their book "How Google Works."