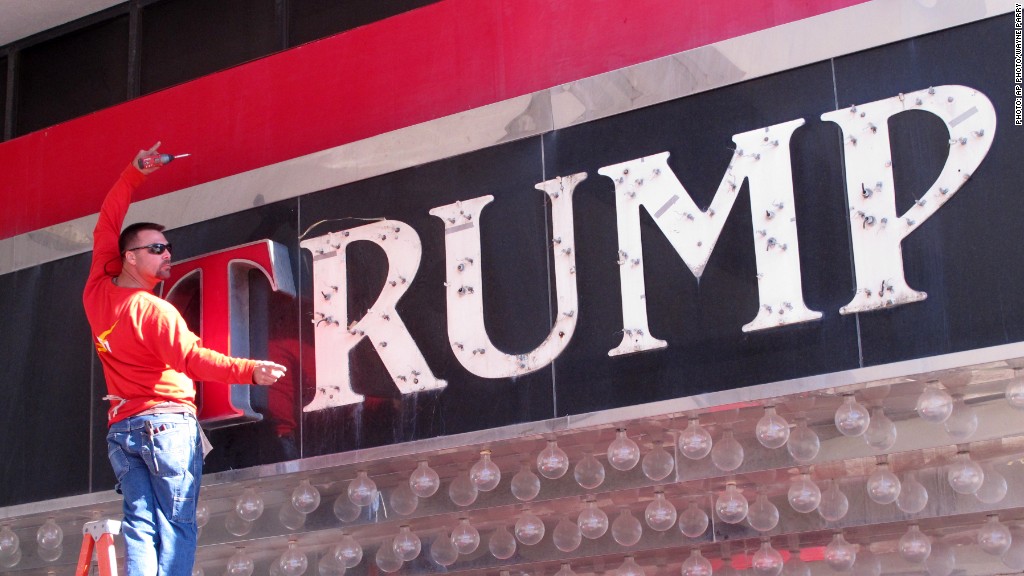 The Donald got his way, and is peeling his name off the façade of the defunct Trump Plaza Casino in Atlantic City, N.J.
"We have a very high standard and they didn't meet it," Donald Trump said, in an interview to CNNMoney. "We essentially won the suit."
It's a success for Trump (the man, not the casino) who sued Trump Entertainment Resorts, the company that runs Trump Plaza Casino. The real estate mogul wanted his name removed from two of the Atlantic City casinos: Trump Plaza and the Trump Taj Mahal.
"The process of removing the letters from the building is beginning today and the project should take a few weeks," said Brian Cahill, spokesman for Trump Entertainment Resorts.
Related: Trump Plaza files for bankruptcy
The Taj Mahal is expected to close down on Nov. 13, or shortly thereafter.
Trump originally built and owned both the casinos, before selling them seven years ago. He has since been licensing his name and image to the company that bought the casinos.
Trump's lawsuit, filed in August, accused the company of neglecting the casinos and allowing them "to fall into an utter state of disrepair." The neglect violated the license agreement, under which the brand's "superior reputation" must be used in a "dignified manner" consistent with the "highest quality."
Related: Revel sold at bankruptcy auction
Trump Plaza went out of business in September, becoming the fourth casino in Atlantic City to shut down this year, putting 8,000 people out of work.
One of the shut-down casinos - Revel - was sold at bankruptcy auction for $110 million on Oct. 1 to Brookfield Asset Management.
"Atlantic City needs a total remake," said Trump.