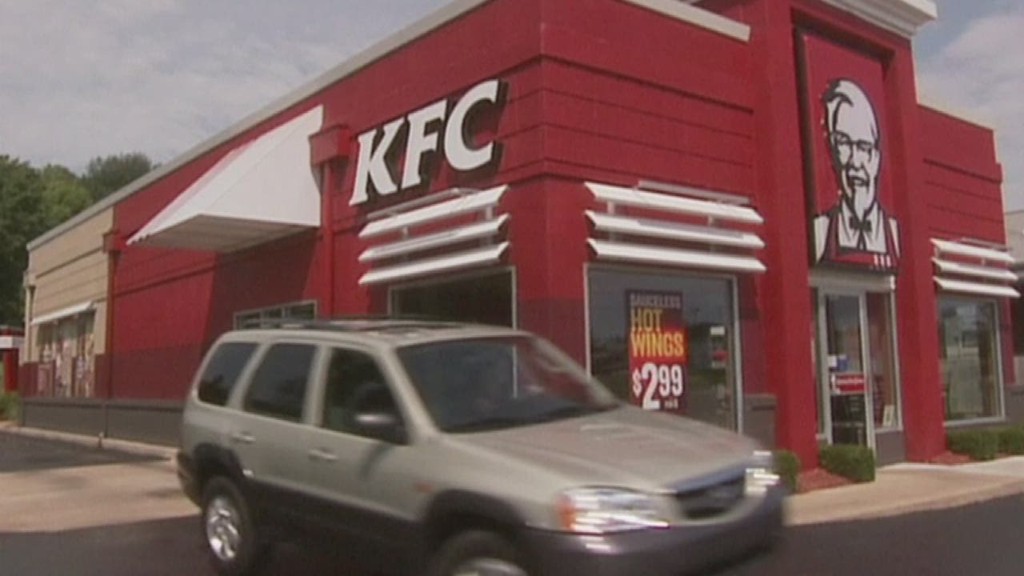 Yum Brands cut its profit expectations in half as it continues to deal with the fallout of a Chinese meat scandal over the summer.
It initially expected earnings to grow more than 20%. It now is warning of only 6% to 10% growth.
As the scandal unfolded, the parent of KFC, Taco Bell and Pizza Hut said sales were slumping and cautioned investors it would take a hit.
Yum said Tuesday that "sales typically take six to nine months to recover from these types of events."
Related: KFC's China sales tanked over the summer after food safety concerns
China is hugely important to Yum (YUM), providing more than a third of the company's overall profits. But profits at the China division have fallen nearly 40% since last year.
This summer's fiasco, involving tainted and expired meat, was the second big food scandal for the company in as many years.
A company spokesman insisted that the meat supplier behind the mishandled product — Shanghai Husi, a subsidiary of Illinois-based OSI Group — was only involved in a couple of unspecified breakfast products.
Related: Chinese regulators expanded fast food supplier disclosures after the scandal
Yum cut ties with company after the scandal broke and is considering legal action, the spokesman said.
McDonald's (MCD) stood by OSI and is dealing with similar issues. It said last month that the scare led to a 14.5% same-store sales dip in Asia, Africa and the Middle East.
The breakfast connection could be especially painful for Pizza Hut, which has opened nearly 1,400 new locations in China, a 20% bump from last year. Breakfast is an important part of Pizza Hut's strategy there.
On this side of the Pacific, Taco Bell's breakfast provided considerably better news. That division's profits, largely derived in the states, were up 16% mainly on the back of the new offerings.
The spokesman said protests in Hong Kong, a strengthening dollar and lower economic growth weren't big concerns for the company.
Yum's earnings per share came in at 87 cents, a penny short of expectations. The stock was flat in after-hours trading.