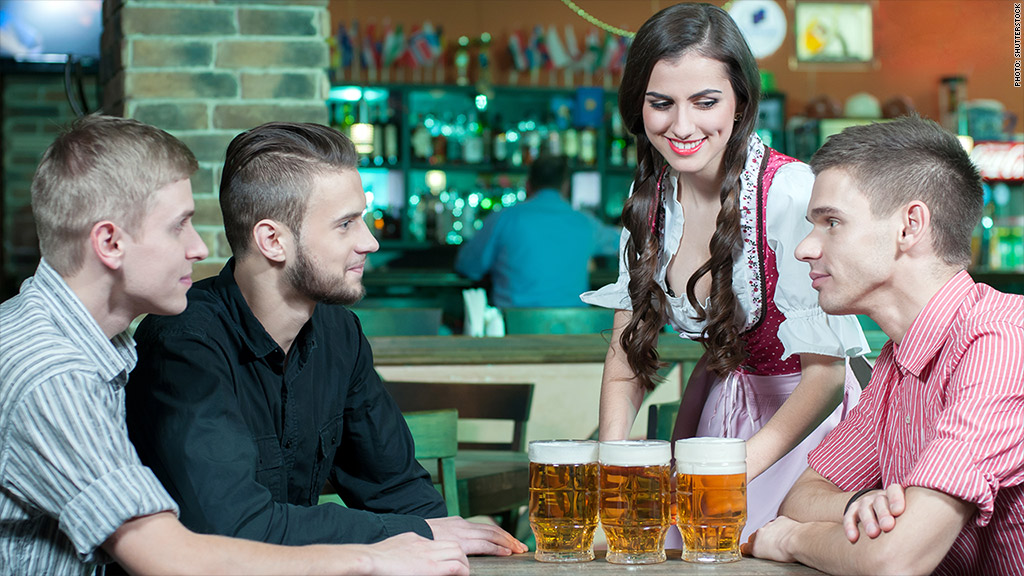 Waitresses put up with high levels of sexual harassment because they have to survive on tips.
That's according a report by the Restaurant Opportunities Center United, a workers' rights group for the restaurant industry.
"Living off tips makes an industry already rife with sexual harassment even more dangerous," according to the report, which surveyed 688 current and former restaurant workers in 39 states.
The report said the problem was particularly bad for waitresses, many of whom have an hourly pay of $2.13, the legal federal minimum pay for tipped employees. The reliance on tips to earn a living wage causes waitresses to put up with the high levels of inappropriate behavior from customers, co-workers and management, the report says.
Though several states have recently passed laws increasing the minimum wage, there are 22 states where tipped workers still earn the lower minimum wage.
Are you a minimum-wage waitress? Share your story
"Tipped workers in $2.13 states reported that they were three times more likely to be told by management to alter their appearance and to wear 'sexier,' more revealing clothing than they were in states where the same minimum wage was paid to all workers," said the report.
The report said that 7% of American women work in the restaurant industry, but it's the source of 37% of all sexual harassment claims to the Equal Employment Opportunity Commission. Of those complaints, 66% are attributed to restaurant management, 80% to co-workers and 78% to customers.
Related: Dishwashers: Every restaurant's unsung hero
The report was lambasted by the National Restaurant Association, which represents the restaurant industry, and has lobbied to keep the lower minimum wages for tipped workers.
Katie Laning Niebaum, a spokeswoman for the National Restaurant Association, insisted that "tips are not discriminatory" and that 50% of all restaurants are owned or co-owned by women.
The restaurant industry successfully lobbied to freeze the minimum wage for tipped workers in 1996 and 2007 when Congress approved increases to the federal minimum wage. As a result, the federal tipped minimum wage has remained at $2.13 per hour since 1991.
Even recently, when several states signed new laws increasing the minimum wage, the restaurant industry fought an increase in wages for tipped workers. Some of the biggest restaurant companies -- including Yum Brands (YUM), which owns Pizza Hut; Darden Restaurants (DRI), which owns Olive Garden; and Cracker Barrel Old Country Store (CBRL) -- directly lobbied against a bill to raise the minimum wage last year, according to Senate lobbying reports.
Related: Living on $2.13 an hour, plus tips
Niebaum said the attacks against the industry are part of a "national, multi-million dollar campaign engineered, organized and funded by national labor unions."
She said tipped workers are all earning more than the sub-minimum wage.
"No individual is making $2.13 an hour," said Niebaum, who said the pay is usually more like $16 an hour, or $22 "for more experienced servers."
Related: Four states to vote on raising minimum wage
The report said the sexual harassment is "even more troubling" considering that waiting tables is often the first job for many women, serving as their introduction to the workforce.
The report concluded that the best way to alleviate the problem is to get rid of the lower minimum wage and pay waitresses minimum wage, which has already taken place in eight states.