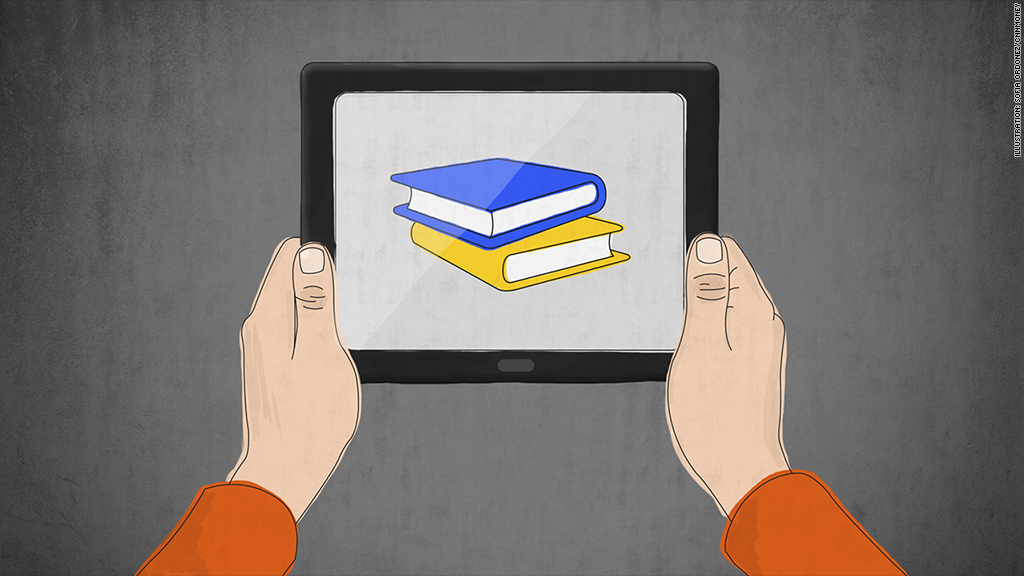 Tablets and text messages. To the general public, they might seem standard, but for a prison system, they could be revolutionary.
At least that's what Philadelphia hopes.
The city recently signed contracts with two startups to help educate inmates while in prison and keep them connected once they're out.
Traditionally, it's been difficult to implement technology into inmates' lives. Prisons often don't have space for a computer lab, and even if they do, they require significant monitoring, since inmates can't have unrestricted access to the Internet.
Jail Education Solutions is hoping to fix those issues. The Chicago-based startup is rolling out a pilot program in Philadelphia to provide tablets to inmates. They will offer everything from literacy classes and college coursework to vocational training and financial literacy seminars.
CNNMoney's Most Innovative Cities
"Education is a game changer," said Brian Hill, founder of Jail Education Solutions. "And the data bears that out."
He's right. A 2013 report from RAND found that inmates who received education while in prison were 43% less likely to become repeat offenders.
JES designed tablets specifically for the program, so they'll only have offerings determined by the prison system.
"If someone took the tablet and tried to use it outside the jail, it would be absolutely worthless," said Hill.
The pilot program will put more than 100 tablets in the hands of both male and female inmates. The startup received $30,000 from the city to roll it out (a "strong gesture" according to Hill, but it won't cover the costs). Eventually, they'll rent the tablets to inmates for $2 a day, which Hill says will allow the company to be self sustaining.
It's not just about the education, although that's a huge benefit, according to Louis Giorla, the commissioner of prisons. He said this type of programming also improves the prison environment as a whole.
"I've been in the system for 32 years," he said. "What I've found is that the more 'normal' activities that inmates engage in -- those that replicate behaviors we feel are acceptable on the street -- the better environment it creates and the better chance for re-entry [into society]."
How startups are tackling D.C.'s poverty problem
Improving reintegration is a huge focus. There are an average of 8,300 people in the Philadelphia Prison System -- and over 50% of them return to prison within three years.
This is where Textizen comes in.
The startup built a web platform to manage and organize mass text messages. Simple enough, but it has huge potential for Philadelphia's Office of Reintegration Services (RISE), according to Khalil Morrison, a case manager there.
He's one of five case workers at RISE, each of whom works with about 80 ex-offenders ("returning citizens," per a 2013 executive order from Mayor Michael Nutter).
"We want daily and weekly check-ins with the clients, but it gets hard with a large caseload," Morrison said. "Textizen will add a streamlined way to communicate with participants, so we can spend more face-to-face time with those who are high risk."
It allows caseworkers to easily remind participants of appointments and alert them to job expos and other community events.
"I find I have better results when I use text message," Morrison said. "90% to 95% of people show up with a text message, as opposed to maybe 50% [with another method]."
And it's a two-way street: Participants can take a photo of their pay stub and send it in as opposed to faxing it in or bringing it in person, which is how things stand now. (Pay stubs are a requirement of parole.) RISE also plans to send out surveys asking for feedback on expos, classes, instructors -- and the program in general, which Textizen's system will analyze over time.
"Most agencies don't have resources to see what happens to people once they graduate from a program," said Textizen founder Michelle Lee. "No one knows what's happening with alums unless they're rearrested and come back through the system."
Related: Ex-con launches startup aimed at inmates
JES and Textizen were both part of FastFWD, a Philadelphia accelerator funded by Bloomberg Philanthropies. Ten startups set out to solve problems around the issue of public safety. At the end of the 10 weeks, three received city contracts. (Village Defense was the third to get a contract; it offers a high-tech form of "neighborhood watch.")
"I don't think people have thought, 'Where should we focus our innovation? Let's go to the prison!'" said Story Bellows, director of Philadelphia's Office of New Urban Mechanics, which helps run FastFWD along with Wharton Social Impact Initiative. "But there's a lot of opportunity and a lot of need."
While Philadelphia's projects are small in scale, they're already opening doors around the country.
"Philadelphia's willingness to do it allowed us to talk to Rikers and other prisons," Hill said, adding that he expects to have about 20,000 to 30,000 tablets in U.S. prisons by next year. "What makes Philadelphia a special case is that they're very open to new technology, which can and will revolutionize the prison space."
What's most innovative about your city? Tell us on Instagram using #CNNCities and we might share your post on CNNMoney.com.