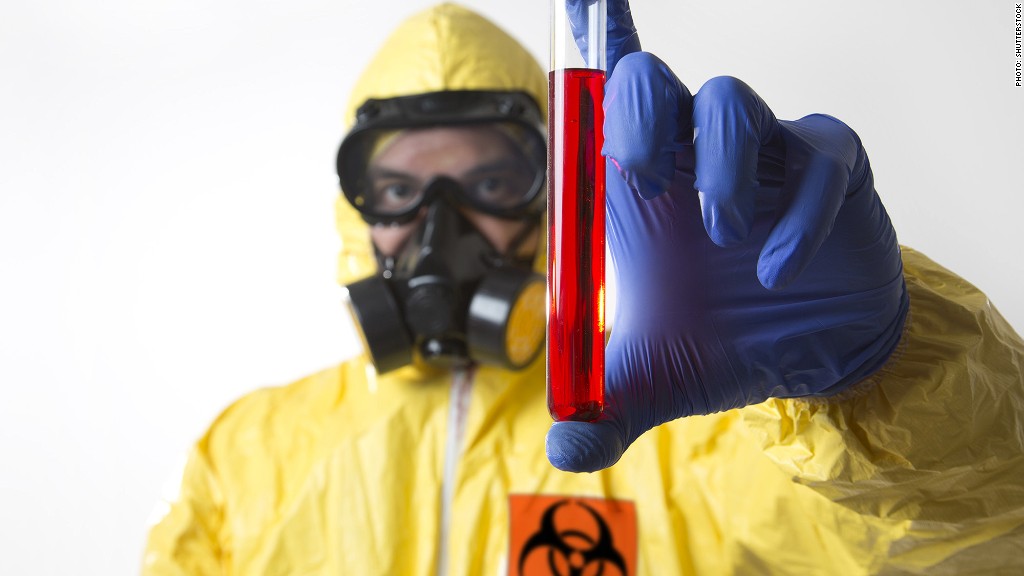 The Ebola epidemic is starting to contaminate sentiment on Wall Street, which is already losing sleep over countless crises.
The arrival of Ebola in the U.S. has coincided with a period of extreme turbulence in the stock market, which has tumbled about 8% from record highs.
The deadly virus is clearly not the only factor behind the market slide, but it's a major unknown that is increasingly weighing on market psychology. That was the case again on Wednesday as the Dow plummeted as much as 370 points and health officials revealed a second health-care worker in Dallas tested positive for Ebola.
Ebola fears are most obvious in the airline sector. Shares of American Airlines Group (AAL) and Delta Air Lines (DAL) fell sharply on Wednesday, hurt by the news that the new Ebola patient flew the day before being diagnosed. Both airlines are down nearly 20% over the past month alone.
"The fear is that people will be afraid to fly," said Jason Weisberg, managing director at Seaport Securities.
Other sectors being caught in the Ebola downdraft include the cruise industry, where Royal Caribbean Cruises (RCL) and Carnival (CCL) have tumbled nearly 20% from their 52-week highs.
Hotel stocks like Hilton Worldwide (HLT) and Starwood Hotels & Resorts Worldwide (HOT) have also been punished by the Ebola concerns.
Related: Stocks should fall more. You shouldn't worry
Extreme fear: The Ebola scare is not having an impact on many businesses at this point. For that to happen, the deadly virus would have to spread much more rapidly in the West. That means earnings -- the fundamental component of stock prices -- aren't being hit.
However, market psychology, which has become increasingly fragile, is clearly being hurt by the Ebola epidemic.
"The stock market is now driven by emotion rather than fundamentals. The former rapidly switches from greed to fear on Ebola news," Ed Yardeni, president of investment advisory Yardeni Research, wrote in a note on Wednesday.
Just check out CNNMoney's Fear & Greed Index. It tumbled to zero for the second time ever earlier this week, indicating "extreme fear." Just a few months ago it was flashing "extreme greed" as stocks cruised to record highs.
The VIX gauge of market volatility has spiked 90% over just the past month alone as wild market swings have become the norm.
Related: Crashing oil prices could crush Vladimir Putin
To be sure, Ebola is not the main driver of the current market pullback. There have been plenty of other negative headlines to go along with Ebola, including Europe's gloomy economy, the energy price meltdown, new gains by ISIS in Iraq and worries that global central bankers are out of ammo.
It's all "added up to a nasty, snowballing environment of shoulder tapping and second guessing that continues to keep rallies under lock and key," Michael Block, chief market strategist at Rhino Trading, wrote in a note on Wednesday.
A number of investors believe Monday's late-day nosedive was caused by a false alarm about passengers with flu-like symptoms being removed from a flight in Boston.
Related: Makers of KitKat and MilkyWay join Ebola fight
Greed isn't dead: Wall Street never misses a chance to make money. Investors are betting that at least some companies will be able to capitalize on the epidemic.
However, it's important to remember these stocks have very small market valuations, making them potentially risky and speculative plays, especially for retail investors.
Shares of Tekmira Pharmaceuticals (TKMR), which is working on an experimental Ebola drug, have soared 200% this year.
Another bright spot has been Lakeland Industries (LAKE). The Hazmat suit maker has skyrocketed almost 300% over just the last three months alone even though it remains a risky bet.
While fear continues to dominate Wall Street, some believe the recent chaos has given investors sitting on the sidelines a chance to jump into the stock market. That could explain why the Dow erased more than half of its early 370-point plunge on Wednesday.
"We're seeing stocks at some levels that are very, very attractive. Unless you think the world is going to suffer a complete meltdown here, this is a very good buying opportunity," said Weisberg.