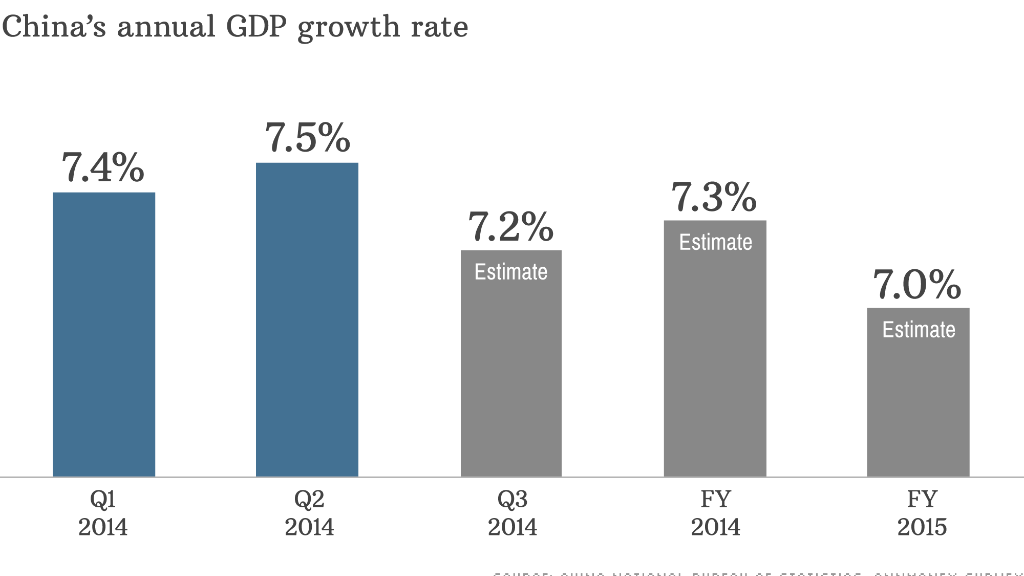 China's economy is likely to have clocked its worst quarter in more than five years, according to a CNNMoney survey of economists.
Gross domestic product is forecast to have expanded by 7.2% in the third quarter, compared to the same period last year, according to a median estimate of 15 economists. That puts economic growth at its slowest pace since the first quarter of 2009, and well short of 7.5% expansion in the second quarter.
Economists surveyed expect full-year growth to come in at 7.3%, below the government's 7.5% target. Economic growth is forecast to dip further to 7% in 2015.
The National Bureau of Statistics will announce official third quarter GDP figures on Oct. 21.
China averaged growth of around 10% a year over the past three decades, pushing it up the list of biggest economies and boosting household wealth. But now, the pace of economic expansion is languishing -- China recorded GDP growth of 7.7% in the last two years, versus 9.3% in 2011 and 10.5% in 2010.
Related: The Chinese like capitalism more than Americans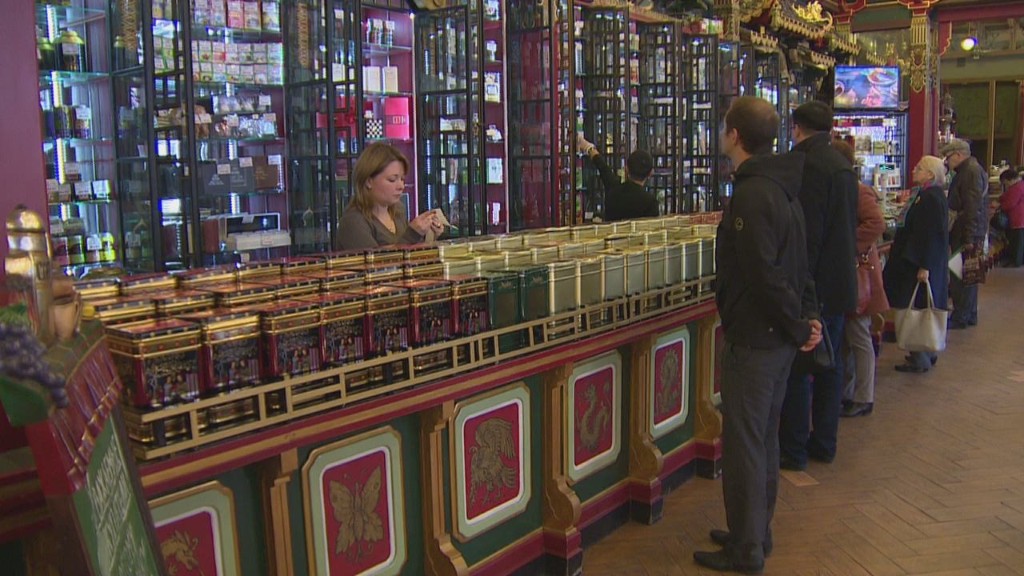 China's GDP growth remains the most comprehensive gauge of the country's economic health -- an important number to watch as the government works to reform the world's second-largest economy and shift to consumption-driven growth after years of exponential expansion.
Recent poor key economic data has added to concerns that China will fail to meet its growth target. While the government has previously said its willing to accept growth around 7.5%, it has continued to adopt incremental measures to boost the economy.
Related: The Shanghai Free Trade Zone is a dud
Six out of 10 economists surveyed identified the real estate sector as the biggest risk to the Chinese economy. After years of breakneck development, the sector now suffers from excess supply, slack investment and falling home prices.
"Given the challenging outlook of the housing sector, we expect Beijing to put forth more selective easing in order to avoid the worst," said Societe Generale's Wei Yao.
Experts are also sounding the alarm over ballooning corporate debt, according to the CNNMoney survey.
A few Chinese companies have defaulted on their debt in recent months-- a previously unheard of phenomenon -- and no government bailouts are in sight.
Worries have also escalated over the use of unconventional financing. Some firms, for example, have been using copper as collateral to secure loans. Experts are concerned that some companies are even using the same copper stockpiles to take out multiple loans, borrowing far more than they can repay.
Related: Half of China's wealthy plan to leave
Although rumors have persisted that Beijing may replace central bank governor Zhou Xiaochuan, most economists say that any move to replace Zhou would be made because he is already past retirement age, and not because of policy disagreements.
Such a personnel change is unlikely to happen this year, and isn't expected to bring a policy shift -- the priorities of presumed successor Guo Shuqing align with those of Zhou, said Mizuho analysts.
Six out of eight economists say that the Chinese economy will see no or limited short-term impact from pro-democracy protests that have shaken Hong Kong over the last three weeks.
In the long run, if Hong Kong "loses its reputation as a trusted gateway for foreign capital to enter China, then it could hurt Chinese firms' access to cheap foreign capital, and potentially hold back ... other financial reforms," said Julian Evans-Pritchard of Capital Economics.