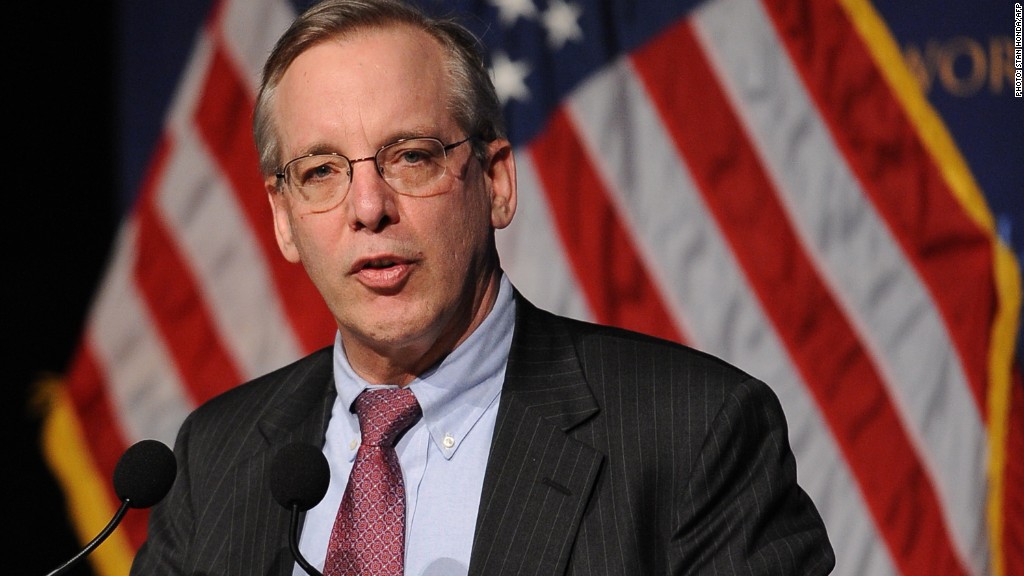 The Fed official overseeing Wall Street says things need to change, and if the industry's risky culture isn't turned around, it may be time to break up the big banks. ​
William Dudley's proposal would overhaul the way bonuses are paid out to executives. He said it would also incentivize ethical behavior among lower-level bankers.
Dudley, president of the New York Federal Reserve Bank, laid out his ideas at a workshop Monday involving officials from Wall Street's largest banks, plus federal regulators. Representatives from the likes of JPMorgan Chase (JPM), Morgan Stanley (MS), Goldman Sachs (GS), Barclays (BCS) and Bank of America (BAC) were listed as participants.
If "bad behavior" continues, the banks would "need to be dramatically downsized and simplified," he warned them. Dudley cited "ongoing occurrences of serious professional misbehavior, ethical lapses and compliance failures" that have led to over $100 billion in fines since 2008.
The cornerstone of his plan is barring bank management, including top executives, from cashing out bonuses before their firms take a hit from big losses or government fines.
Dudley proposed bonuses be promised but locked up and only paid out in full after 10 years. In the meantime, fines and major losses could be deducted from that amount.
That would give managers an incentive to take long-term, rather than short-term, risks, he said. It would also build a culture of whistleblowing.
"Each individual's ability to realize their deferred debt compensation would depend not only on their own behavior, but also on the behavior of their colleagues," Dudley said.
Related: Wall Street is hurting ... sorta
An evaluation system for lower-level bankers would rate them on their ethics and compliance. He called for an expansion of the laws that bar those convicted of financial crimes from working in the industry.
Dudley, once an executive at Goldman Sachs, said the issues go right to the top of bank leadership.
"I reject the narrative that the current state of affairs is simply the result of the actions of isolated rogue traders or a few bad actors within these firms," he said. "[T]he problems originate from the culture of the firms, and this culture is largely shaped by the firms' leadership."
He finished by imploring the banks to take action: "So let's get on with it."