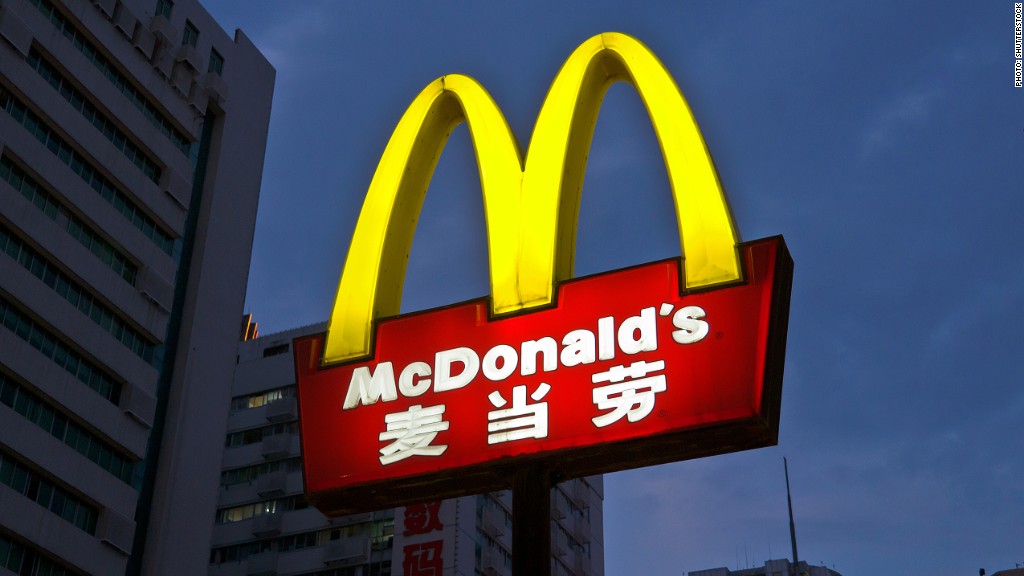 McDonald's sales in Asia are collapsing under the weight of a food scandal, aggravating the company's headaches in markets around the world.
Consumers in the key markets of China and Japan were clearly spooked by a food scare at an American-owned McDonald's (MCD) supplier. The scandal, which broke in July, found that the Shanghai supplier was selling tainted meat, including some food that had fallen on the floor.
The scare sparked a nearly 10% tumble in third-quarter sales at McDonald's Asia-Pacific, Middle East and Africa division (APMEA). Profits in that region plunged 55%.
Related: China's economy suffers worst quarter in 5 years
Problems around the world: McDonald's numbers were ugly in Asia, but the company stumbled in all of its markets during the third quarter.
In the U.S., McDonald's largest market, sales shrank by over 3% during the third quarter due to slower guest traffic amid "sustained competitive activity."
Europe wasn't much better. Strength in the U.K. was overshadowed by Germany's anemic economy and tensions in Russia, where roughly half of its 446 locations are under investigation and nine restaurants have been shut down.
"The numbers are troublesome -- almost across the board," said Mark Kalinowski, an analyst who covers the stock at Janney Montgomery Scott.
One major problem is that McDonald's continues to face increased competition from the likes of Chick-fil-A, a privately held restaurant chain.
Chick-fil-A is "not even close to tapping out its full-growth potential," said Kalinowski, who estimates the chain could become the fourth largest in the U.S. by the end of the decade.
Overall, McDonald's profits shrank by 30% to $1.09 a share during the third quarter, widely missing targets from analysts.
"By all measures our performance fell short of our expectations," McDonald's CEO Don Thompson said in a statement.
Related: Russia's crusade to banish McDonald's
A happier tomorrow? Investors weren't "lovin'" any of it, driving McDonald's shares down Tuesday, albeit modestly. The stock is down 6% so far this year.
"$MCD drops a bomb on investors - a 30% drop in earnings this quarter. They may want to consider buying back their food, not their stock," reformedbroker wrote on StockTwits, the social media platform for traders.
In a bid to right the ship, McDonald's said it is implementing new efforts to "increase its relevance with customers" and boost traffic. One focus of the turnaround plan is a "diligent review" of the company's structures and use of resources.
"We understand the depth of the challenges and we are responding with the sense of urgency required to improve our performance," Thompson said.
So far those efforts don't appear to be working. The company also released its closely watched monthly sales figures Tuesday. McDonald's reported a 3.8% decline for September with Asian sales continuing to plunge.