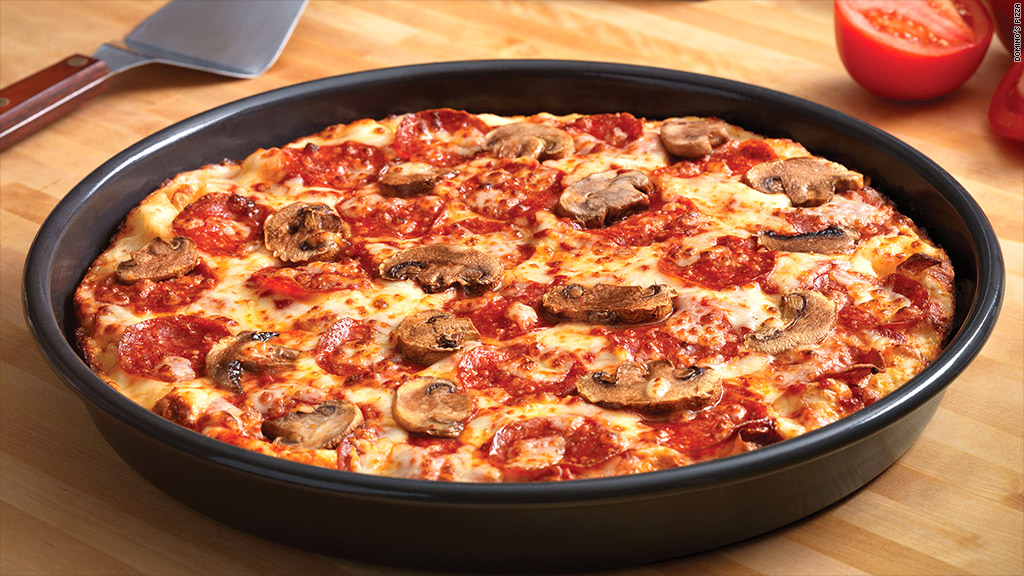 Domino's Pizza is all grown up. It is no longer just a desperate late night snack for college students.
It's gone from stale to sizzling.
Customers are back -- so much so that the company added 160 stores in the last quarter alone. Profits are up 16%, according to Domino's latest earnings report.
Wall Street has noticed. Shares of the delivery joint have skyrocketed 13% this month while the rest of the market tanked. On Wednesday, Domino's stock hit an all-time high.
The "secret sauce" for Domino's (DPZ) success isn't complicated: The pizza is actually better now, and the marketing campaigns are cheesy good instead of just cheesy.
How many companies do you know that run ad campaigns around the fact that people basically say their food sucks?
It's also boosted profits by trying bold new menu items. Some of them sound questionable. The "Specialty Pizza" consists of lightly breaded chicken topped with cheese and such toppings as bacon and jalapeno. In other words, it's a pizza that swaps dough for chicken.
"Should i get pizza or those weird specialty chicken things from dominos?," remarked a commenter on Twitter recently.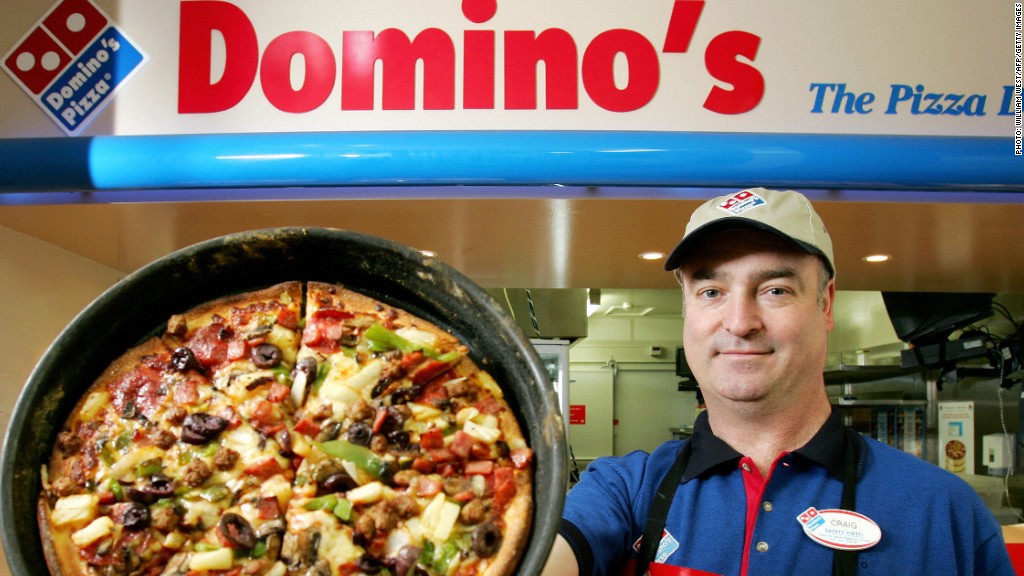 But the point is, people are talking about Domino's again and they're ordering.
The impressive results are instructive at a time when other restaurant chains, including McDonalds (MCD) and rival Pizza Hut owner Yum! Brands (YUM), can't get their act together.
Related: Time for a wakeup call at Pizza Hut?
Here's Domino's winning recipe:
1. Self deprecation pays: Domino's years-long turnaround effort included ads admitting its pizza was less than award winning. One 2010 YouTube commercial even noted that diners in a focus group reported the pizza tasted like cardboard.
It was a risky strategy, but played well with customers as the company reformulated its pizzas with different ingredients, claimed Stephen Anderson, an analyst at Miller Tabak and Company.
"The pizzas were indeed improved. That really was the linchpin for the company's rebound," he said.
2. Expanded Menu: But the ads, as entertaining as they may be, weren't necessarily responsible for Domino's success, according to Rob Frankel, a Los Angeles-based branding expert who has worked with clients in the food services sector.
"The only real difference you're seeing is they expanded their menu," Frankel said. "I don't think it's higher quality, even if they want you to think it is."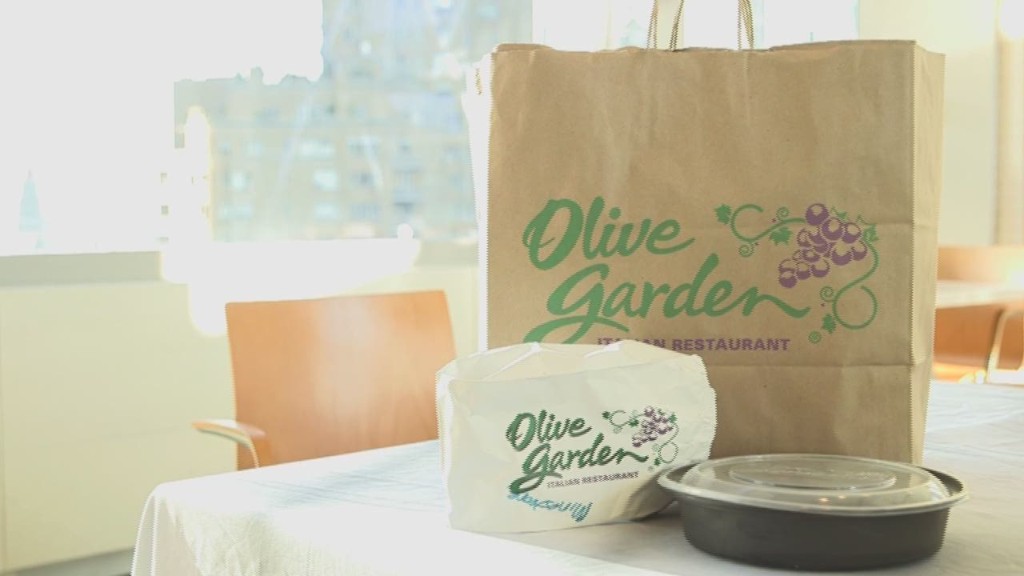 While diners might not be totally subbing the Specialty Chicken, for example, in place of traditional pizza, they are ordering it as a side item. That trend has helped increase the average price of each order, said CEO Patrick Doyle on Domino's third quarter earnings call last week.
3. "Fast and Cheap": At the end of the day, Domino's may be attracting customers because it's relatively inexpensive. The homepage of its website promotes two items or more for $5.99 each. You can chose from medium 2-topping pizzas, Specialty Chicken, Stuffed Cheesy Breads, and chicken wings, among other options.
Related: Enough with the bleeping pumpkins!
While the restaurant chain had to abandon its infamous 30 minutes or free delivery guarantee out of road safety concerns, it's still known to be pretty quick.
"In the recessive economy we're in, they promise not only fast, but fast and cheap," Frankel said.
4. Superior technology: Another area Domino's has gotten right is technology. In June it launched voice ordering on its mobile application. As of the end of September, it had already taken over 200,000 voice orders.
Related: New Starbucks app will have your latte waiting
"Domino's has led its peers in technology," said Anderson. For customers, "it really comes down to convenience," he added.
5. International growth: Part of the reason investors have gotten so hungry for Domino's also has to do with its success abroad. The firm experienced a 7.1% jump in same-store sales last quarter, driven by solid growth in Australia, New Zealand, Europe and Japan.
Related: McDonald's gets burned in Asia
Many investors see Domino's as a way to profit off of the burgeoning middle class in many emerging markets.
It's not very expensive, but it "is seen as an indulgence for developing countries," said Anderson.