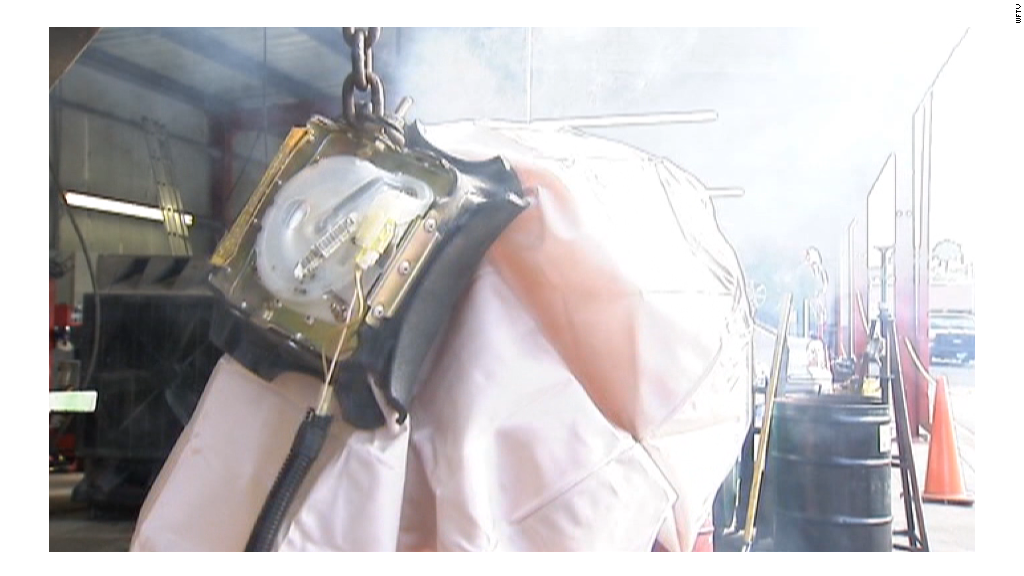 More cars could soon join the list of recalls over exploding airbags, a senior administration official told CNN Friday.
Until now the nearly 8 million vehicles under recall have been concentrated in warmer states with humid climates, but there is increasing pressure to expand efforts nationwide.
Related: Regulators rushing to replace exploding airbags.
The recall started last year, and it expanded earlier this year. The issue gained increasing attention earlier this month as Toyota and the National Highway Traffic Safety Administration stepped efforts to get car owners to replace their airbags.
At least four deaths and numerous injuries were linked to the parts, which didn't expand properly in an accident or sometimes exploded.
The list of affected makes include Honda (HMC), Toyota (TM), BMW, Mazda (MZDAF), Mitsubishi (MMTOF), Subaru, Nissan (NSANY), Ford (F) and General Motors (GM). Japanese parts maker Takata manufactured the defective airbags.
Related: Honda CEO takes $47,000 pay cut over recalls
The official, who briefed reporters on background, criticized the National Highway Traffic Safety Administration's response to the faulty devices.
"The inaccurate number of vehicles affected was not helpful to consumers, nor the fact that the agency's website was not working," the official said. "[The Department of Transportation] is doing an after action to make sure it doesn't happen again."
The official also said the DOT would be investigating the NHTSA's "safety culture", with a focus on the agency's risk management procedures. The NHTSA's director, David Strickland, stepped down nine months ago, and his replacement will soon be announced.