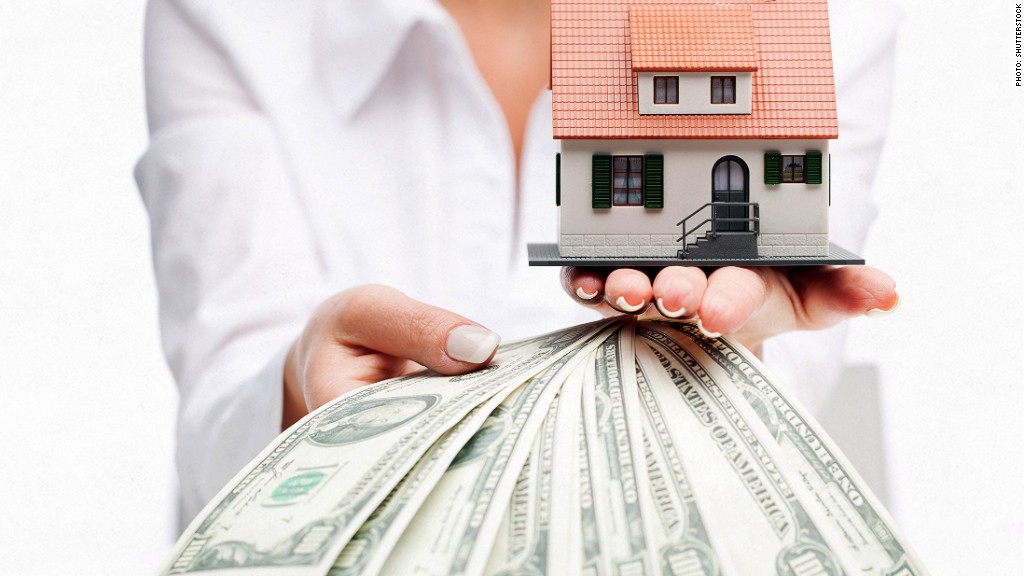 One Wall Street firm has an idea that's raising eyebrows: forgive some student debt for first-time homebuyers.
It's too early to say exactly how the stimulus measure BlackRock (BLK) suggested would work, but it would take Congressional action because the federal government administers the majority of student debt.
The move could be a creative way to ease student debt, which has quickly become a $1.2 trillion Achilles heel in the American economy.
Millennials aren't buying many homes. Mounting student debt may be part of the problem.
"Fiscal policy initiatives targeted at young workers with high levels of student indebtedness might, perhaps surprisingly to some, have an outsize impact in supporting the housing recovery and financial markets," Rick Rieder, co-head of Americas Fixed Income at BlackRock, wrote in a recent commentary.
BlackRock estimates there are about seven million people in the U.S. that would be eligible for an FHA-approved mortgage but are burdened by student loans. The thinking is that because they are devoting a large chunk of their income to pay down student debt, they probably aren't saving for a down payment on a house.
If just one million of them are converted to homebuyers through some form of student debt forgiveness, more than three million jobs could be created, Rieder recently told CNNMoney.
Related: Why people still feel the economy stinks
"That then becomes productive debt. There is a real velocity to that. Those people have jobs, they start spending, they are taxpayers and essentially you self-fund" the program, Rieder said.
He hopes such a proposal could get bipartisan support given that it boosts the housing sector and jobs -- and tax revenue.
Related: Is student loan debt hurting the housing recovery?
The huge debt obstacle: Student loan debt has surged by over 350% since 2003, while mortgage debt is up just 50% over that span, BlackRock said.
A recent National Association of Realtors survey revealed that almost half of Americans pointed to student debt as a "huge obstacle" to homeownership.
For every $250 a month in student loans that a household owes, it reduces their power to purchase a home by $44,000, according to estimates by John Burns Real Estate Consulting.
These struggles can also trickle down to the rest of the real estate market. Lower levels of first-time buyers "makes it more difficult for existing homeowners to sell and trade-up," New York Fed President William Dudley said in a recent speech.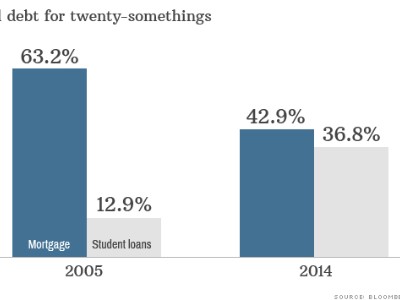 To look at it another way, stats from Bloomberg and BlackRock show that student loans now account for 36.8% of personal debt for people aged 20 to 29. It was only 12.9% in 2005. Mortgage debt, however, has fallen. It now makes up less than half of personal debt, down from nearly two-thirds in 2005.
Is this good policy? Despite these points, academic economists are still debating the relationship between student debt and the real estate market.
"The arguments that student loan debt causes a decline in first mortgage rates are extremely weak," said Mark Kantrowitz, an expert on college financing and publisher of Edvisors.com. He said it's more likely that first mortgage rates are being dragged down by the sluggish economy.
"The solution to helping someone with too much debt isn't to let them put on more debt," Kantrowitz said.
Related: 40 million Americans now have student loan debt
Beth Akers, a fellow in the Brookings Institution's Brown Center on Education Policy, said that while it's a "reasonable hypothesis" that student debt is preventing first-time home buys, it's still "not substantiated."
She said the fraction of take-home pay that households are devoting to student loans is actually flat or even declining over the past two decades.
Forgiving student debt for first-time homebuyers "probably would make a difference, just as writing checks to people, regardless of their student debt, would make a difference. But it isn't necessarily good policy," Akers said.
Related: Dirty tricks of the student loan industry
Will Congress act? There are already some programs on the books for loan forgiveness, though most of them focus on aiding health-care professionals or public service jobs.
The White House and others have proposed to ease the student debt burden by extending the terms of the debt and lowering rates, but BlackRock's idea would go a step further.
"It's all helpful but the problem is those programs don't have any velocity to it. You need to turn it into something that is productive," said Rieder.
Representatives from the office of Sen. Elizabeth Warren, an outspoken proponent of easing the student debt burden, declined to comment for this story.
"I commend them (BlackRock) for offering an idea, but wonder whether it might be met with some skepticism by the average person (or elected officials) simply because it is coming from what people perceive to be 'Wall Street,'" Russell Price, senior economist at Ameriprise Financial, wrote in an email.