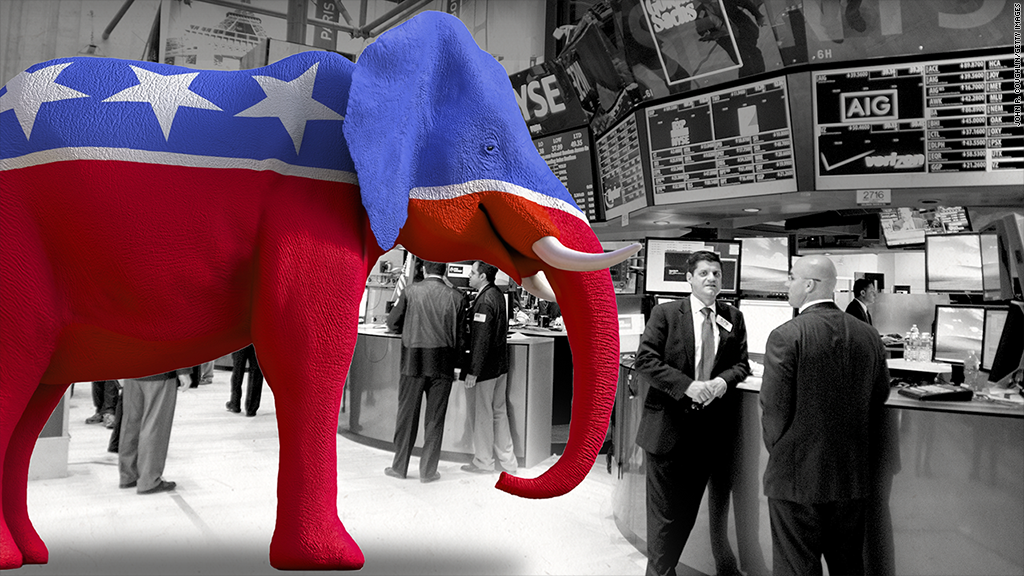 Get ready for a lot of green on Wall Street if the electoral map is awash in red.
A Republican takeover of the Senate would relieve investors who have been hoping for (and betting on) more pro-business policies.
"If the Republicans blow it, that could be a problem," said Sam Stovall, chief investment strategist at S&P Capital IQ.
If the GOP pulls off the victory, these three sectors will celebrate the most:
Related: Wall Street predicts GOP mid-term victory
1. Energy: A Republican takeover of the Senate could reignite Wall Street's love affair with the energy sector, which has been battered lately by tumbling oil prices.
Consider that Halliburton (HAL) fell 14.5% in October alone, and Hess (HES) was down 10%.
In a recent poll of money managers and brokers by ConvergEx Group, 90% of respondents said energy stocks will benefit from a GOP midterm victory.
The logic is thus: Republicans will push for more lenient environmental policies that could help fossil fuel companies, or at least block tougher regulations by Democrats.
That's especially true for coal stocks that have been hurt by proposed rule changes by the Environmental Protection Agency. One proxy for coal stocks, the Market Vectors-Coal ETF (KOL), has slumped 7% over the past year while the overall market rallied.
A GOP Senate could also raise the pressure on the White House to loosen restrictions on energy exploration, especially key projects like the controversial Keystone XL pipeline.
"You have a lot more history of Republicans being friendly to the energy industry. The XL pipeline left a sour taste in people's mouths," said Nicholas Colas, chief market strategist at ConvergEx.
Related: What happens if Republicans win the Senate?
2. Financials: If the GOP takes over the Senate, and thus control of the powerful Senate banking committee, the rules should tilt more in favor of banks.
That would be a relief for a sector that has lived under the cloud of the Dodd-Frank reform law, which has handcuffed the activities of big banks and increased regulatory costs for smaller ones.
Eighty-eight percent of respondents in the ConvergEx survey said the financial sector would benefit from a Republican win.
"There is a concern that Democrats have put in excessive regulation that diminishes banks' return on capital, particularly for smaller, regional banks. The big money center banks are in a league of their own," said Colas.
Related: Halloween treat as stock market soars
3. Industrials: Republicans tend to support more defense spending by the federal government. That's music to the ears of defense companies like Lockheed Martin (LMT) and Boeing (BA) that make up a chunk of the industrial sector and rely on lucrative government contracts.
Defense stocks have already benefited from increased military spending sparked by the recent military efforts to destroy ISIS in Iraq and Syria.
"Energy and defense companies tend to be GOP pet projects," said Stovall.
Multinational industrial stocks like Caterpillar (CAT) could also benefit from more aggressive trade policies written by a Republican-controlled Congress, Colas said.
The lone wolf sector: If Democrats manage to keep the Senate, the health care industry will cheer.
A divided Congress would have a difficult time repealing ObamaCare, which has benefited certain parts of the health care industry like hospital operators, HMOs and even some drug makers.
"Maybe we can fine tune the Obama health care plan, but the Republicans have been talking about getting it repealed. Why upset the applecart? It would be a reinjection of unquantifiable uncertainty," said Stovall.
Don't forget about earnings: Of course, the midterm election isn't the only event that could move stocks this week. Investors get more corporate "report cards" from companies like CVS (CVS), Walt Disney (DIS) and Whole Foods (WFM).
Nearly 350 S&P 500 companies have already reported earnings for the third quarter, with an impressive 75% of them beating Wall Street's expectations, Capital IQ said. That's pretty solid and reinforces optimism about the health of Corporate America.
The focus will shift back to the U.S. economy when the government releases its closely-watched jobs report for October on Friday.