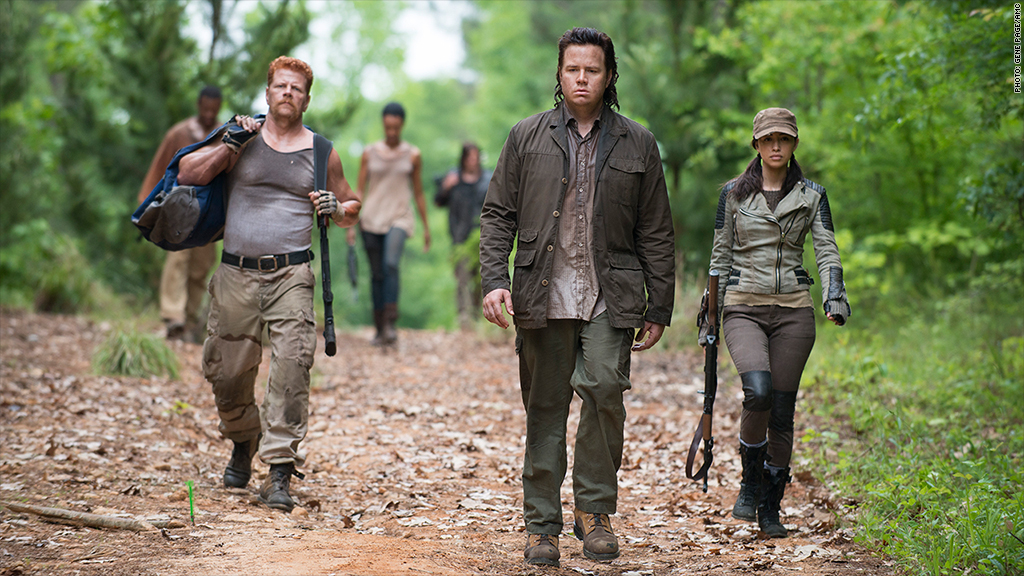 AMC is using its biggest show, "The Walking Dead," to pressure one of its biggest distributors, DirecTV, into giving it a lucrative contract renewal.
Yes, it's yet another fight over subscriber fees, but this one is threatening a show that 15 million people love to watch every week, and the channel is being pretty explicit about the behind-the-scenes tension.
AMC is using the "Dead" as leverage: on Sunday night it ran an ad during the show warning about a possible blackout later in the season.
DirecTV ran a rebuttal ad of sorts, disputing what AMC said and suggesting that if there is a blackout, it'll be AMC's fault. The satellite company provides a bundle of channels to 20 million households, making it the country's second-biggest provider, behind Comcast.
With the ad and a statement to the media, AMC seemed to be trying to rally viewers to its side. Subscriber fees are the critical source of revenue for companies like AMC's parent, AMC Networks.
(These sorts of skirmishes happen from time to time. Turner, the parent of CNN, which owns this web site, is currently in a carriage dispute with another satellite provider, Dish Network (DISH).)
AMC said in a statement Sunday night that "DirecTV's agreement to carry AMC expires mid-way through the current season of 'The Walking Dead.'"
Related: "Walking Dead" rises again with record-high ratings
DirecTV (DTV), on the other hand, said that the agreement is in effect for "several more months."
What can be deduced from that? Well, that the carriage deal expires sometime between the end of the first half of the zombie drama's season, at the end of this month, and the beginning of the second half of the season, in early February.
DirecTV said "we intend to renew our AMC partnership at a price that's fair to our customers" -- trying to rally viewers to its side instead of AMC's.
Related: The weapons of the "Walking Dead"
AMC's statement asserted that "DirecTV has not engaged in meaningful negotiations with us, which leaves us to doubt whether a timely renewal is possible."
Perhaps the public comment and commercial was a way to get "meaningful negotiations" started.
These public tiffs usually don't result in outright blackouts -- but they do from time to time. CNN and several other Turner channels are currently unavailable on Dish.