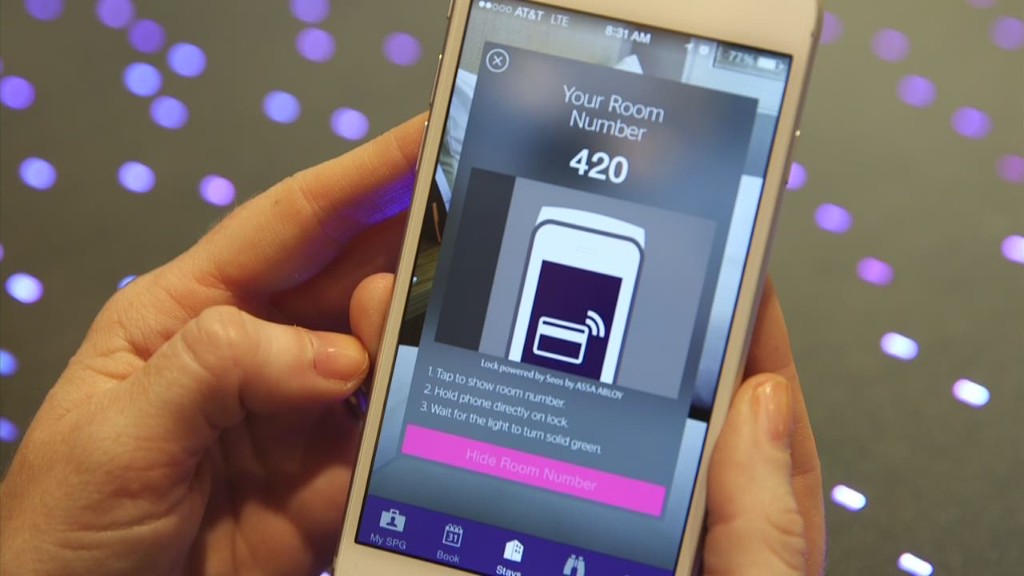 Your smartphone is replacing your hotel room key.
Starting Wednesday, guests will be able to use their smartphones as room keys at ten Starwood hotels (HOT) around the world. The technology will be available in all 150 Aloft, Element, and W Hotels by early next year.
"My mobile device now is like my remote control for life," Starwood Hotels and Resorts CEO Frits van Paasschen told CNNMoney. "There's no reason why that shouldn't be your portal to get to your room, ask for what you want, or anything else."
Guests can check in using the Starwood app. They receive their room number and Bluetooth key. That means they can bypass the front desk and head straight to their room.
Related: Harry Potter hotel website crashes
To open the hotel door, it's as simple as holding the phone up to the door lock and waiting for a click.
Van Paasschen says mobile keys are a safer option for guests.
"If you lose your mobile device, you notice right away. If you have to use your passcode to get into your phone, even if someone finds your phone they can't get into your room," van Paasschen said.
Starwood, the parent company of Sheraton, Westin, and St. Regis hotels, is not the only chain trying to make key cards obsolete. Hilton (HLT) is working on a similar technology.
And most major hotel chains are funneling money into improving their apps and mobile services. They're betting on mobile options like check-in and check-out to win over millennials. Apps may also provide a better way to sell room service, upgrades, and other offerings.
Related: How much should you tip housekeeping?
Starwood says mobile keys and check-in are just an initial step in its mobile plans.
"We're increasingly going to upgrade the functionality of the app so you can do things like tell us where you are and what you want," van Paasschen said. "We can start to send you offers targeted to exactly what you want."