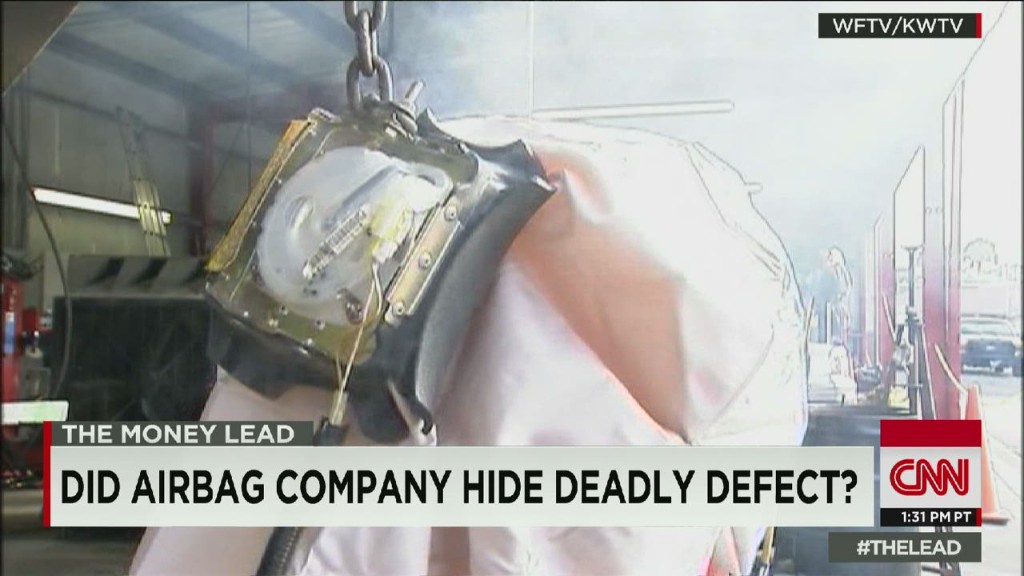 Embattled auto parts supplier Takata Corp. tested its airbags for flaws far earlier than previously admitted, and worked to hide the results, according to a new report that casts doubt on the company's safety claims.
The report, published by the New York Times, alleges that Takata engineers carried out secret tests on discarded airbags in 2004, after becoming concerned over an incident in Alabama in which one of the company's airbags ruptured.
The Japanese company's engineers were alarmed by what they found. But instead of alerting regulators, the report says that Takata executives "ordered the lab technicians to delete the testing data from their computers and dispose of the airbag inflaters in the trash."
The first airbag recall would not be issued until November 2008.
"All the testing was hush-hush," one former employee told the Times. "Then one day, it was, 'Pack it all up, shut the whole thing down.' It was not standard procedure."
Shares in Takata, which had been trading higher in Tokyo, plunged more than 7% after the report was published. Hideyuki Matsumoto, a Takata spokesperson, said the company had no comment.
In total, 10 different automakers have recalled vehicles due to flawed airbags that can explode and hit passengers with shrapnel. There have been four deaths and dozens of serious injuries tied to the faulty airbags, according to the Center for Auto Safety.
Related: The fix for exploding airbags may be more deadly than the problem
Last week, Takata and Honda Motor (HMC), one of the affected brands, were hit by a U.S. federal lawsuit. The suit seeks class action status on behalf of the owners of all five million Hondas affected by the recall, alleging that they've suffered inconvenience and financial losses.
Other automakers including Toyota (TM), BMW, Mazda (MZDAF), Mitsubishi (MBFJF), Subaru, Nissan, Ford (F) and General Motors (GM) have also issued recalls.
This has been a record year for car recalls affecting more than 52 million vehicles. About one in every five cars on the road has been recalled.