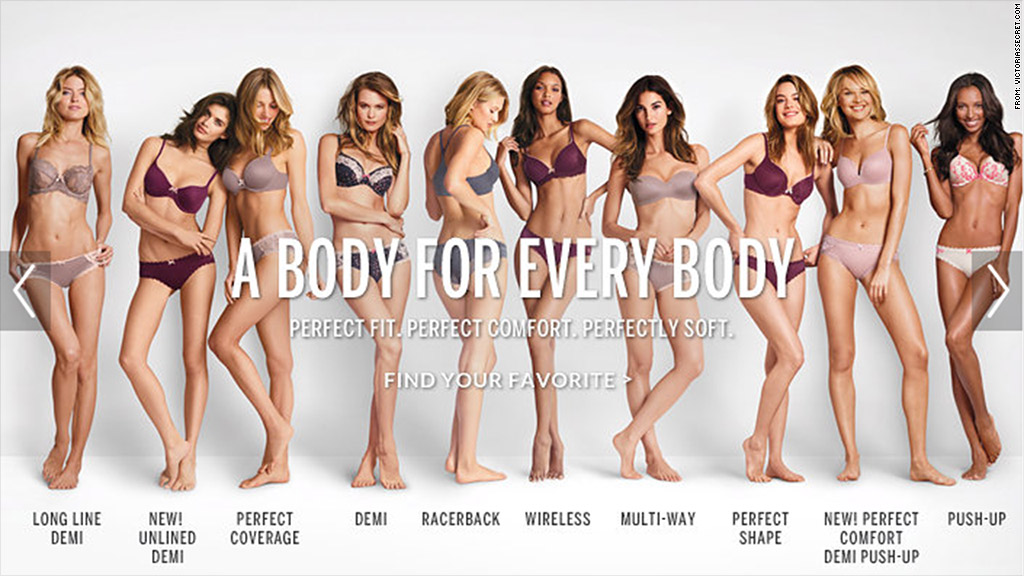 The underwear models of Victoria's Secret are not so perfect, after all.
Victoria's Secret has reportedly swapped its ad slogan, "The Perfect Body," for one that is meant to be more palatable to non-supermodels: "A Body for Every Body."
The slogan appears on an image on the company's website of 10 uber-thin models clad in bras and panties, with their ribs clearly visible.
Victoria's Secret hasn't completely let go of the word "perfect." It now applies that word to the underwear instead of the model. Below the ad title "A Body for Every Body" appears the sub-slogan: "Perfect Fit. Perfect Comfort. Perfectly Soft."
The ad also uses the phrase "perfect shape," though it's referring to a push-up bra, not the model who wears it.
The petitioners of Change.org took credit for the slogan swap. "Victoria's Secret have changed the wording on their website from 'The Perfect Body' to 'A Body For Every Body,'" reports a petition update at Change.org. "This is amazing news!"
Related: Victoria's Secret model wears 3-D printed wings
However, spokeswomen for Victoria's Secret didn't confirm why they made the change.