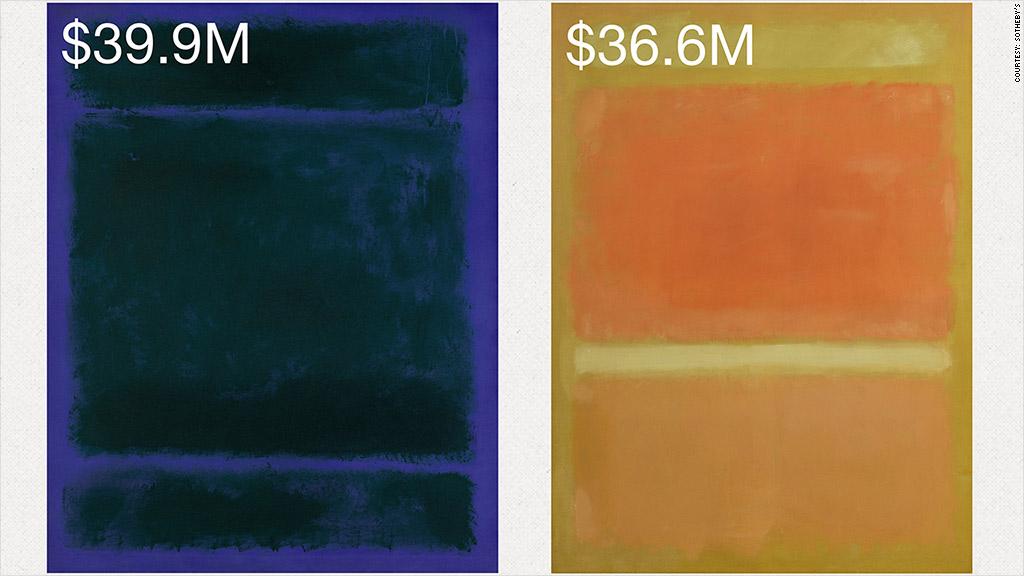 The Super Bowl for the art world has kicked off in New York.
An impressive collection featuring some of the biggest names in modern and contemporary art sold for nearly $160 million on the Sotheby's auction block Monday night.
Nearly half the tally came from two paintings by expressionist Mark Rothko.
"Untitled," a blue-toned abstract that he painted in 1970, the year of his death, fetched $39.9 million at auction, nearly double the top end of the estimate. "Untitled (Yellow. Orange. Yellow. Light Orange)" from 1955 brought in $36.6 million, also surpassing the estimate.
The 43 pieces -- including works by Georges Seurat, Richard Diebenkorn and Diego Giacometti -- were part of an estate sale of deceased art collectors Rachel "Bunny" and George Mellon and exceeded the house's estimates by nearly $40 million.
Related: Live like a millionaire at art auctions
Eight pieces by Diebenkorn sold for $32.2 million, including nearly $10 million for the abstract painting "Ocean Park #89."
Seurat's crayon-on-paper drawing "Femme tenant un bouquet" brought in $5.3 million, about double the estimate.
"Table au dragon á L'oiseau," a sculpture by Giacometti, sold for $1,745,000, which was more than five times the top range of the estimate.
Next up, Sotheby's will be auctioning Mrs. Mellon's jewelry on Nov. 20 and 21, including a diamond it expects will fetch between $10 million and $15 million. That will be followed by a three-day sale of furniture, silver, glassware, porcelain and more art from the Mellons' residences, on Nov. 21 to 23.