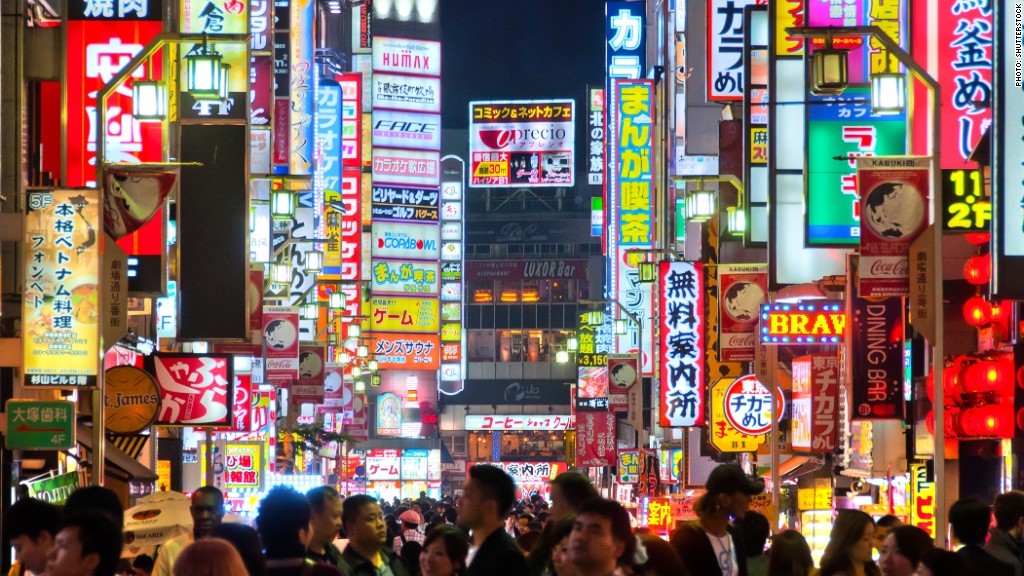 Japan is the land of the rising sun. Lately it's also been the land of the rising stock market.
Japanese stocks hit their highest level in seven years Wednesday, extending a dramatic bounce since Halloween. The Nikkei Index is up about 5.5% for the year now, about the same as America's benchmark Dow.
So the world's third-largest economy must suddenly be surging, right? Guess again.
This is a tale of a massive central bank rescue with some politics thrown in.
The Bank of Japan kicked off the buying binge by handing investors a giant treat on Halloween: a surprise increase in its emergency stimulus program. The central bank boosted its annual asset purchase target by ¥10 trillion to a whopping ¥80 trillion (roughly $700 billion).
Related: Are stocks too expensive now?
Japan followed that up by revealing its $1.1 trillion pension fund would step up its purchases of equities, both domestic and international stocks including the U.S.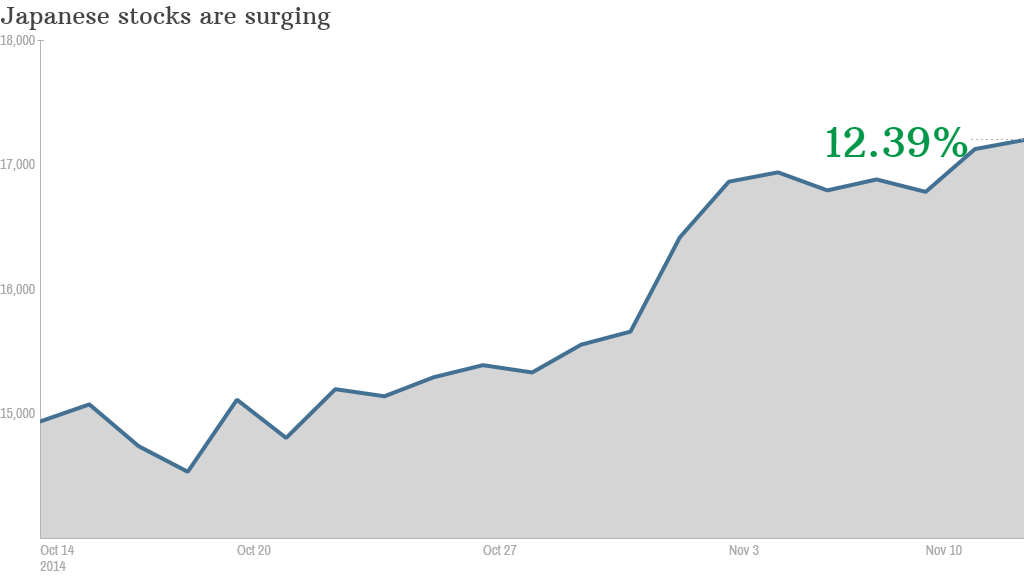 Investors raced to get ahead of those moves by sending the Nikkei surging 5% on October 31 alone. The market is now up over 10% since mid-October and is trading at levels unseen since the fall of 2007.
"The pension fund was icing on top," said Sameer Samana, senior international strategist at Wells Fargo Advisors.
Related: China's stock market finally opens to foreigners
Tax delay hopes: Politics in Japan has also played a role as investors bet that Prime Minister Shinzo Abe will delay a consumption tax hike slated to take effect in 2015. Pushing it back should boost consumer spending.
"The last thing the Japanese economy needs is another barrier to growth in the form of higher taxes," Peter Kenny, chief market strategist at The Clearpool Group, said in a note to clients. He pointed to a slew of headwinds, including deflationary pressures, tepid domestic demand growth, weak exports and an aging population.
Then again, delaying tax hikes could backfire by making owners of Japanese debt nervous about the country's ability to repay investors. Japan is already the most indebted nation in the world (based on debt to GDP) and talk of delaying the consumption tax has sent the yield on the country's 10-year bonds higher.
Is it too late to buy? It's important to remember that the latest gains in Japanese stocks have mostly been driven by temporary and emergency actions, not real economic growth.
This week Barclays raised its 2015 GDP estimate on Japan from a paltry 1.2% to a slightly-less-anemic 1.4%. More solid growth probably won't come until policymakers in Japan enact the pro-growth measures Abe has promised.
Most investors are already exposed to Japan if they own any international or global equities funds since Japan is a major market. That's probably enough exposure for now, Samana said, at least until Japanese policymakers put the country on a more sustainable path.
"There is a lot of headline risk and political risk that still needs to play out before people start leaning more heavily into Japan," Samana said.