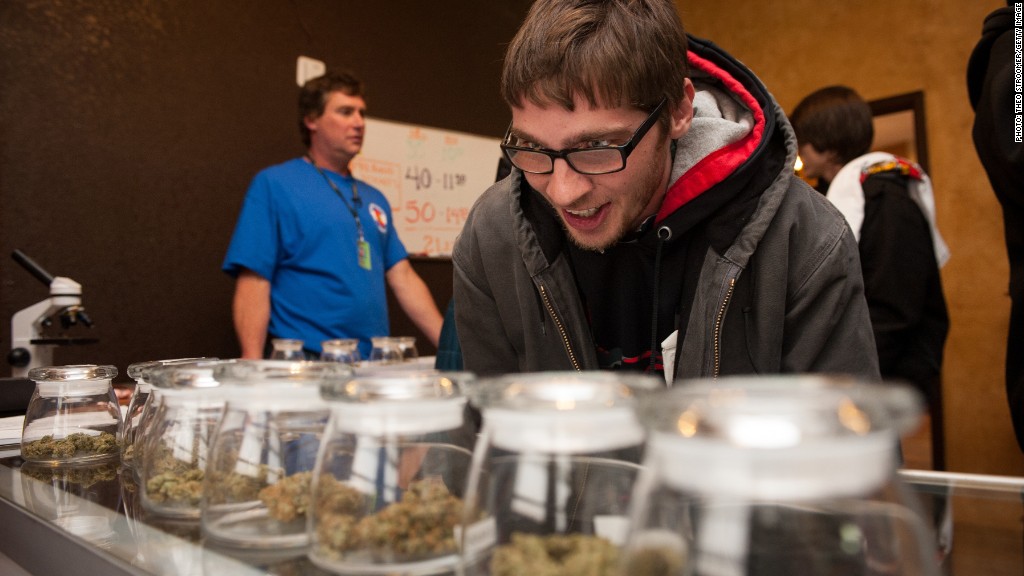 It appears that Colorado's booming pot industry has hit a bit of a bump.
Sales of marijuana for recreational and medical use fell in September for the first time since Colorado legalized it in January, according to tax data released this week.
Colorado brought in $7.2 million in taxes and fees from recreational and medical marijuana sales in September. That's down from $7.7 million in August. Colorado's Department of Revenue only publishes tax data and not total retail sales of marijuana.
The dip is somewhat surprising considering that sales had been rising steadily since Colorado became the first state to permit the sale of recreational marijuana to anyone age 21 or older.
Related: Smoke pot legally? You can still get fired
Industry insiders say the slowdown is not likely to last.
Michael Elliott, executive director of the Marijuana Industry Group, attributed the drop in September to the lull in tourism that typically occurs between the summer and winter months in Colorado.
Tourists are some of the biggest consumers of Colorado's cannabis. A study by Colorado's revenue department found that out-of-state visitors account for 44% of total marijuana sales in big cities and as much as 90% in mountain resorts.
Related: Tourists flock to Colorado to smoke legal weed
Toni Fox, owner of Denver dispensary 3D Cannabis Center, is nonchalant. She expects the numbers to reflect slow sales for October too. But she said demand is likely to rebound when the snow starts to fall.
"Once the ski resorts open, sales will pick back up again," she said.
Elliott said that interest in marijuana is only rising. Aurora, Colorado's third largest city, opened its first recreational dispensary in October and that more will open there this month.
"There's no reason to expect a loss of interest," he said. "In fact, I'm hearing the opposite."
Elliott estimates that recreational marijuana sales could total between $300 million and $400 million this year. Including sales of medical marijuana, the overall industry could be worth $700 million, he added.