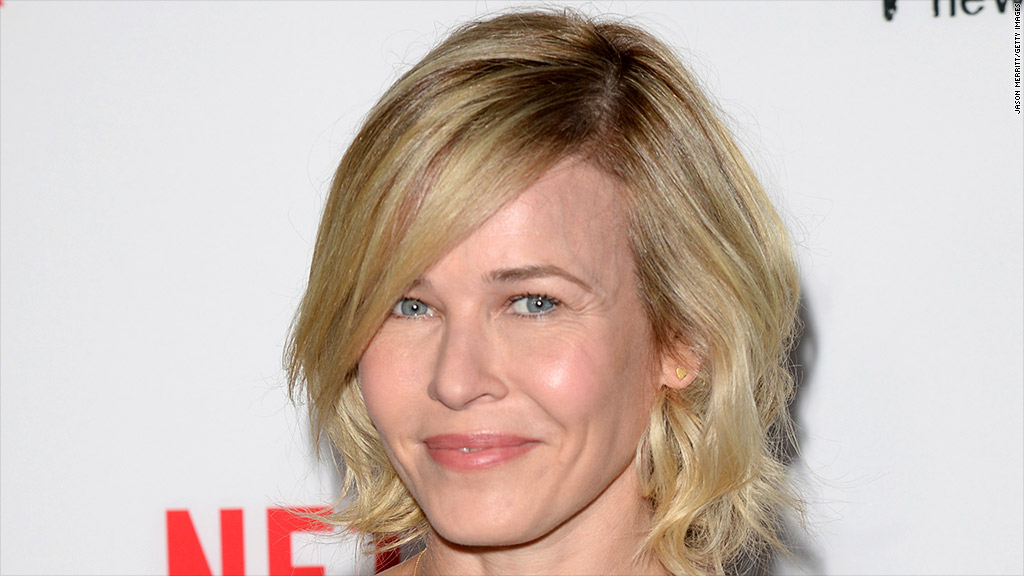 Oops, she's done it again.
Not one to shy away from controversy, comedian Chelsea Handler has drawn a hard line in the sand over Instagram's policy toward female nudity.
She made headlines last month when she posed topless on a horse -- channeling Russian President Vladimir Putin's famous (also topless) photo.
Wednesday, she posted another NSFW picture on Instagram, this time mimicking Kim Kardashian..
Handler's post features a selfie-style shot of her bare backside taken in a bathroom. It's juxtaposed with a screenshot of Kim Kardashian's latest Instagram post, also posing to reveal her bare backside on the cover of Paper Magazine. Kardashian hashtagged the photo "#BreakTheInternet."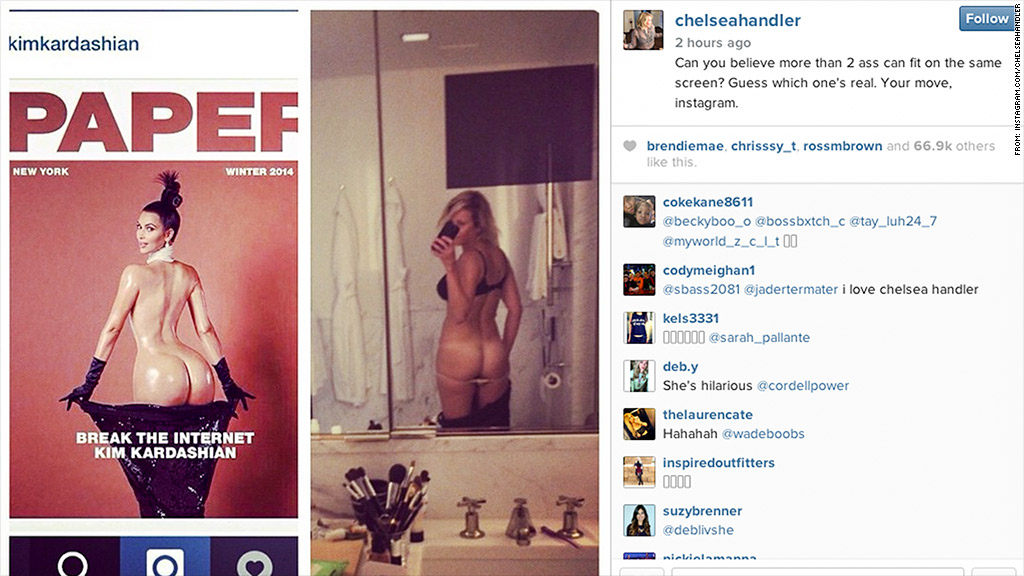 Handler captioned the photo: "Can you believe more than 2 ass can fit on the same screen? Guess which one's real. Your move, instagram."
Just one hour after it was posted, the photo had already received more than 57,000 "likes" on Instagram.
It's her latest dig at the photo-sharing app. Instagram's community guidelines indicate that "accounts found sharing nudity or mature content will be disabled and your access to Instagram may be discontinued."
After Instagram removed her topless photo last month, the comedian took them to task, calling their nudity policy sexist.
On Instagram, Handler posted a screenshot of her topless photo (next to Putin's), reading "Taking this down is sexist. I have every right to show I have a better body than Putin." She followed up with a screenshot of the policy violation notification, captioned, "If a man posts a photo of his nipples, it's ok, but not a woman? Are we in 1825?"
Related: Keira Knightley thinks Silicon Valley nerds are weirdos
Instagram did not respond immediately to a request for comment.
Handler isn't the only celebrity who has taken issue with censorship in America. Model and actress Cara Delevingne went topless this summer with the hashtag #FreetheNipple, a campaign to raise awareness of censorship and gender inequality. Scout Willis also protested with Free the Nipple this summer, posing topless in New York City and posting the photos to Twitter. "Legal in NYC but not on @Instagram," read the caption.