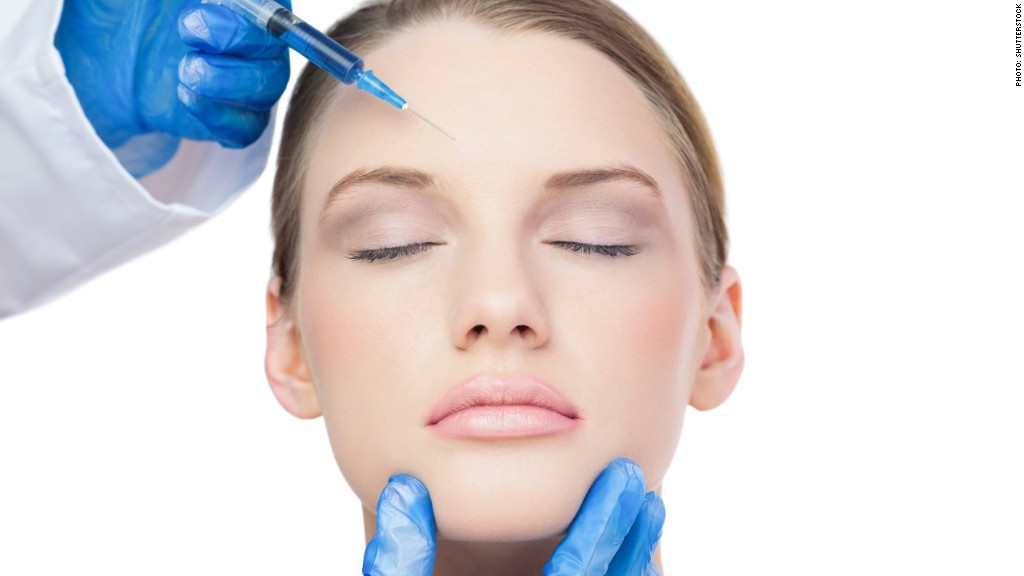 This is going to raise some eyebrows.
Allergan (AGN), the company behind Botox, agreed to be acquired on Monday for $66 billion by pharmaceutical giant Actavis (ACT). It's the biggest deal so far in 2014.
The tie-up would make the combined company one of the largest drug makers in the world, with $23 billion in annual sales. That's not as big as Merck (MRK), but it puts the newly combined company in the top 10. That may explain why the stocks of both companies rallied on the news.
The Botox maker has been a hot corporate date this year. Valeant Pharmaceuticals (VRX) teamed up with billionaire investor Bill Ackman to offer $53 billion to acquire Allergan earlier this year.
Related: Haliburton buys rival in mega-deal
However, Valeant said it "cannot justify" the lofty price tag Actavis agreed to.
Long known for its generic drugs, Dublin-based Actavis has been wheeling and dealing a lot this year to reshape its business.
In July, Actavis completed a $25 billion takeover of Forest Labs, the maker of Alzheimer's and blood-pressure treatments.
Deals, deals, deals: The Allergan deal caps off what has been a red hot year for mergers and acquisitions (M&A). 2014 is on track to set a new record for U.S. M&A, according to DealLogic statistics.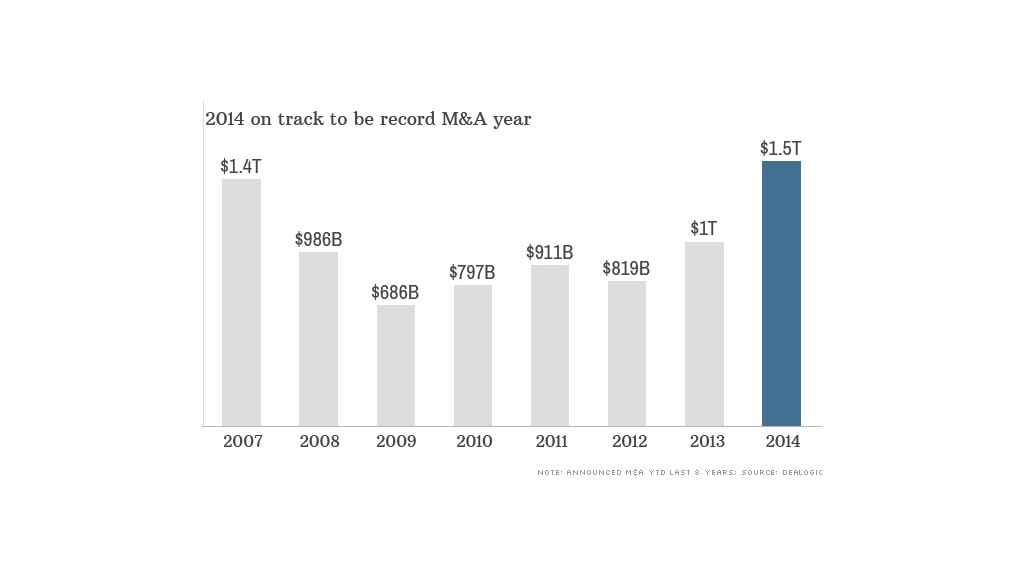 Earlier on Monday, Halliburton (HAL) inked a $34.6 billion deal to acquire Baker Hughes (BHI), forming an energy giant with over 136,000 employees.
Thanks to Monday's merger mania, M&A volume in the U.S. now stands at about $1.5 trillion so far this year, according to Dealogic. That's a whopping 52% increase from the same period of last year and even beats 1999 in the midst of the Dot-Com run up.
"The M&A market is very robust right now... All indications are that that's going to continue in the immediate future," said Tom McGee, deputy CEO and head of Deloitte's M&A business.
McGee pointed to high levels of cash on corporate balance sheets, low interest rates and relatively steady economic growth in the U.S.
The health care world has been the focal point of the buyout boom, with over $300 billion of deals announced so far this year.