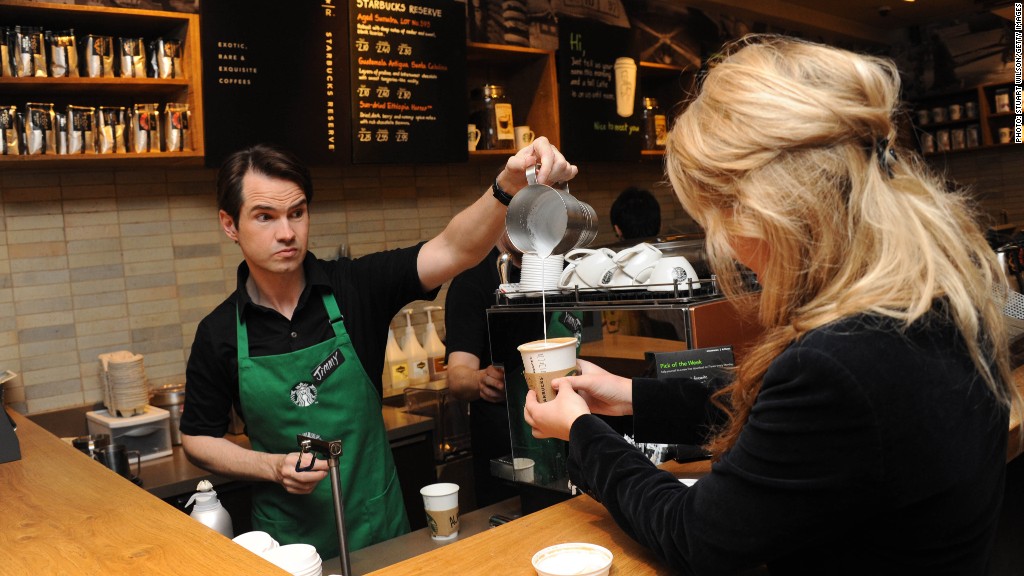 Over the past two decades,
Starbucks Corporation

(SBUX) has become almost synonymous with coffee. Today, Starbucks operates more than 20,000 stores across dozens of countries.

Considering how large Starbucks has become, it might seem that the company's rapid growth can't continue much longer. However, that couldn't be further from the truth. Starbucks has plenty of opportunities to continue growing at a healthy pace for decades to come.

Starbucks wraps up a strong year: Starbucks recently reported its financial results for the 2014 fiscal year, which ended in late September. For the full year, Starbucks added 1,599 stores to its worldwide footprint and comparable store sales rose 6%. That boosted revenue by 11% to more than $16.4 billion.

Starbucks' full-year adjusted earnings per share (EPS) grew 21% year over year to $2.66, helped by strong margin performance. The company also projected that adjusted EPS will reach $3.08 to $3.13 in 2015, which translates to 16% to 18% growth.

Related: Warren Buffett Tells You How to Turn $40 Into $10 Million

Growing beyond coffee: One big growth initiative at Starbucks has been boosting non-coffee sales. In 2012, Starbucks purchased Bay Area bakery La Boulange in order to add more food items to its menu.

The chainwide rollout of La Boulange food items has been bumpy -- some customers preferred the old Starbucks bakery selection -- but it has still been successful overall. Food sales have been growing at a faster pace than the rest of the company, driven by strong sales of breakfast sandwiches. Starbucks recently added new lunch sandwich offerings to stimulate additional growth.

Starbucks is also starting to expand its Starbucks Evenings concept. Starbucks began testing the sale of wine, beer, and small-plate appetizers after 4 p.m. at a single Seattle location in 2010. The company has since expanded the pilot to several dozen locations.

Starbucks plans to add hundreds of Starbucks Evenings locations in 2015. In the long run, thousands of Starbucks stores could feature the Starbucks Evenings menu, driving strong sales growth in the less busy late-afternoon and evening hours.

Related: Social Security: 3 Things to Know Before Taking Benefits Early

Lastly, Starbucks has been doubling down on tea since the acquisition of Teavana in late 2012. Globally, tea is even more popular than coffee, and it represents a $90 billion market. Starbucks is adding tea bars to existing Teavana stores to boost sales of prepared beverages. It is also selling certain Teavana branded beverages in Starbucks stores.

These investments are starting to pay off, as Starbucks saw more than 20% growth in iced tea sales over the summer. Ultimately, CEO Howard Schultz wants to make Teavana the Starbucks of tea, and sees a tremendous growth opportunity there.

Mobile order and pay: Starbucks revealed yet another potential game changer last month when it announced plans to roll out mobile order and pay functionality chainwide in 2015. Customers will be able to place orders in advance and pick up their orders without waiting in line. Starbucks describes it as the urban answer to the convenience of drive-through.

Beginning next year, Starbucks will also use this platform to offer delivery in some top urban markets. Schultz's vision is that a customer could place a standing food or drink order and have it delivered to his or her desk every day. If this concept takes off, it will represent a huge long-term differentiator -- and growth driver -- for Starbucks.

Related: Social Security: 5 Facts You Must Know

Lots of ways to grow: Starbucks is moving quickly in pursuit of several major growth opportunities. Investors should recognize that some of these growth initiatives are bound to be more successful than others.

However, the bottom line is that Starbucks has lots of irons in the fire, and many paths to producing significant long-term growth. (In addition to the store-based initiatives mentioned here, Starbucks is rapidly growing its consumer packaged goods business.)

Starbucks shares currently trade at about 25 times projected 2015 earnings. That still represents a premium to the broader market, but one that is easily justified by Starbucks' numerous growth opportunities and its leading position in digital engagement. For long-term investors, Starbucks stock could be a great bargain today.

Adam Levine-Weinberg is a senior Industrials/Consumer Goods specialist with The Motley Fool.