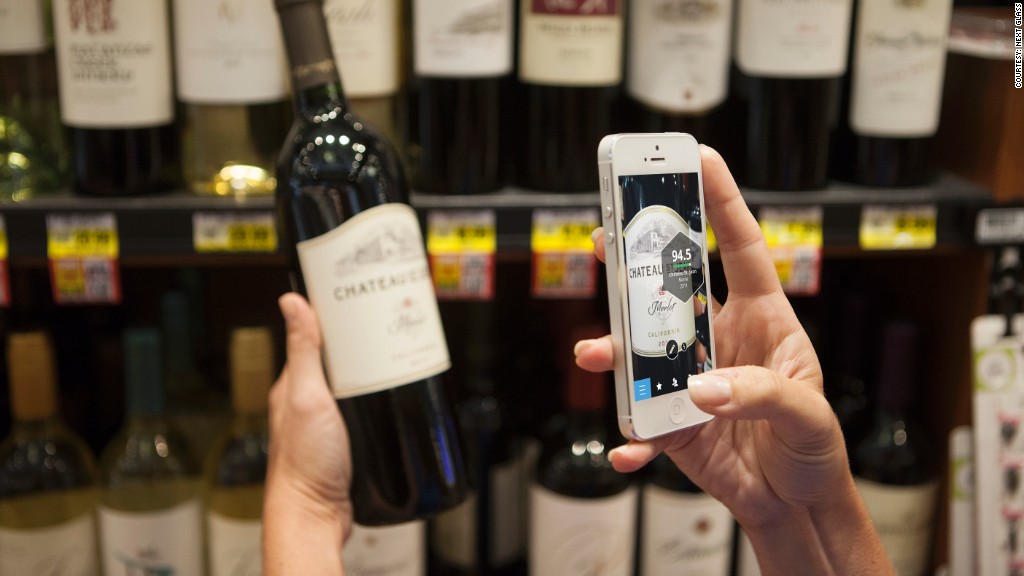 For most of us, wine remains a big mystery.
Making a selection at a wine store is a daunting task that usually comes down to just two decisions: red or white and what price you're willing to pay. Then you just choose the wine with the prettiest label.
A new app called Next Glass aims to make buying wine much easier -- and a whole lot more scientific.
Next Glass works like this: When you first download the app, you are asked to rate a few wines that you like. Then, at a wine store, you scan a wine bottle's label. You'll instantly get a score out of 100. The higher the score, the more likely you'll enjoy that wine.
And if wine's not your thing, don't fret: Next Glass also rates beer.
To arrive at a personalized score, Next Glass bought some heavy duty chemistry equipment that analyzes the composition of various wines and beers. The startup tests about 200 bottles each day, analyzing a total of about 15,000 bottles of wine and 8,000 bottles of beer so far.
Related: Steve Wozniak says the iPhone 6 is three years too late
Feeding the chemical data into a computer, Next Glass says it makes more than 4 billion calculations to determine a score for each of its users. Next Glass claims its personalized scores are 96% accurate.
In testing,the app works remarkably well, accurately predicting which wines and beers I'd like and which ones I wouldn't.
Next Glass also comes with some clever features, including a kind of social network that lets you connect with friends who also have downloaded the Next Glass app. If you're all at a restaurant together, the app will be able to help you pick a wine that everyone at the table will enjoy.
When you scan a wine or beer, the app will also recommend similar items that you might like. And Next Glass will even tell you how many calories are in a glass of the wine or beer you scan.
Related: You might not need a mobile carrier by 2020
Still, Next Glass has some drawbacks.
Price is nowhere to be found in the app, so if you're looking for a good deal, you'll still have to hunt around the liquor store. The recommendations engine is a neat feature, but you just get the name of the suggested wine or beer -- not a photo -- so good luck finding it in the store. The "discover" button lets you search for wine and beer, but the list isn't organized by what you'll enjoy. There's no way to find the wine that's best suited to your tastes.
Next Glass is clearly still in version 1.0.
Vivino, a similar app, includes average prices for wine, tells you which wines are available in your location and it provides descriptions of different varietals. The app also has a big head start on Next Glass and has about 1 million wines in its database.
But Vivino relies on other people's taste preferences to recommend wines, and it doesn't include beer. Next Glass believes its scientific method will provide a much more accurate reading of your preferences.