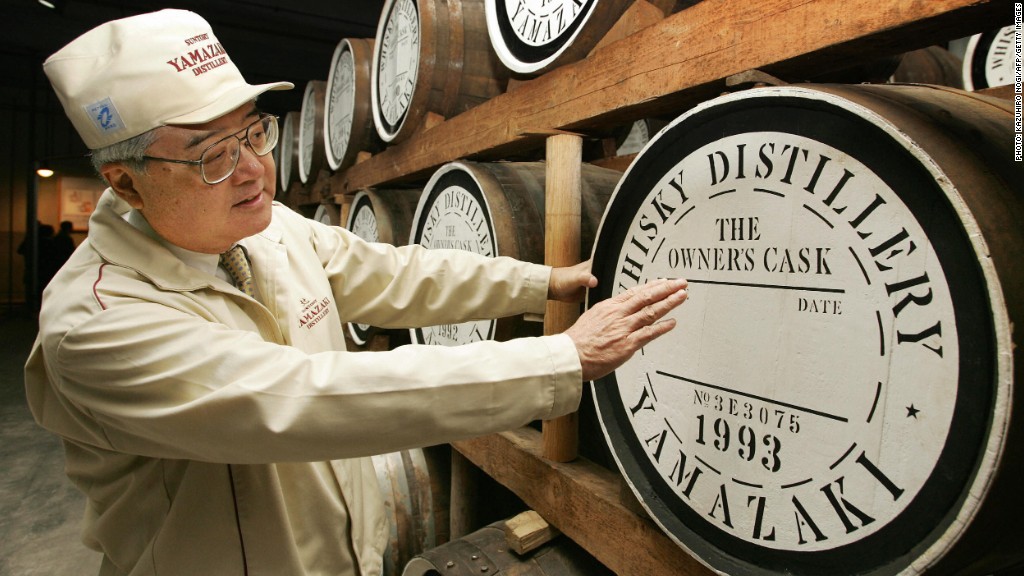 Watch out, Scotland! Japanese whisky is no longer an insider secret -- it's grown into a $6 billion industry, competing with scotch for the spotlight.
Whiskies from Japan have been winning accolades at the Whisky Magazine Awards for years, including world's best single malt. This year, a Japanese distiller took home the prize for best blended malt whisky.
Some Japanese whiskies are so coveted that buyers have pushed prices at auction up to tens of thousands of dollars a bottle. A Yamazaki single malt aged 50 years went for $33,169 earlier this year at auction in Hong Kong -- only 150 bottles were ever produced.
There's no doubt about it: International demand for Japanese whisky is growing -- exports have increased by 86% since 2008. Taiwan, France, Russia and China are bringing in the most Japanese whisky by volume, according to Euromonitor.
"Japanese whisky as a whole is absolutely fantastic," said Nicholas Pollacchi of Whisky Dog. "The quality that's coming out of Japan is exceptional, and that's been happening there for almost 100 years."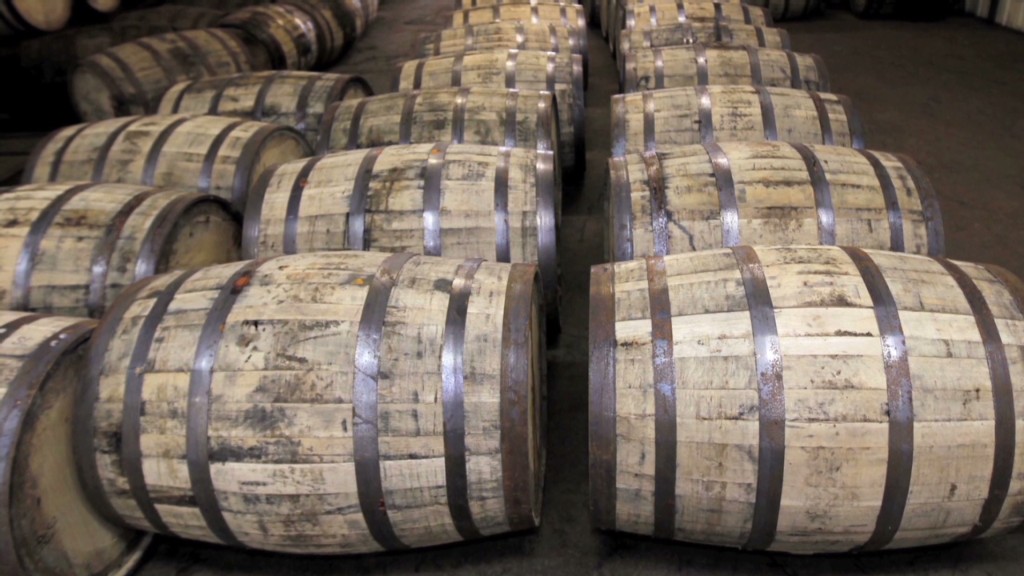 Commercial production started in Japan in 1924 when liquor entrepreneur Shinjiro Torii opened a distillery in Yamazaki and hired Masataka Taketsuru to run the distillery. Taketsuru learned his craft at distilleries in Scotland, and brought the techniques back to Japan.
Related: Drink up! Whiskey investing brings huge returns
Early manufacturers tweaked Scottish methods to make original whiskies that catered to Japanese tastes, said Euromonitor analyst Mariko Takemura.
"It was hard for Scotch whiskies to be accepted by Japanese consumers, because they were considered too smoky, so manufacturers tried to find tastes that could be accepted," said Takemura.
Taketsuru later started his own company, Nikka, which is now one of Japan's most famous whisky producers. Nikka's Yoichi single malt, aged 20 years, was named by Whisky Magazine as the world's best in 2008.
Related: The world's most expensive whisky
Torii's company, now called Suntory Holdings, has also grown, acquiring American spirits maker Jim Beam for $16 billion in January. The combined company is the world's fourth-largest whisky producer and the sixth-biggest spirits company.
As a whole, experts say that the global whisky industry is seeing a renaissance.
"The growth outside the established distilling nations such as the U.S., Japan, Ireland and Scotland has grown tenfold in the past 10 years, with the likes of England, South Africa, India and Australia winning top accolades," said the Whisky Corporation's Stephen Notman.
But even with increased global competition, Scotland is still top dog. A Scottish whisky -- a single bottle of Macallan "M" scotch -- holds the record as the world's most expensive whisky, sold for $628,205 at auction.
And whisky remains Scotland's biggest export after oil, with 40 bottles going overseas each second, bringing in £4.3 billion ($6.7 billion) in 2013, according to the Scotch Whisky Association. It's such a boom that Scots call whisky "golden oil."
Experts say diversity is positive for industry innovation, and that there's room for everyone.
"It gives Scotland a kick up the backside -- how can we improve, and what can we do better," Pollacchi said. Global whisky makers are simply "producing different styles of whisky ... there's a different whisky for a different mood, a different moment, a different time."