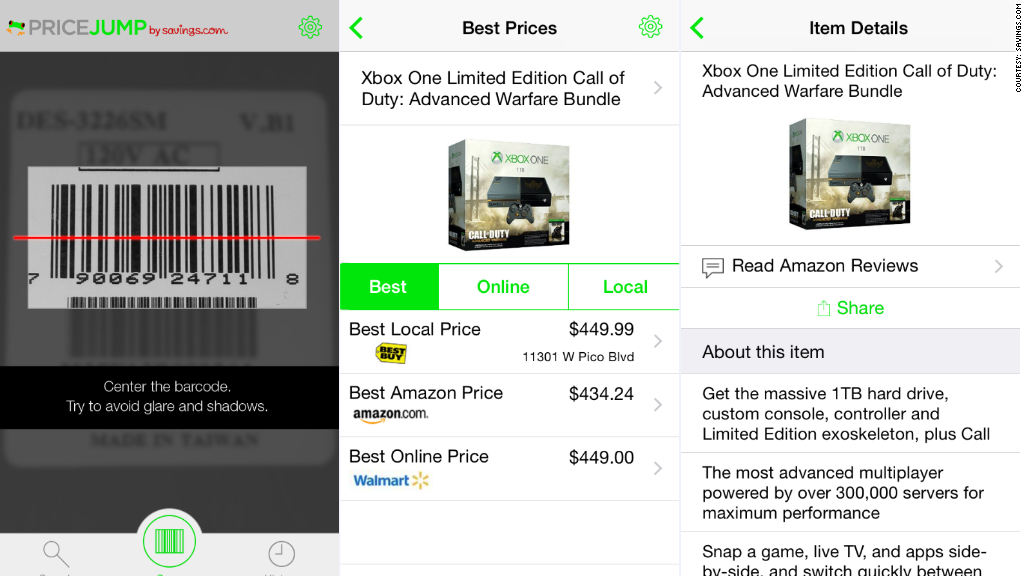 Shopping for holiday gifts usually goes something like this: Check to see if the same item is cheaper on Amazon. Buy the better deal.
But what if there's a better deal at another store close by or even online?
A new app from Savings.com called PriceJump does just that. It helps shoppers cover all their bases by scanning local stores and 5,000 online retailers in real time to get the best price.
After downloading the app (only available on the iPhone for now), users can scan a bar code and instantly find the best price for that item. The result will display the best local and online price and also Amazon's.
Amazon doesn't always win. This summer, PriceJump launched a website that tracked Amazon (AMZN) prices and found that the site offered the best deals 51% of the time.
On items that cost more than $100, PriceJump found lower prices than Amazon 70% of the time.
Related: Luxury retailers are watching you
But hunting for deals could save people a lot of money, particularly during the holiday season. Savings.com found that many popular holiday gifts wildly fluctuate in price during the last three months of the year.
One Disney doll (Elsa, of course), was available on Amazon for $14.99 on Oct. 17 and shot up to $20.39 on Oct. 18. Meanwhile, Wal-Mart (WMT) and Target (TGT) both offered the same doll for $12.79.
Related: RadioShack is still stuck in the 1980s
Savings.com also found that Microsoft's (MSFT) Surface tablet was being simultaneously being offered for $336 from one retailer and $524 from another.
But buyer beware: Just because the PriceJump app found a better deal doesn't mean it's worth buying it all the time.
For instance, if you're a subscriber to Amazon Prime, two-day shipping is included and that might not be the case at many other online stores or shipping might cost a bundle.
Or the store that has a better deal might be out of stock (The PriceJump app gives you phone numbers so you can call to check before you make that trip).
While it doesn't provide all the answers, PriceJump does take some of the guesswork out of the shopping experience and helps shoppers save.