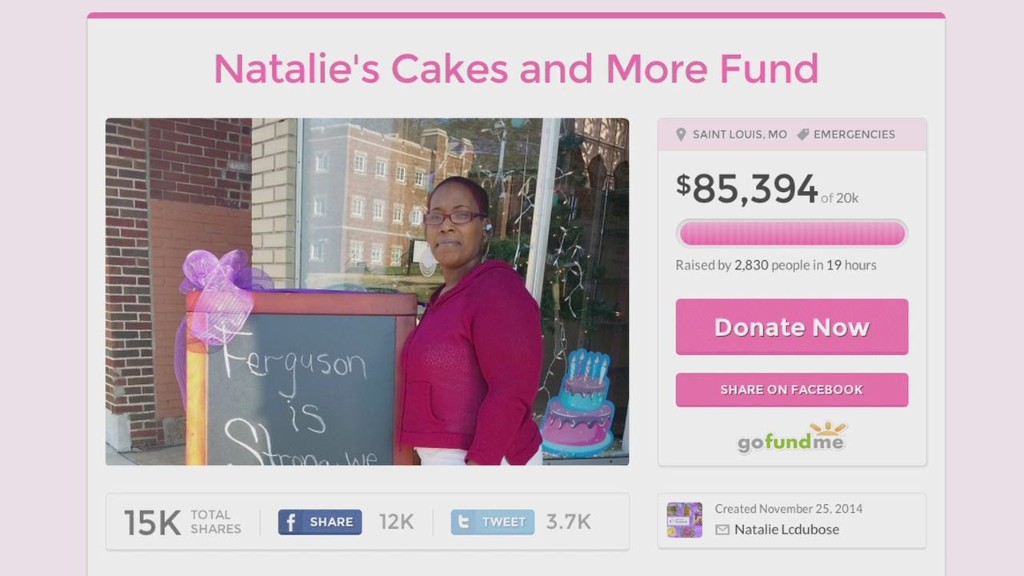 Natalie Dubose has no choice but to carry on, one day after rioters smashed the windows of her Ferguson bakery.
"I'm baking today," Dubose told CNNMoney, as the sound of broken glass being swept up can be heard over the phone. "We have orders to go out for Thanksgiving. I can't tell the people -- I won't tell the people -- that I'm canceling."
Like many other small businesses, her bakery Natalie's Cakes and More was vandalized Monday night in the wake of the grand jury decision not to charge Officer Darren Wilson with killing Michael Brown.
The shop's main window is "busted out completely. They threw a chair in it to bust it out ... It's a big mess," said Dubose, who opened Natalie's Cakes as recently as June.
Despite the mess, however, Dubose says she will continue to bake. She can't afford to give up now, having invested all she had into a business that was funded through bake sales at flea markets.
"I am a single mom, a mother of two," she said. "This is everything that I own. I can't walk away from it. I just got to start up and start baking again."
Related: Ferguson-area gun sales surge
Windows were smashed at dozens of businesses in the Ferguson area as looters ran amok, targeting small businesses like C and C Smoke Shop and Beauty World, and also outposts of corporate businesses like FedEx (FDX)and McDonald's (MCD), and also a U.S. Post Office.
Many of the businesses were also looted, including Ferguson Market & Liquor, the store that Brown allegedly robbed shortly before he was apprehended and fatally shot in August.
About 25 buildings were set on fire Monday night, and many of them were still burning Tuesday.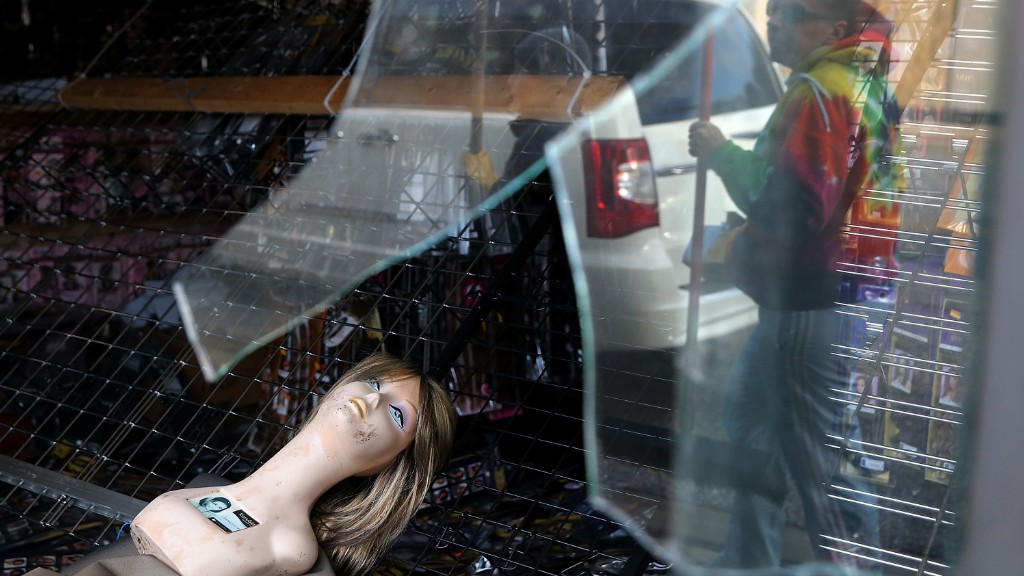 All of this destruction has kept Chris Nelke, owner of a replacement windows business A-Affordable Glass, very busy.
Nelke said the damage was "beyond extensive, it's ridiculous" as he replaced windows on some buildings, and boarded up others with plywood.
He told CNNMoney that so far this morning he had already worked on replacing windows for eight businesses. He had run out of wood and was on his way to get more.
For Dubose, it was her worst nightmare come true. Just days before the grand jury decision, Dubose had told CNN that she hoped her store would not become a target during protests.
"Just don't burn my shop down; don't destroy it," she said.