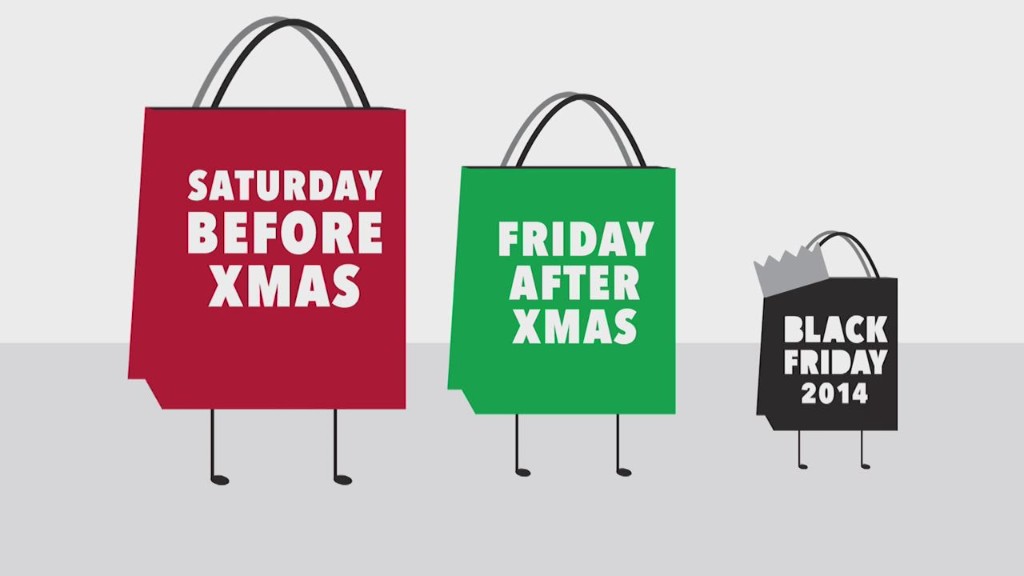 WalMart, Target, Macy's, Kohl's, Kmart, Toys R Us. All of these stores open on Thanksgiving Day.
They justify opening on the famous American holiday because of competition. Others are doing it, so they have to as well or they'll lose out on sales.
"It's absolutely appropriate that we open at 6 p.m. [on Thursday]," WalMart's U.S. CEO said in defense of the practice that has been criticized widely.
Yet opening on Thanksgiving does little to boost sales, according to the data from recent years. Instead, it merely shifts some shopping that would have been done on Black Friday to Thursday.
Related: What's open and what's not on Thanksgiving
"Ultimately, if you look over the course of the holiday selling season, the fact the stores are opening on Thanksgiving as opposed to Black Friday doesn't lead to increased sales," says Howard Feller, a Partner at MMG Advisors, an investment bank specializing in retail and fashion.
If anything, opening earlier and earlier has reinforced to consumers that they might get better deals if they wait, Feller says. Promotions no longer feel exclusive.
Related: Why Black Friday deals aren't really deals
Many headlines touted a record for Thanksgiving Day sales last year. Over $2.5 billion was spent in stores that day, according to ShopperTrak, a substantial increase from 2012.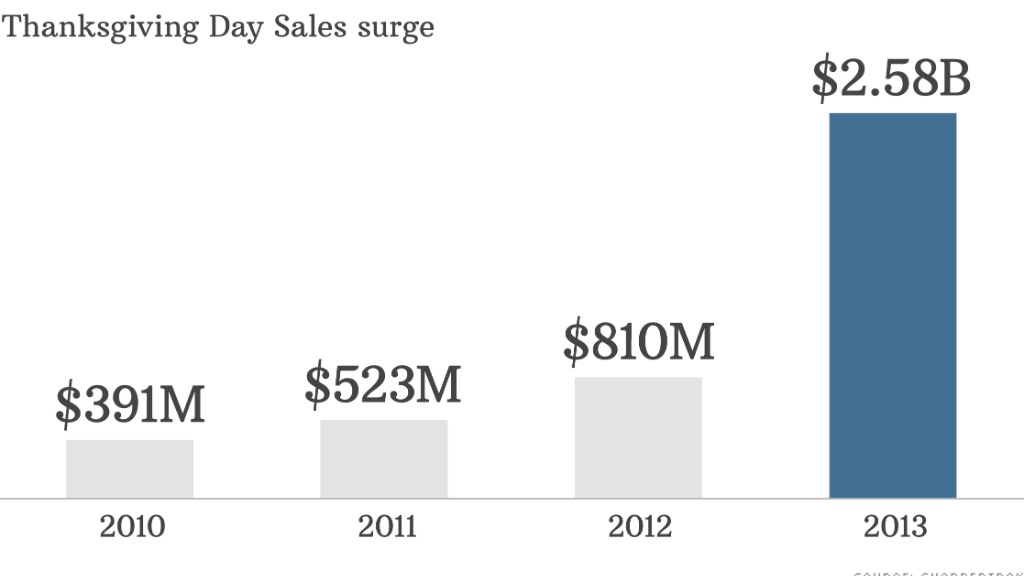 Yet sales over the full four-day period from Thanksgiving to "Black Sunday" rose only 1% from 2012 to 2013. That's anemic growth in the retail sector.
"You're staffing stores to be open longer for just a little bit more revenue," says Ike Boruchow, a managing director at Sterne Agee who covers the retail sector.
A closer look at the data is even more revealing: From 2012 to 2013, Black Friday sales shrunk by $1.5 billion while Thanksgiving Day sales grew by $1.8 billion, according to ShopperTrak.
That's nearly a one-to-one tradeoff. Black Sunday sales also declined in 2013.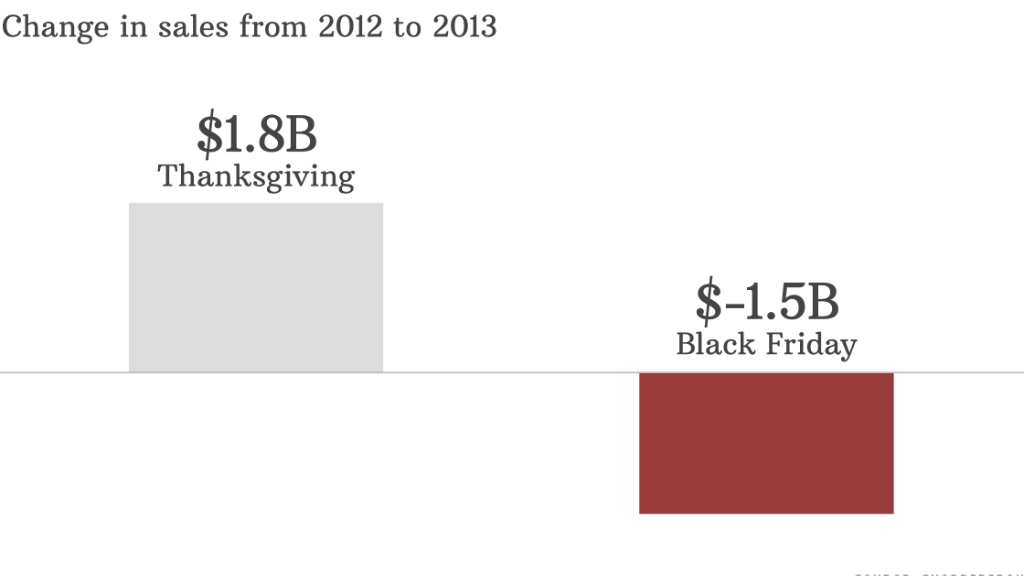 "It's not good for profitability. It's not good for the fact that you have retail workers leaving families because they have to work at a store," says Boruchow of the sales starting earlier and earlier.
Opening a retail store is expensive, and adding extra workers to handle Thanksgiving Day crowds can cut into margins.
Related: These Christmas light displays cost thousands
On top of that, more people are shopping online, and brands now have deals all week to lure shoppers. Waiting for a certain day -- whether it's Thanksgiving or Black Friday -- to start deals is becoming outdated.
Mike Moriarty, a partner in the retail practice of A.T. Kearney, predicts gift cards and "self-gifting" where people buy something for themselves will be the big trends this year. Neither of those are likely to be top priorities on Thanksgiving Day.
There's modest optimism about Black Friday weekend spending growth in 2014, but so far opening on Thanksgiving has proven to be a zero-sum game.