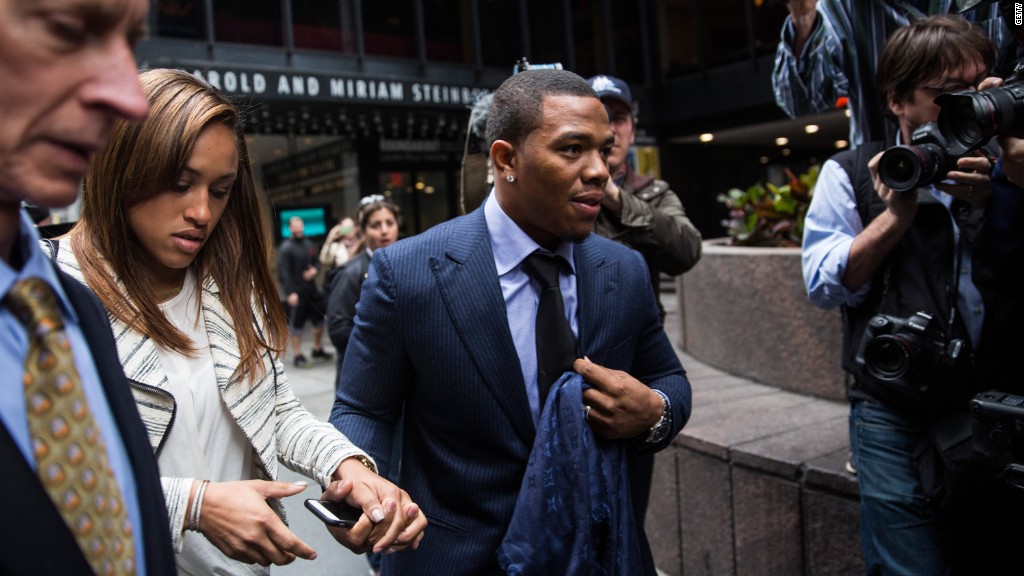 When Janay Rice was ready to speak, almost everybody was ready to listen.
All manner of media outlets were vying to be the first to interview Rice, the wife of former Baltimore Ravens running back Ray Rice. Janay's decision to stay with Ray after he violently struck her in an Atlantic City casino elevator -- and after video of the incident instigated weeks of national news coverage -- drew considerable attention earlier this year.
Interest was so great that some media outlets were willing to consider unusual arrangements in order to lock down what's known in the industry as "the get."
ESPN's Jemele Hill got it, securing a three-hour interview earlier this month. Janay did not appear on camera, but the interview formed the basis of an essay, dubbed "Janay Rice, in her own words," that ESPN published on Friday afternoon, the same day Ray's indefinite suspension was overturned.
NBC's Matt Lauer also got it, winning the first on-camera interview with both Janay and Ray, which will be shown on the "Today" show on Monday and Tuesday.
So about those unusual circumstances -- some analysts have criticized the ground rules of the ESPN interview after the outlet disclosed that Janay "was given approval" over the content of her essay and its release date.
Why did ESPN agree to that? Well, for one thing, the Rices had a whole lot of leverage. As Hill told me on CNN's "Reliable Sources" on Sunday, the couple had "an array of choices" of who to talk with.
"I know people see that language and 'final approval' and they envision this process of her shooting down things not to be in there," Hill said.
"But in no way was this ever a dictatorship. It was fully a collaboration," she said. "She came into it with the mindset that she wanted to be as transparent as possible."
Related: Jemele Hill on "Reliable Sources"
"Collaboration" is a controversial word that conjures up something other than traditional journalism. But there is a long history, particularly in the sports world, of first-person pieces.
Earlier this year LeBron James announced his return to the Cleveland Cavaliers via Sports Illustrated in an first-person essay "as told to Lee Jenkins."
In this case, ESPN stressed that "no questions were off limits" when Hill met with Janay.
An ESPN executive, speaking on condition of anonymity, said that despite the "content approval" caveat, the network included everything it wanted to include in the essay.
"We felt it was important to get her side of the story and these were the ground rules they set," the executive said. "Internally we determined that if at any point we felt our credibility would be damaged we'd bail. We never reached that point."
Reactions to the arrangement were mixed; Mediaite columnist Joe Concha criticized it on Saturday, saying Hill morphed "from journalist to stenographer."
Washington Post media critic Erik Wemple wrote Sunday that the actual content of the essay was "quite compelling," and noted that ESPN had accepted the ground rules not to gain access to, say, NFL commissioner Roger Goodell, but rather to a "victim of domestic violence -- albeit one who's trying to clear the way for her husband's return to the playing field."
Hill told me on "Reliable Sources" that she "interviewed for the interview" by meeting with Janay and her family members several weeks before the Nov. 5 interview.
Hill said Rice was motivated to speak partly because "she had gone months without saying anything."
And what about NBC? Lauer's interview was clearly taped before Ray was reinstated.
A "Today" show spokeswoman said there were "absolutely no restrictions or approval" on the questions and answers in the interview.
Asked whether NBC compensated the Rices for the interview, perhaps by licensing photos or videos from the family, the spokeswoman said there was "absolutely no licensing or arrangement of any kind."
What the Rices gained from both ESPN and NBC was exposure -- NBC, for example, showed a snippet of Lauer's interview on the hugely popular "Sunday Night Football" telecast on Sunday.