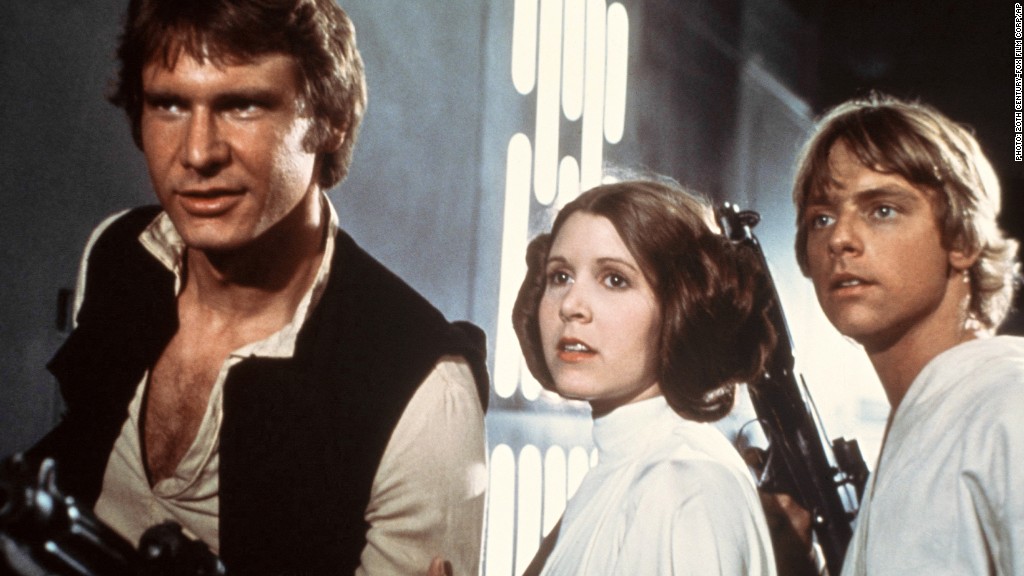 The newest "Star Wars" is already turning out to be a force to reckon with.
That's if you take into account the buzz surrounding just the teaser for Disney's (DIS) "Star Wars: The Force Awakens." The trailer has picked up over 40 million YouTube views in less than three days since its release Friday.
If its current trajectory holds, the trailer could create a new viewing record at some time on its fourth day on Tuesday.
The current record is held by the trailer for "Avengers: Age of Ultron," which clocked in 50.6 million views in the best first week debut of 2014.
Related: Lucasfilm disputes brewery's 'Star Wars' beer name
The latest Star Wars trailer has also been hugely popular on social media with over 165,000 likes and nearly 140,000 shares on Facebook.
iTunes Trailers was the first to release the trailer, but people had trouble loading it on the site.
However, fans were delighted to see that the trailer soon showed up on YouTube via MovieClips and eventually the official Star Wars YouTube page.
The 88-second long teaser has a lot of treats for "Star Wars" fans, replete with droids, lightsabers, a rousing John Williams score, and the iconic Millennium Falcon flying once again.
Some Internet users were critical that newcomer John Boyega -- a person of color -- was donning a Stormtrooper suit, worn by soldiers of the evil Empire.
Boyega responded to the criticisms on his Instagram by simply saying, "To whom it may concern... get used to it."
Others had fun creating parodies like a shot for shot remake using Lego's.
Disney's "Star Wars: The Force Awakens" hits theaters next December.