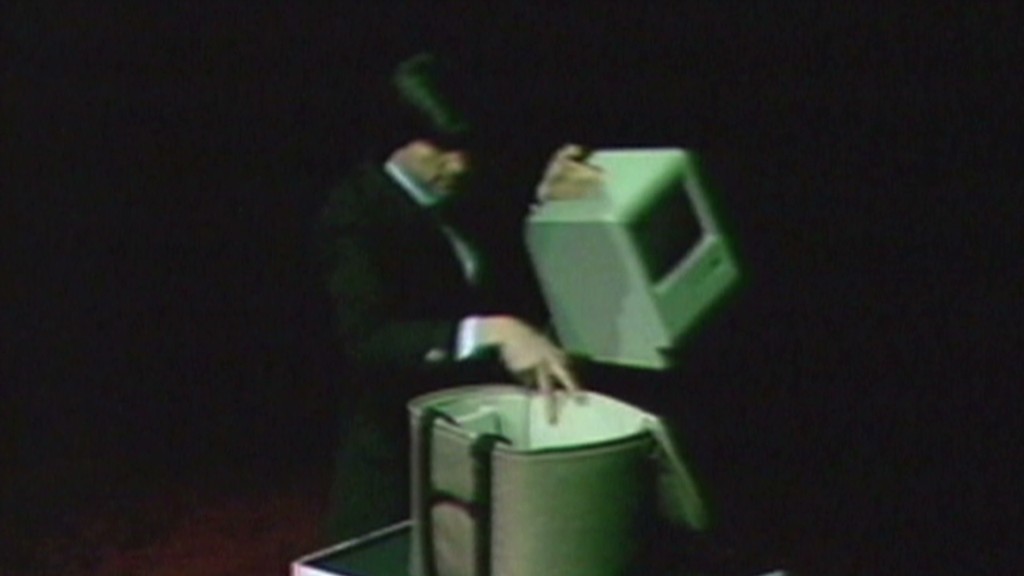 Steve Jobs has come back to life in the form of a videotaped deposition presented at a trial on Friday.
The question and answer session took place in April 2011 -- just six months before the Apple co-founder's death. The transcript of the deposition was made public for the first time earlier this week.
During the deposition, the attorney representing iPod owners asked Jobs questions about Apple's attempt in 2004 to limit the iPod's compatibility with rival music stores.
Most of the attorney's questions focused on a company called RealNetworks (RNWK).
In 2004, RealNetworks developed an iTunes rival called Harmony that let people download music that could be played on any MP3 player -- including the iPod.
"Do they still exist?" Jobs asked about RealNetworks.
That snarky question set the tone for the deposition.
Jobs was on medical leave, appeared very thin and his voice was raspy, but seemed mentally sharp.
He was also defensive, evasive and opaque. Asked about events that took place seven years earlier, he said "I don't remember," "I don't know" or "I don't recall" 74 times during the two-hour session -- including when he was asked if he knew what the lawsuit was about.
In the iPod's early days, Apple (AAPL) went to great lengths to ensure the iPods could only play music burned from CDs or purchased on iTunes. Music sold on iTunes had a special Digital Rights Management encryption that wasn't compatible with other MP3 players.
In a class-action lawsuit, plaintiffs argue that Apple abused its monopoly power in the music industry to force out competition. The nine-day trial began Monday.
Throughout the deposition, Jobs portrayed Apple as a company that was at the mercy of the record labels. He said Apple was "very scared" of being in noncompliance with the labels' terms, which stipulated that iTunes music needed DRM protections.
Jobs noted that hackers continually found ways around DRM. Under threat of music labels revoking their contracts, Apple had to frequently update iTunes to patch the DRM holes.
Jobs said Apple considered Harmony's iPod compatibility a hole that could put it in breach of contract with the record companies.
None of the major labels ever canceled their contracts with iTunes. In fact, Apple has been widely regarded as having the upper hand in its negotiations with the record labels, and Jobs has been accused of strong-arm tactics when setting iTunes' music prices.
Towards the end of the deposition, the attorney asked Jobs whether Apple's response to Harmony was "strong and vehement."
"They don't sound too angry to me when I read them," Jobs answered. "A strong response from Apple would be a lawsuit."