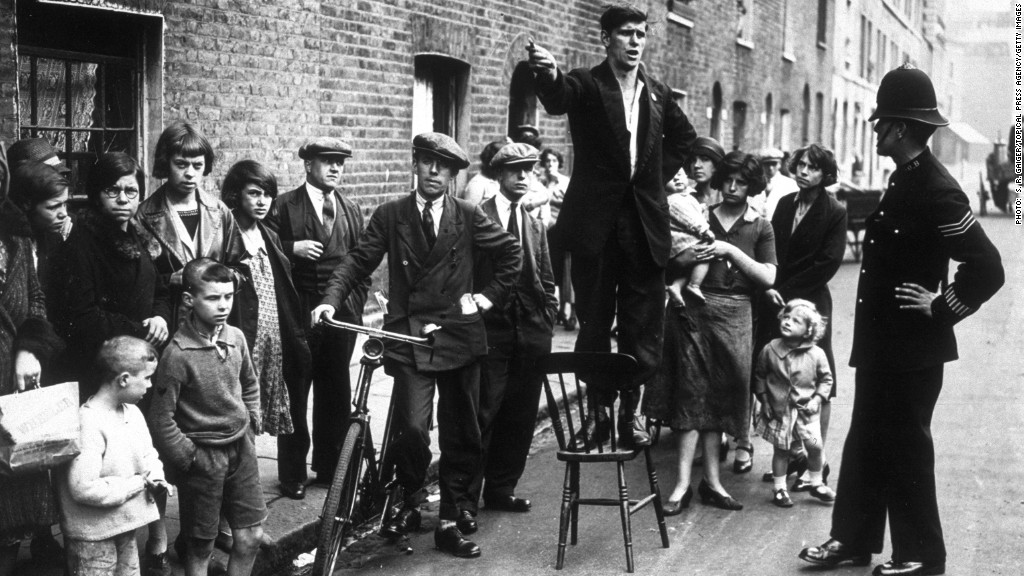 Britain will have its smallest government since the 1930s if plans for a decade of austerity take effect.
The U.K. government unveiled new budget goals last week that would mean five more years of cuts as it tries to close a stubbornly wide gap between revenue and spending.
Despite recent strong growth, hefty cuts to welfare programs and frozen public sector pay, Britain is still running a budget deficit of about 5% of GDP. Disappointing tax receipts are partly to blame.
Parliamentary elections are just five months away and the new forecasts from Chancellor George Osborne have drawn heavy criticism from independent forecasters as well as political foes.
The proposals would shrink total public spending to about 35% of GDP in 2019-20, according to the Office of Budget Responsibility, the U.K.'s independent fiscal watchdog.
That would be the lowest proportion of national wealth spent by the government in 80 years.
Related: Europe punts again on more stimulus
Institute of Fiscal Studies director Paul Johnson said "colossal" cuts would be required to reduce the budget to those levels. Some £55 billion ($85.91 billion) would be slashed from government spending, in addition to £35 billion ($54.6 billion) already cut.
"If we move in anything like this direction, whilst continuing to protect health and pensions, the role and shape of the state will have changed beyond recognition," Johnson said.
Other economists have questioned just how much further Britain can tighten its belt.
Berenberg chief U.K. economist Rob Wood said few other countries spend as little as 35% of GDP, and those that do typically don't have public healthcare or face less pressure from an aging population.
Osborne says the U.K. needs to live within its means. His opponents say he's inflicting needless pain on vulnerable groups and growth could be less robust than expected as a consequence.
A deterioration in tax receipts has depleted Britain's coffers and pushed back hopes of a budget surplus. Back in 2010, the U.K. government forecast a deficit of less than $62.5 billion this year. That projection is now more than $140.6 billion.
The U.K. is tipped to be the fastest growing major economy in 2014. Still a drop in real wages has left many people feeling no better off. Growth is expected to slow next year.