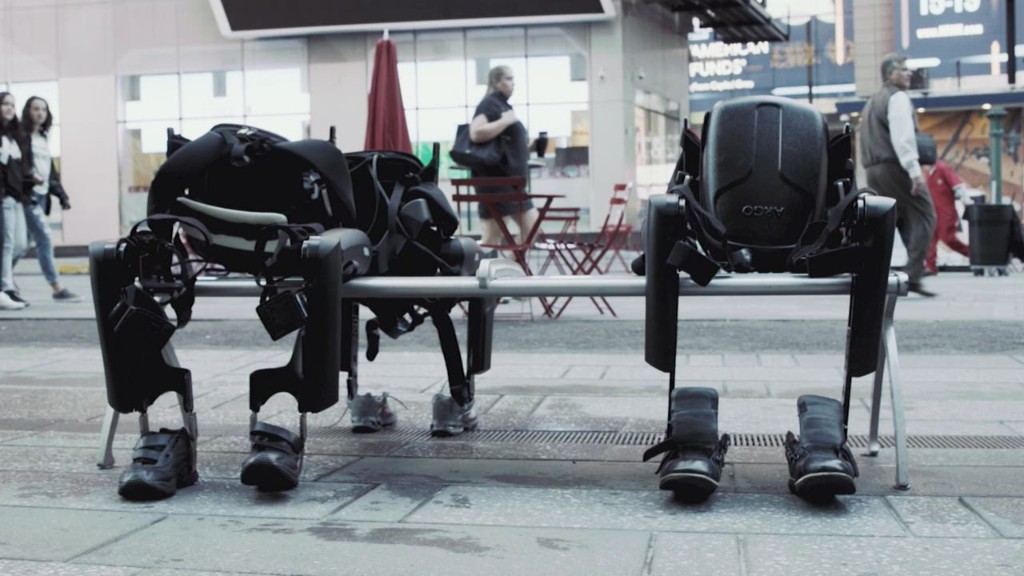 When Gene Laureano can stand on his own, he likes being able to make a cup of coffee at a kitchen counter.
He likes that his son knows that he's actually tall - 6 foot 3, in fact. Until recently, his 13-year-old had not seen him at his full height.
Laureano, now 51, fell off a ladder in 2001 and became a parapalegic confined to a wheelchair.
For the first time, people like him have the opportunity to stand and even walk.
Laureano has been testing ReWalk's robotic exoskeleton, the first of its kind approved by the FDA for personal use.
The unit weighs 46 pounds, but the user feels only the weight of the backpack, about 5 pounds. A wristwatch controls a battery in the backpack, and controls hip and knee movement.
The cost of the robotic exoskeleton is $69,500, and is not covered by insurance. Laureano has been able to test the product through a clinical trial in the Bronx since January 2013.
ReWalk (RWLK) is the brainchild of Israeli scientist Dr. Amit Goffer who, after an ATV accident in 1997, became a quadriplegic. Goffer grew frustrated with the limitations of wheelchairs.
"Once I realized there was not an alternative to the wheelchair, I couldn't understand why," said Goffer.
He says he had always been an entrepreneur and he began prototyping the ReWalk in his garage.
Another major player in developing robotic exoskeleton community is Ekso Bionics, which just shipped its 100th unit for use in rehab facilities, though not for individuals in the U.S. Ekso Bionics is in the process of also trying to get FDA approval.
Goffer believes it's not just FDA clearance that set his model apart from the competition. "Because I am in a wheelchair, I can sympathize. It's not just technology, it's psychology. I understand what its like to be humiliated, I know what they want really. But I have a long history in technology because I am an engineer all my life. "
Because he's a quadriplegic, Goffer can't use ReWalk. "Once I speak with the ReWalk users and their families, I mean the reward is so fantastic, I can not be frustrated. But we are working on another device that will help people like me."