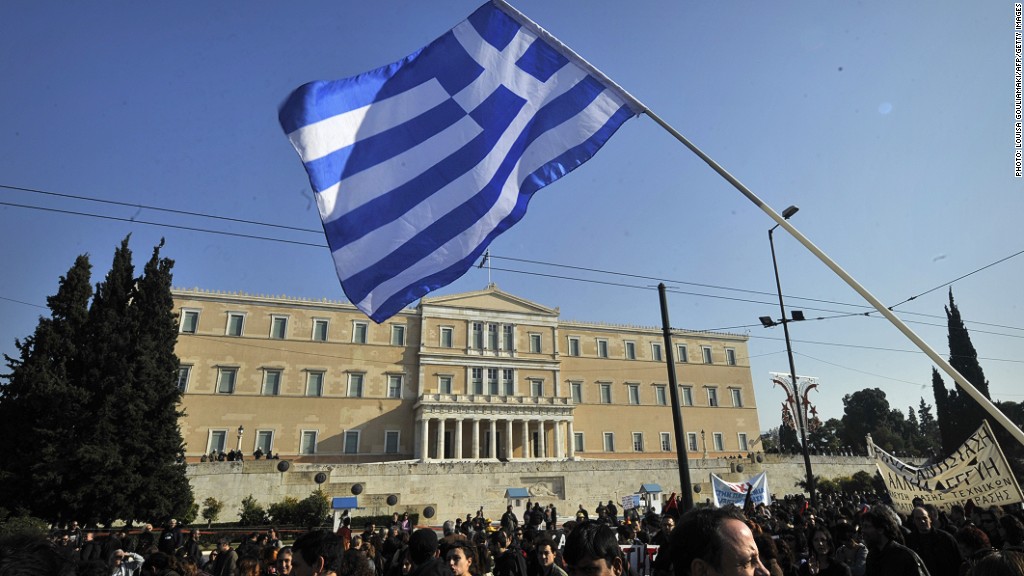 Is a Christmas default looming for Greece?
Stocks in Athens plunged nearly 13% and the government's cost of borrowing jumped Tuesday as political uncertainty rattled investors after new elections were called, casting doubt over the country's future.
Banking stocks were among the hardest hit with the National Bank of Greece (NBG) shedding 20% and Piraeus Bank (BPIRY) tumbling 16%. Greek government bonds were dumped, sending yields on its 10-year debt up nearly a full percentage point to 7.98%.
Prime Minister Antonis Samaras asked Greece's parliament to bring forward the presidential vote by more than two months to December 17.
Failure to elect a new president by the end of the year would force snap elections that could bring the left-wing Syriza party to power in Athens.
Investors are nervous that the installation of an anti-austerity party would reignite the risk of Greek defaulting on its debt, and possibly leaving the euro.
Syriza is popular in the polls and has said it would seek to renegotiate the terms of the country's bailout should it gain power.
"It is a high stakes gamble.... that could spell big trouble for Greece," said Berenberg economist Holger Schmieding.
Related: Europe punts again on more stimulus
Greece has been kept afloat since 2010 by funds drawn from a 240 billion euro ($297.2 billion) bailout program granted by its "troika" of lenders: The International Monetary Fund, the European Commission and the European Central Bank. The funds are contingent on the implementation of harsh spending and job cuts.
The political rumbles in Greece have reignited market jitters -- Europe's major indexes all dropped by more than 2% Tuesday. However, it's not as bad as it was during the height of the eurozone crisis. There are fewer worries that Greece's troubles will spread to other countries in the region.
Economists believe the currency bloc could withstand the fallout from a new crisis in Greece.
"The eurozone could probably handle an unlikely but not impossible Greek accident," Schmieding said.
Related: Austerity to shrink U.K. government to 1930s levels
The Greek economy has slowly begun to recover as punishing austerity measures bear fruit. The country has enacted deep cuts to government spending, raised taxes and introduced structural reforms in a bid to slash borrowing and become more competitive.
Unemployment has rocketed to more than 27%, but growth is gradually returning.
The focus on elections could hurt the economy if the government stops collecting taxes, and it may also hit consumer confidence, said HSBC economist Fabio Balboni.
Greece has remained dependent on European funds while other distressed countries have weaned off their debt lifelines. Ireland exited its bailout program in late 2013, followed by Portugal this year.