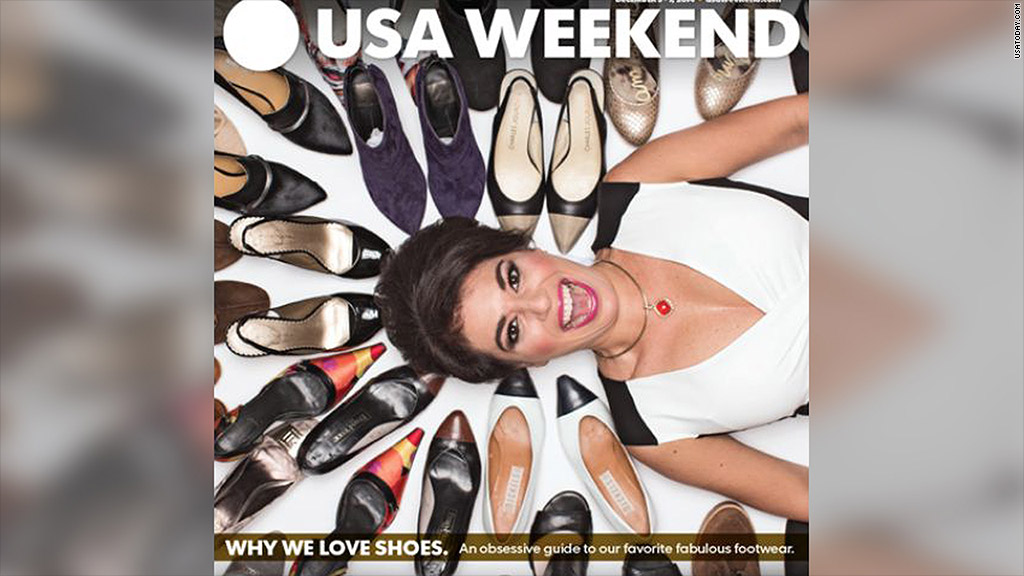 How does this cover headline grab you? "What's behind shoe obsessions?"
Or how about "Recipe: Pumpkin bread pudding" or "Personal Finance: Money for grandchild's college fund" or "Digital Life: Is a Facebook 'happy birthday' enough?"
All fill the pages of USA Weekend, Gannett's Sunday magazine that is finally biting the dust at the end of this month, the company announced last week. The magazine's headlines look like they could peer back at you from the grocery checkout lanes, and that's no accident.
Twenty-nine-year-old USA Weekend and its longtime competitor 73-year-old Parade Magazine seem like creatures of another era, mass-oriented pubs filled with dumbed-down stories of "general interest," ones that probably don't do much for the average (well-educated, affluent) remaining daily newspaper readers.
Let's consider how much the landscape has changed.
Sunday magazines used to be a great staple of the great American Sunday newspaper. That's the paper that Americans curled up with on their slowest day of the week, consuming its many news and feature articles -- and actually paying attention to the ads.
Sunday newspaper circulation still does marginally better than daily, but its decline is precipitous.
It's down to fewer than 40 million copies sold, from a height of 62 million twenty years ago. While a few big publishers like the New York Times, Washington Post and Boston Globe --- now smartly making longer-term investments, the latter two fueled by new billionaire owners Jeff Bezos and John Henry respectively -- recently have invigorated their standalone Sunday magazines, most have abandoned them. Dozens of dailies that had their own magazine 20 years ago excised them in the bloodbath of almost decade-long budget cuts.
Yet, they've held on to Parade and USA Weekend. About 18 million copies of USA Weekend are now being inserted in Sunday papers in 600 newspapers. Parade, which Athlon Publishing recently purchased from long-time owner Advance Publications, will circulate another 22 million next year through 700 dailies, and will be the last such mag standing.
Millions of readers may not even know that the Sunday supplement is still included each week. Newspapers often package in the magazines among a sea of ad preprints -- a last bastion of highly profitable print -- between the Bed, Bath and Beyond and Best Buy fliers.
USA Weekend ends its life, at a paltry 16 pages, even in the midst of the holiday shopping season. Even with those massive circulations, the business model was no longer working; USA Weekend has been unprofitable for several years.
Why? The main culprit is that familiar loss of print advertising, down an astounding $20 billion a year for the newspaper industry. That toll even affects the kind of print advertising that commonly populates these Sunday magazines. If you haven't seen them recently, those ads include ones for "greatcall," a mobile medical alert device (Yes, you've slipped and..."), "no no pro" (hair removal system) and Franklin Mint figurines (Doris Day and Ginger Rogers, among them) guaranteed to send a chill down many a younger spine.
Less easy to see are the changing economics of the Sunday magazine business model. Newspapers used to pay USA Weekend and Parade for their magazines; some received a revenue share of advertising sold.
Now, the Sunday magazine publishers often pay the newspapers that carry the magazines a "promotional credit" and try to make the business work on national ad sales alone. So Gannett will leave that business to Athlon, and optimistic upstarts like independent California Sunday, which began publishing its own Sunday magazine in October, paying the state's largest papers to insert it. The California Sunday twist: targeting an upscale audience, both in print and in digital.
Gannett's aim here is to retire its old tired model --- one that has saddled it with high-single digit millions in loss in recent years -- with one that fits the newspaper economics of 2015.
Next year, Gannett (GCI) hopes its "butterfly" program takes flight across the country. Is this a youthful butterfly taking flight from an ever-slowing caterpillar? No, it's a butterfly that inserts itself in Gannett-owned dailies around the country. The butterfly name is "very symbolic of what we were doing, letting our content blossom in our local papers to make them better," says Larry Kramer, architect of the new program, who became USA Today publisher in 2012. Kramer is well-recognized in the industry for his innovation and digital business start-up Marketwatch, which he founded and then sold.
As the company has cut costs and done substantial layoffs at its 81 daily community newspapers, it has found great internal synergy and savings in having its USA Today national operation create national news and sports news pages for many of those papers. Then, those pages, in digital form, are shipped daily to Gannett's papers, where they are printed as separate six-page sections and inserted in the daily edition.
The Gannett thinking: Why have copy editors in Sheboygan, Reno or Jackson each put together their own national and global news pages when one national staff can do it for them and ship them press-ready pages? Better to reduce local copy-handling staff, and point those lesser ranks remaining in the newsrooms in the direction of local news. Other newspaper chains test and format similarly, but Gannett - the largest newspaper company in the U.S. - is doing it on the largest scale.
Now, the company is moving beyond its own papers and pitching dailies across the country on similar, nationally formatted news products. In a sense, they are replacements for USA Weekend, both in model and in content. In content, the new stuff is current -- daily news, in the USA Today style -- while the old stuff was the kind of evergreen, yawn-inducing material those headlines demonstrate. Perhaps the readers of the local papers, with USAT butterfly inserts will like their papers more -- and keep their subscriptions longer. Gannett believes that's happened at its own papers, and now will be proselytizing its model and selling its inserts among dailies nationwide next year.
Most of all, though, the initiative plays directly to most American dailies' biggest strategy going into still another year of high-single-digit print ad loss. If you can't find a way to make more revenue, then find new ways to cut. Gannett's new butterfly program, then, is intended to provide more air cover for the inevitable 2015 newsroom cuts to come.
Ken Doctor is a media business analyst, covering the legacy-to-digital transformation of the industry. He is the president of Newsonomics, author of Newsonomics: "Twelve Trends That Will Shape the News You" Get" and writes the Newsonomics Of column for Harvard's Nieman Journalism Lab.
New Republic CEO responds to critics