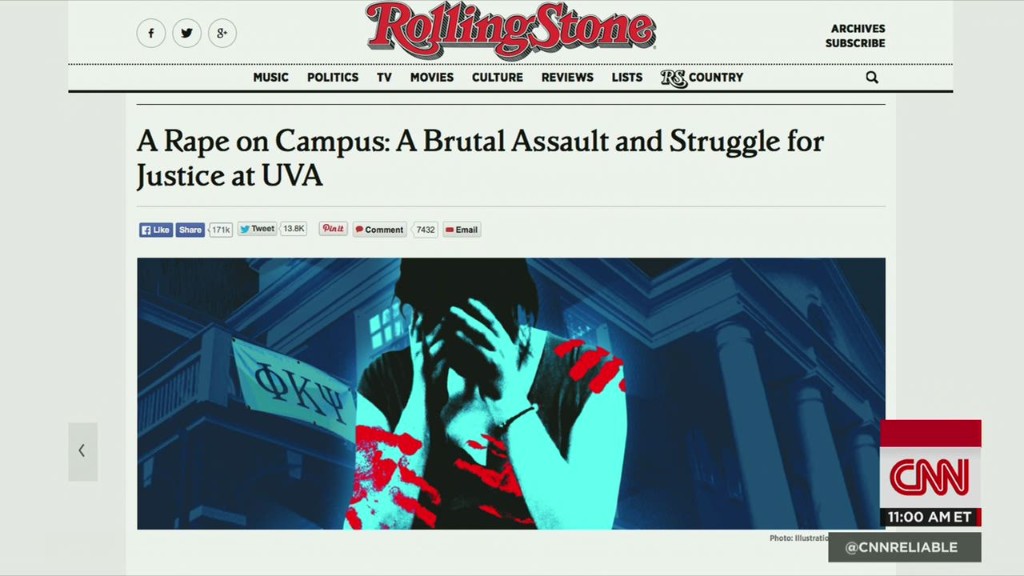 The Washington Post on Wednesday identified new inconsistencies in the rape story told by Jackie, a University of Virginia student, in the pages of Rolling Stone magazine.
It also quoted one student who said Rolling Stone's claim that he "declined to be interviewed" by the magazine was wrong: "He told The Post that he never was contacted by Rolling Stone and would have agreed to an interview."
Rolling Stone declined to comment on the new assertions on Wednesday night. A spokeswoman for the magazine said an "internal review" of the article was ongoing.
The magazine apologized last Friday for its 9,000-word article, titled "A Rape on Campus," after questions were raised about some of the details in Jackie's account and about the unusual decision not to contact the alleged rapists.
"There now appear to be discrepancies in Jackie's account," the magazine said, citing -- among other things -- a Washington Post report that the man who Jackie said orchestrated the rape "denied knowing Jackie."
"We published the article with the firm belief that it was accurate," the magazine's letter to readers said. "Given all of these reports, however, we have come to the conclusion that we were mistaken in honoring Jackie's request to not contact the alleged assaulters to get their account."
The magazine said, "We apologize to anyone who was affected by the story and we will continue to investigate the events of that evening."
Related: UVA article is a miss in long history of hits
The writer of the article, Sabrina Rubin Erdely, has not responded to requests for comment since Friday's apology.
Wednesday's Washington Post report contradicted some of what Erdely wrote, and indicated that the reporting lapses extended to some of Jackie's friends.
For example, three friends who Jackie confided in after the attack -- identified as Randall, Andy and Cindy in the article -- "said they never were contacted or interviewed" by Erdely or her editors.
"Though vilified in the article as coldly indifferent to Jackie's ordeal, the students said they cared deeply about their friend's well-being and safety," according to The Post.
Erdely wrote that Randall declined to be interviewed by her, "citing his loyalty to his own frat."
But Randall told the Post that he would have spoken to Erdely, had he been asked.
In the Rolling Stone article, Jackie -- whose last name has not been published by the magazine or other major media outlets -- is said to have been raped by "seven men."
But Randall, Andy and Cindy told the Post that she initially said "a group of five men" were involved.
The attack allegedly occurred two years ago, when Jackie was a freshman. The university's failure to adequately investigate was a crucial part of Erdely's story.
"Some of Jackie's closest friends said they believe she suffered a horrific trauma during her freshman year, but others have expressed doubts about the account," the Post said.
Wednesday's story quoted Randall as saying, "If she was acting on the night of Sept. 28, 2012, then she deserves an Oscar."
Jackie spoke to the Post last week -- and indicated that she stood by the substance of her account to Rolling Stone -- but has not given any interviews since.
On Wednesday morning, attorney Palma Pustilnik said she had been retained by Jackie.
"As I am sure you all can understand, all of this has been very stressful, overwhelming and retraumatizing for Jackie and her family," Pustilnik said in a statement. "At this time, our position is still 'No Comment.'"