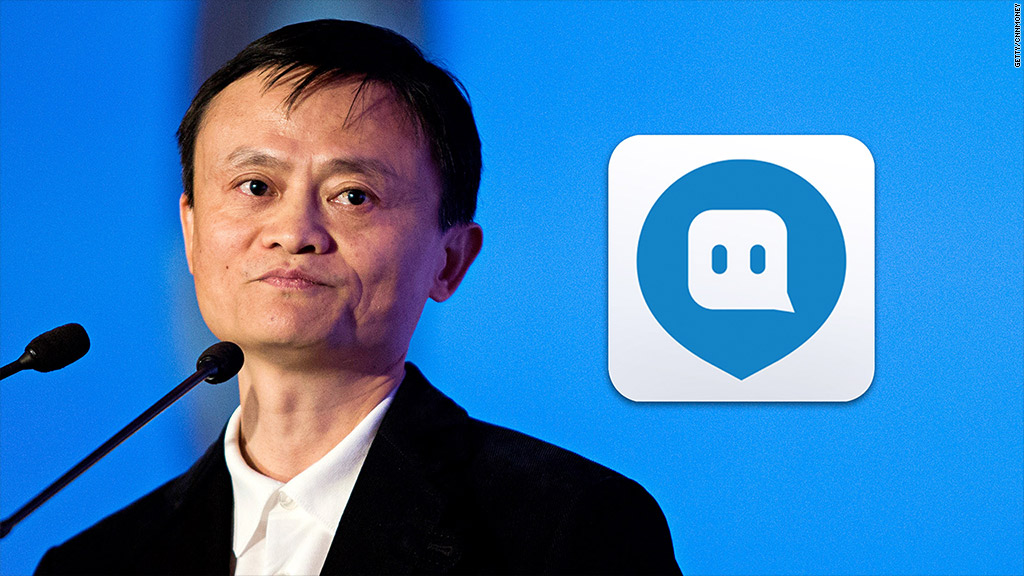 It looks like investors are eager to hook up with China's version of Tinder.
Shares of dating app Momo (MOMO) rose 26% in their market debut on the Nasdaq Thursday. This is the first Chinese tech initial public offering in the U.S. since Alibaba's blockbuster stock sale in September.
Why all the hoopla? Momo has more than 180 million registered users and it's catering to the most populous nation on the planet. Momo already grew its user base 160% from a year ago.
On top of that, Momo has some very good pals. Alibaba (BABA) is a big investor. Jack Ma's company owns a 20% stake and plans to buy more shares as part of the IPO. 58.com (WUBA), a company often referred to as China's Craigslist, is also purchasing a stake. Momo raised $216 million from the stock sale and is now worth more than $3 billion.
Related: What do people want in a husband? A job!
Red flags: But Momo is still in the early stages of trying to figure out how to make money from them. The company only started to post revenue last year by selling membership subscriptions. Momo has 2.3 million paying customers so far.
Only a small percentage of the people signed up for the app actually use it regularly. Momo said that it has only 60.2 million monthly active users and 25.5 million average daily users.
And the company is still not profitable.
Jonathan Xiaosong Zhang, chief financial officer of Momo, said this is intentional. He said the company's main priority right now is boosting its user base. Eventually, Zhang said Momo will look to add more revenues through mobile gaming services and mobile ads.
Related: Chinese couples fly to London for their wedding pics
So in the grand scheme of things, Momo is a much smaller social media company than the likes of Facebook (FB) and its Instagram subsidiary, Twitter (TWTR) and LinkedIn (LNKD).
It's also not clear if an app like Momo can thrive on its own. Tinder, the wildly popular dating app in the United States that lets people swipe through a series of pictures to find someone they want to contact, is majority owned by Barry Diller's online media conglomerate IAC (IACI).
The company has also been facing a fair share of controversy lately.
Bitter divorce: Chinese online gaming company Netease (NTES) issued a statement Wednesday accusing Momo chairman and CEO Yan Tang, who had worked for Netease prior to starting Momo, of unethical conduct. Netease claims that Tang co-founded Momo while still working for Netease and that violated his employment agreement.
Momo responded to Netease in a Securities and Exchange Commission filing later Wednesday. The company quoted Tang as saying that the "allegations are malicious" and that he "intends to vigorously defend himself against them."
Zhang added that Netease's comments seem like a personal attack and questioned the timing of them, considering that they took place a day before Momo's IPO. He also said that the company never considered delaying its IPO because of the allegations or recent market volatility.
That seems to be the right call. Another company that went public Thursday, peer-to-peer finance firm LendingClub (LC), rose more than 50% from its offering price.
Related: Who needs banks? LendingClub stock soars
Zhang said the main goal of the IPO was to raise awareness for the brand, not raise funds for expansion.
There have also been multiple reports in Chinese media outlets about how Momo is being used by prostitutes to find clients. At a bare minimum, it sounds like Momo has a reputation as something to be used for casual romantic entanglements as opposed to finding true love.
My colleague Sophia Yan in Hong Kong recently downloaded Momo and told me that "it really is like Tinder in that it's location based tracking." She added that you can actually blacklist people you no longer want to meet and that it was "very sex-focused."
"It looks more like hookups than dating," she said.
But Zhang said that there are a lot of "misperceptions" about Momo. He said that the app is also used by people to form groups around common interests such as music and sports.
"Tinder is purely a dating app. We encourage people to expand their social circle and maintain their relationships," he said.
Either way, investors didn't seem too concerned Thursday. With the backing of Alibaba's Jack Ma, it shouldn't be a huge surprise.
But Momo needs to find a way to boost its revenue and actually earn a profit one day if it wants to live up to its name and become a true momentum (or momo) darling on Wall Street.
CNNMoney's Sophia Yan contributed to this story.