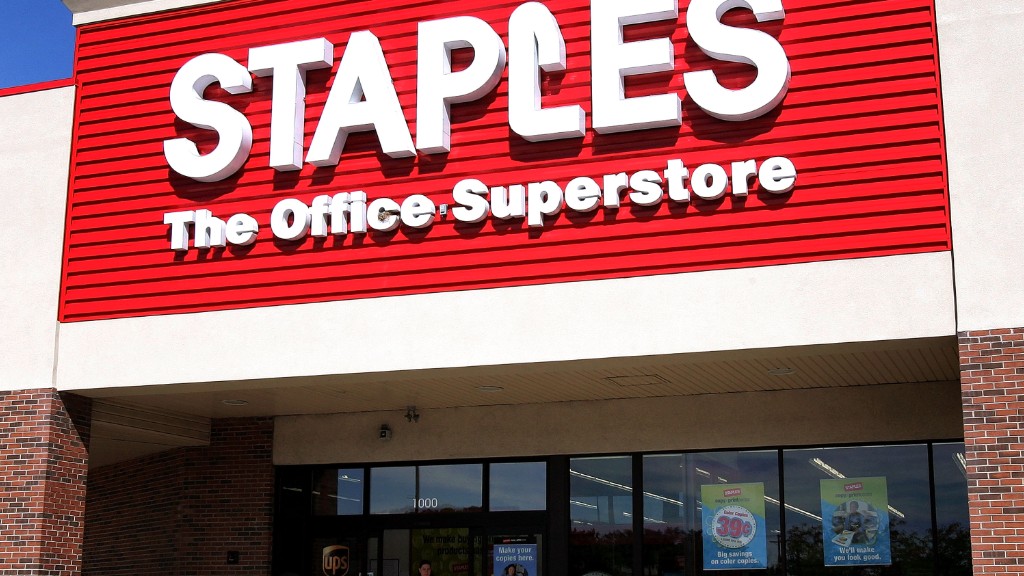 Office-supplies stores have had a rough ride in recent years.
But one investor appears to be betting that joining two struggling office-supplies stores might be better than each of them alone.
Activist investor Starboard Value seems to be jockeying for a merger between Staples (SPLS) and its chief rival Office Depot (ODP). Starboard already owns 10% of Office Depot stock and on Thursday revealed that it had bought a stake in Staples too.
Wall Street is salivating over the possibility of this merger. Shares of both Staples and Office Depot surged almost 10% on the Starboard news.
"Ultimately, the two companies will come together. It's a matter of when, not if," said Bradley Thomas, an analyst covering the sector at Keybanc Capital Markets.
The thinking is that such an alliance would create a stronger company that can better take on online competitors like Amazon (AMZN) and discounters like Wal-Mar (WMT)t.
But it won't be easy -- such a marriage would face extra scrutiny from regulators.
After all, Office Depot recently acquired another rival OfficeMax, meaning all three brick-and-mortar stores would end up under one corporate roof.
Related: Staples-Office Depot merger: Why?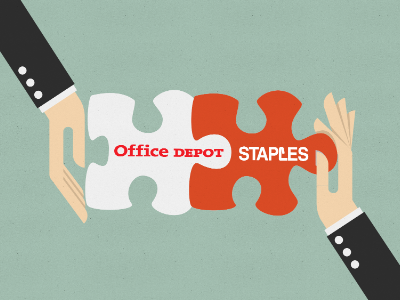 As lifeless as office supplies: The office-supplies industry is hurting badly. People simply aren't buying office supplies at the pace they used to. Many young people don't have printers anymore, nor do they use as many pens or pencils.
"Whenever I'm out doing channel checks at these stores, there's never anyone in them," said Thomas.
Plus there's a lot of competition from online and discount stores.
It's too early to say precisely what Starboard is up to. In the regulatory filing that disclosed its new stake, Starboard said Staples' shares were "undervalued and represented an attractive investment opportunity." That's boilerplate language in these filings.
Starboard didn't respond to a request for more clarification from CNNMoney.
Related: 2014 on track to be record M&A year
Smart deal or antitrust red flag? Starboard has a reputation for aggressive tactics, so it won't be a surprise if it pushes for a deal.
A merger between Office Depot and Staples would generate at least $1 billion in synergies, Thomas said. The combined company could save tons of cash by closing poor-performing stores and optimizing supply chains to strengthen the delivery side of the business.
But would regulators sign off?
"Any proposed merger will raise a yellow (and potentially red) flag amongst" Federal Trade Commission officials, Oppenheimer analyst Brian Nagel wrote in a report on Thursday.
Don't forget that in 1996, the FTC shot down a proposed merger between Office Depot and Staples on antitrust grounds. The same agency also approved the 2013 merger of Office Depot and OfficeMax.
"The current competitive dynamics are very different" than the 1990s, the FTC ruled last year. In its approval, the FTC cited the increased market share by mass merchants like Wal-Mart, Costco (COST) and Target (TGT) as well as the "explosive growth of online commerce."
Related: RadioShack's tale of woe gets worse
While conceding it's "not a sure thing," Thomas believes the 2013 ruling paved the way for an Office Depot-Staples deal.
"We think in the long run a merger could actually be better for consumers because it could help build a viable competitor to Amazon," he said.
CNNMoney's Alanna Petroff contributed to this report.