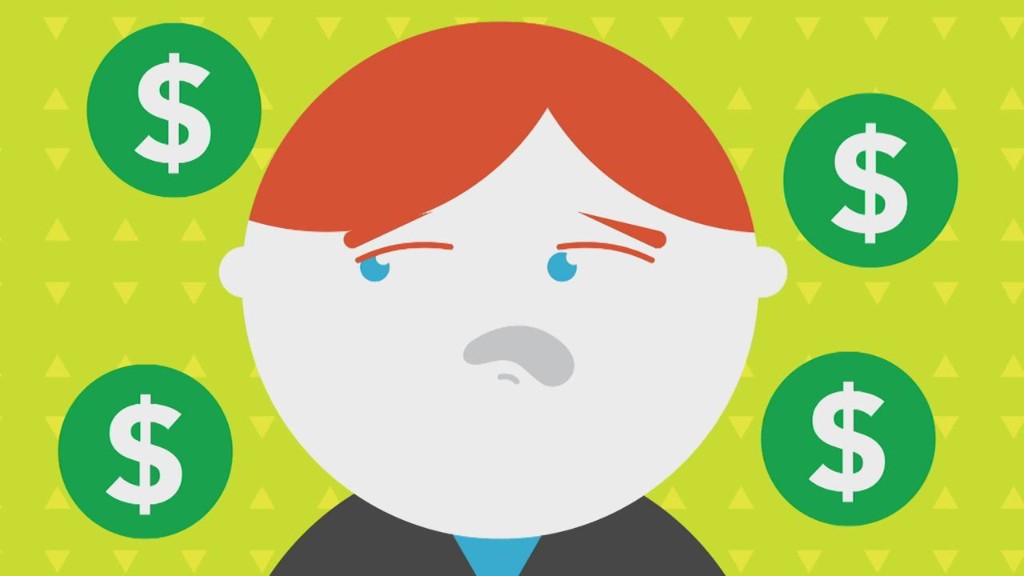 TGIF? It was more like a Freaky Friday for the stock market as plunging oil prices struck again.
The Dow fell more than 300 points and finished the week with a 3.8% loss. That was its worst weekly performance in more than three years.
The S&P 500 was down more than 3.5% for the week -- its biggest drop since May 2012. The Nasdaq, home to many top tech stocks like Apple (AAPL), Google (GOOGL) and Facebook (FB), was down 2.7%.
So is this the beginning of a long-awaited correction -- a pullback of 10% from recent highs?
Market volatility has returned with a vengeance in the second half of the year. Investors seem to be scared again. CNNMoney's Fear & Greed Index is now in Fear mode and is not too far away from Extreme Fear levels.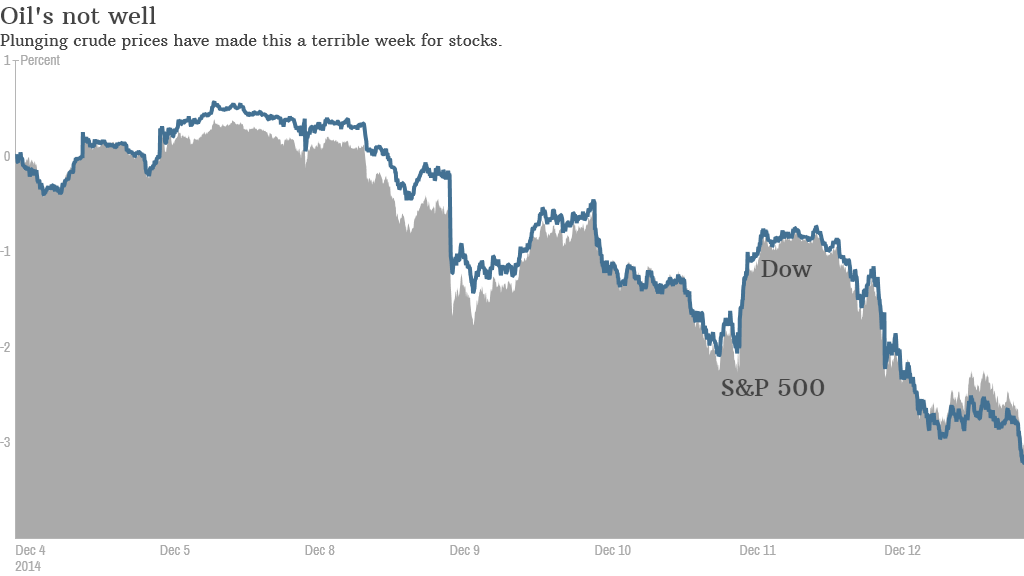 Stocks plunged from mid-September through mid-October before staging a sharp rebound that culminated with the Dow hitting a new all-time high just a week ago on the back of a strong U.S. jobs report.
Heading into this week, many investors were predicting that the Dow would soon top 18,000 for the first time.
But the sharp sell-off in oil has changed all that. Crude prices are now below $58 a barrel, their lowest level in more than five years. Energy stocks have been hit hard as a result.
Related: Plunging oil could take thousands of jobs with it
However, oil stocks were not the only big losers on Friday -- and that could be a sign that investors are growing more nervous about the overall market and weaker global economic demand.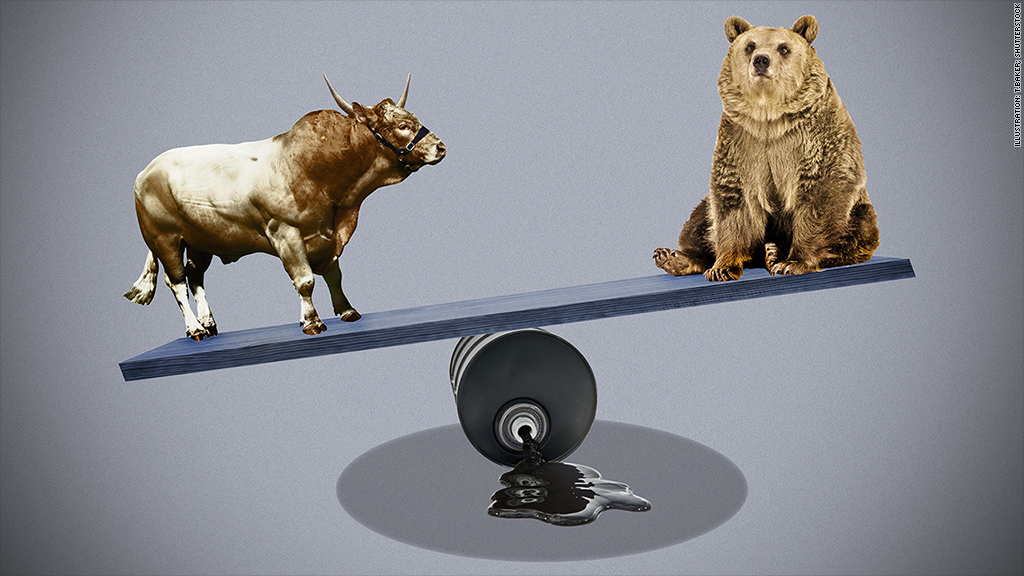 Cyclical industrial stocks Caterpillar (CAT) and DuPont (DD) both dropped more than 2% along with fellow Dow components Exxon Mobil (XOM) and Chevron (CVX) Friday. Mining firm Joy Global (JOY) and chemical companies Dow (DOW) and Eastman (EMN) were among the worst performers in the S&P 500.
Telecom stocks were also losers. Verizon (VZ) fell 1% Friday and is now down 6% this week. Smaller telcos Windstream (WIN) and Frontier (FTR) were laggards in the S&P 500.
Related: Consumers win in the wireless wars ... but investors lose
But even though the sell-off is spreading rapidly to other sectors, it appears that investors are betting that cheaper gas prices will still boost consumer spending in the U.S.. Several retailers, consumer products and media stocks were mostly spared the carnage Friday.
Wal-Mart (WMT) finished the day slightly higher. Disney (DIS), Home Depot (HD) and Nike (NKE) were up for most of the day but finished with small losses as the sell-off intensified in the final hour.
Macy's (M), Nike rival Under Armour (UA) and fashion accessory companies Coach (COH) and Michael Kors (KORS) were all among the better performers in the S&P 500.
It will be interesting to see how much longer this trend can last. If oil prices continue to drop and the economies of Europe, Asia and Latin America weaken further, that eventually has to hurt the U.S. economy a little bit.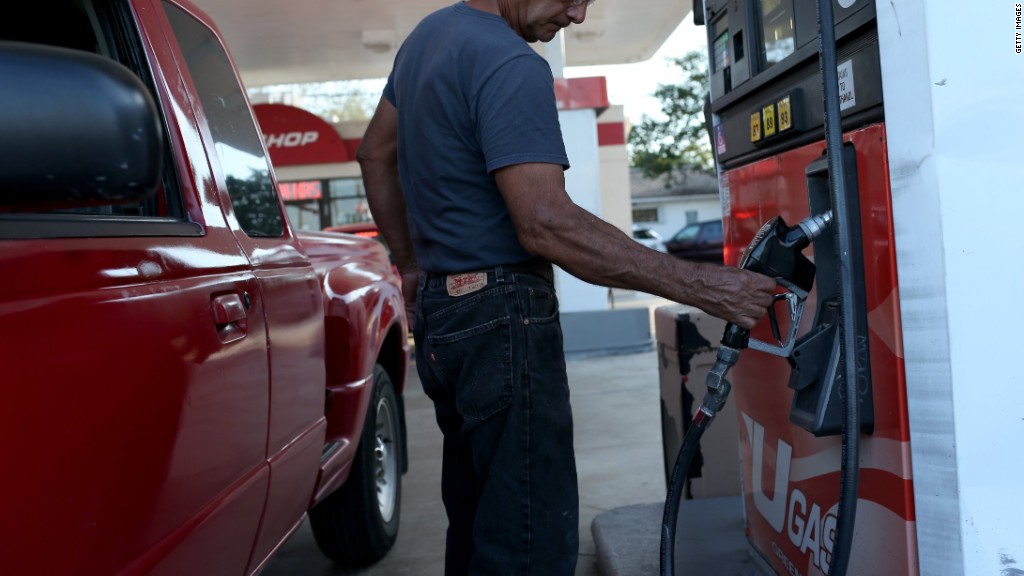 But even if that worst-case scenario doesn't come to pass, stocks may continue to slide for a little longer simply because investors have grown too complacent.
The market came close to correction status in October but didn't fall 10% from its peak.
Wall Street has shaken off every bit of bad news thrown at it this year (an emerging market funk, Russia/Ukraine, ISIS, Ebola) and is still on pace to finish 2014 with very solid gains.
The Dow is up 4%. The S&P 500 has climbed 8%. The Nasdaq has gained 11%.
It would be healthy to have a bigger pullback in order for this bull market, which has now been going on since March 2009, to keep rallying in 2015.