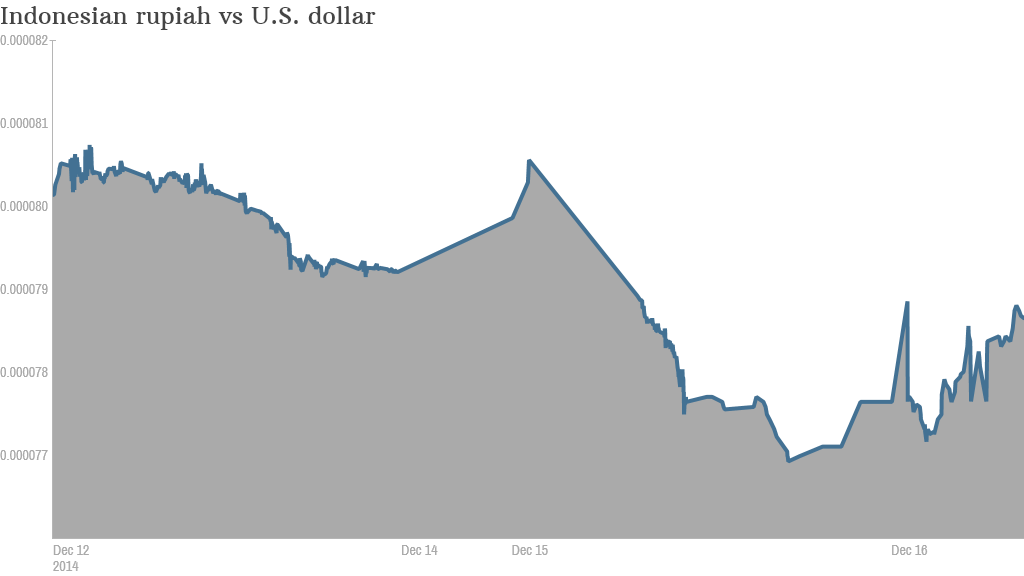 Russia's currency rout has sent a shudder through global markets and the sell-off is spreading to other emerging markets.
The Russian ruble plunged about 12% Monday and continued falling Tuesday, while the Indonesian rupiah fell to its lowest level since the 1997 Asian financial crisis. The Turkish lira and Indian rupee have also fallen sharply.
The ruble and rupiah initially recouped some losses after both central banks took emergency action to stem the falls. But the intervention in Russia didn't have a lasting impact and the ruble kept plunging.
Emerging markets are more sensitive to global growth concerns, rising interest rates and weak commodity prices.
Indonesia, the world's largest coal exporter, has suffered from a drop in coal prices, threatening to widen its multi-billion dollar current account deficit.
And Russia is suffering from collapsing oil prices, along with a mix of other headaches, including rising inflation as Western sanctions bite.
Related: Putin's cronies lose $50 billion
The situation could get worse - analysts say commodity prices are likely to fall further in coming months and will continue to impact emerging markets.
Emerging markets are generally considered a bigger investment gamble than developed ones -- they're often more exposed to political risk and swings in commodity prices. But economic growth is stronger in developing economies, where many are benefiting from an expanding middle class.
Those growth rates came under pressure last year when the U.S. central bank first signaled that it would begin slowing its monthly bond purchases.
Related: As oil falls, Middle East stocks tank
The fear was that developing economies could be left high and dry as the Federal Reserve gradually turned off the taps, after pumping billions into the global economy over recent years.
Investors whipped their money out of emerging markets, amid fears about the so-called "Fragile Five" -- Turkey, Brazil, India, Indonesia and South Africa. Central banks in those countries were forced to prop up shaky currencies after political and economic concerns sparked big outflows of capital.
While developing markets saw a bit of a revival earlier this year, this latest bout of volatility is adding to global growth concerns.