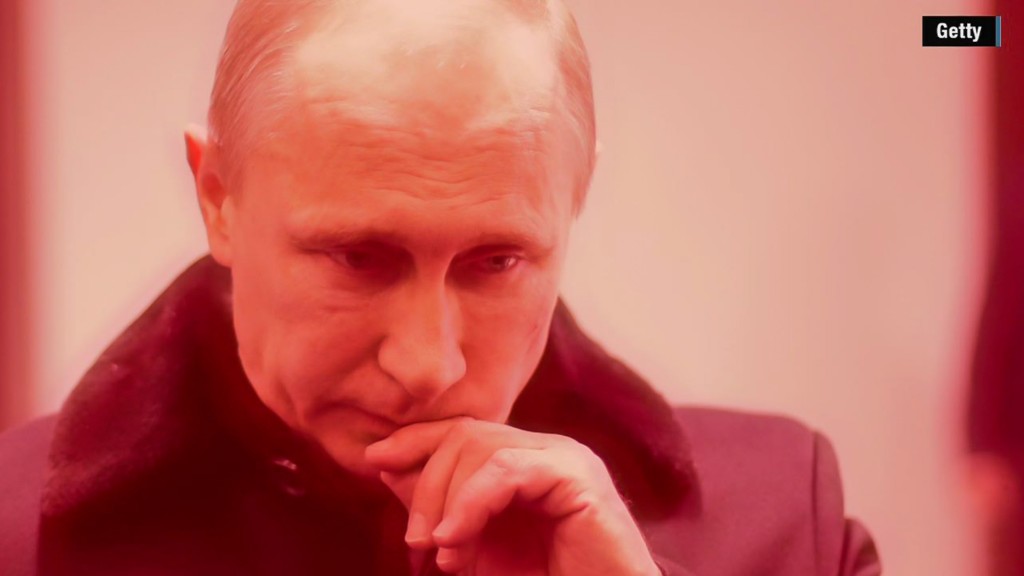 No one wins if Russia's economy falls apart.
Its trading partners -- countries and businesses -- are watching with concern as Russia scrambles to tackle a deepening economic crisis, sparked by plunging oil prices and punishing international sanctions.
The ruble has been in free fall and is already hurting earnings at global companies with operations in Russia.
Here are some of the biggest victims of Russia's deteriorating economy:
Germany: Europe's largest economy is most exposed to Russia. Last year, Germany's trade relationship with Russia was worth more than €76 billion ($95.4 billion). Tough Western economic sanctions over the Ukraine crisis have already taken a toll on exports and companies have put the brakes on investment.
Last month Germany said "geopolitical crises" had contributed to a sharp cut in its growth forecasts for this year and the next.
Related: Putin puts a chill on German economy
Trouble in Germany is the last thing the eurozone needs -- the currency bloc relies heavily on the economic heavyweight.
Rest of Europe: Russia buys plenty of goods from other European countries.
Moscow retaliated against Western sanctions in August by banning imports of fruit, vegetables, meat, fish, milk and dairy products from Europe, as well as the United States, Australia and Canada.
It was unwelcome news for European producers who export a great deal of fruit, cheese and pork to Russia. Some 10% of EU food exports -- worth about $15 billion -- were delivered to Russia last year, making it Europe's second biggest customer.
Europe had to set aside around $156 million to compensate producers.
Related: Russia's slide toward economic crisis: Why it matters
Energy companies: The deteriorating ruble has taken a chunk out of earnings at companies that do business with Russia.
BP (BP) has warned that the tough sanctions would hurt. BP owns a large stake in Rosneft, Russia's biggest oil company, which is subject to U.S. trade restrictions. Shares of the company are down 25% this year as crumbling oil prices slug profits.
France's Total shelved plans for a shale exploration joint venture with Russia's Lukoil due to Western sanctions, crimping possible future earnings for the company. Other energy companies like Exxon Mobil (XOM) also have significant ties with Russia.
Automakers: U.S. auto giant Ford (FOVSY)is one of the biggest carmakers in Russia and it has warned that the weaker ruble is hurting sales.
Volkswagen (VLKAF) blamed political tensions for an 8% drop in car sales in Russia in the first six months of the year. The German automaker's shares are down more than 12% this year.
France's Renault (RNSDF) too said that sales in Russia were suffering, while Peugeot Citroen warned in October that the sagging ruble was hurting the company.
Related: No panic yet on Moscow's streets
Banks: Societé Generale's second quarter profits from its Russian unit fell 36%. Other banks that have sizeable exposures are Dutch lender Rabobank and Italy's Unicredit.
McDonald's, Adidas and other brands: Frosty relations between the U.S. and Russia is believed to be behind a crackdown on McDonald's (MCD) in the country. Regulatory authorities forced the temporary closure of 12 restaurants over accusations of sanitary violations. But the move was widely believed to have been politically motivated.
German sportswear company Adidas is shutting stores and scaling back expansion in Russia as tensions in the region hit consumer spending and the decline in the ruble dented profitability. Adidas slashed its 2014 earnings forecast by 20% to 30%, partly because of Russia.
Carlsberg, the Danish beer maker has issued two profit warnings this year on slowing Russian demand.
Coca-Cola (KO) too has suffered. Shares of Coca-Cola HBC, which bottles and distributes beverages in Russia, have tanked 32% this year.