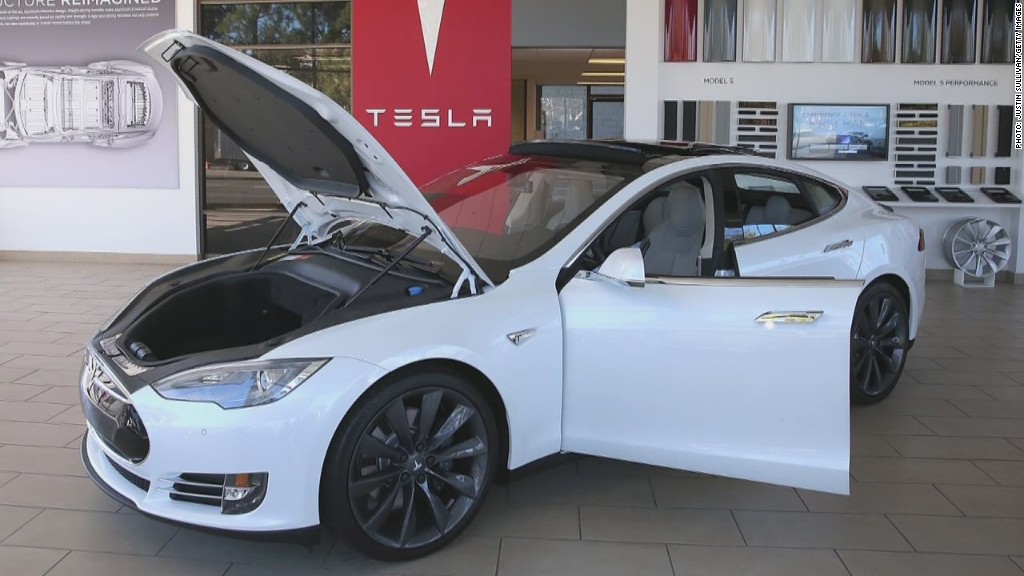 One of Tesla Motors' biggest fans on Wall Street has cut drastically sales expectations for the electric car maker, saying that low oil prices could be a problem for the company's future growth.
Adam Jonas, auto analyst with Morgan Stanley -- and long a bull on Tesla -- published a note Wednesday forecasting that Tesla will only be able to sell just under 300,000 cars by 2020. That's far short of the 500,000 cars that Tesla is predicting it will sell by that date.
The biggest drag on Tesla sales will be the lower-priced, mass market Model 3 expected in showrooms in about three years.
Jonas' doubts that Tesla will be able to price the Model 3 in the $35,000 range as many have been expecting. He's now thinking the price could be closer to $60,000.
"While nobody buying a Model S today (for nearly $105,000) is doing so to save on their monthly expenses, the longer-term story is far more dependent on the volume success of the Model 3," he wrote in the note. "Oil price is a factor for Model 3."
Related: Tesla's growing pains don't worry Elon Musk
However, Jonas is still recommending that investors buy Tesla shares. Although he trimmed his price target from $320 a share, his new target of $290 a share still would give investors a better than 50% gain.
Tesla (TSLA) shares were lower in premarket trading Wednesday. Shares have lost 31% since hitting a record high in early September, during a period in which oil prices have plunged 42%. But Tesla shares are still up more than 30 for the year despite the recent slide.