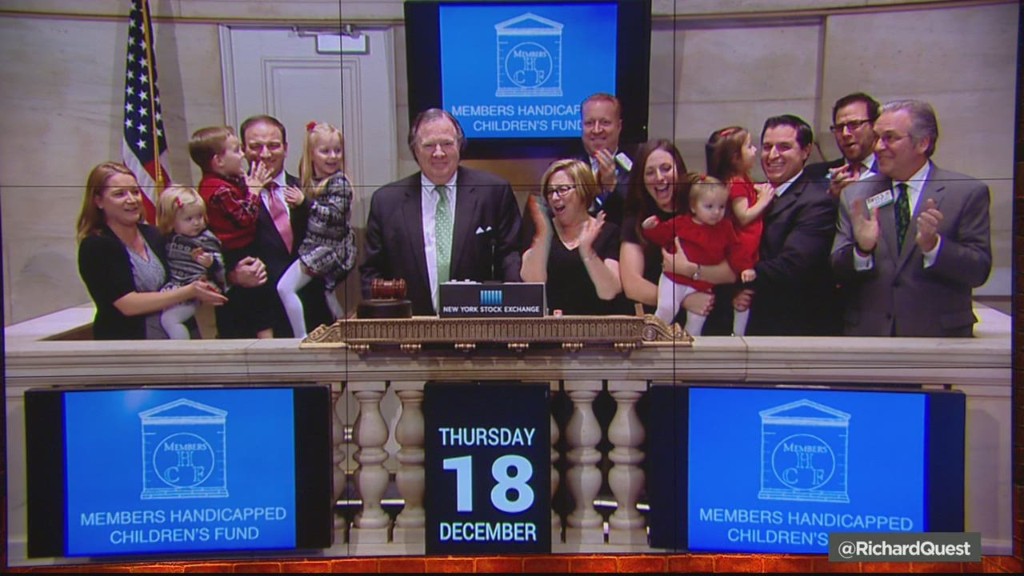 Scrooge has left the building. Heck, he's not even on the same planet anymore.
The Dow shot up 421 points Thursday for its best day in more than three years. The S&P 500 experienced its biggest gains since January 2013.
After taking a beating earlier this month, investors may finally be getting that Santa Claus rally they wished for.
Related: The best stocks of 2014
Here's why investors were so jolly:
A generous Fed: The Fed was in a particularly giving mood Wednesday when it announced it was going to take its sweet time raising interest rates.
The central bank said in a statement it would be "patient in beginning to normalize the stance of monetary policy." It also kept closely-watched language saying rates would stay low for a "considerable time," which investors took as clear signal that rates won't rise until next summer or later.
"The Fed seems to be very cognizant of the economic weakness overseas and the extreme drop in oil prices," said Doug Roberts of Channel Capital Research.
Related: Yellen: Cheap oil is good for America
The Fed reiterated more optimistic projections for the U.S. economy for 2015 as well. They see America growing faster next year and unemployment dropping further.
Oil: For much of December, the ugliness in the market seemed to stem from spiraling oil prices. Sure, it's a good thing for the consumer economy, but investors began to worry that the American energy boom, which has been an economic powerhouse since the recession, could come under threat as a result.
Still, falling oil wasn't about to take the stock market with it Thursday, as prices fell 3% to $54 per barrel. That level had freaked out markets before, but not today.
Related: The best thing to do now for your portfolio
Even energy stocks, including the big guys like Exxon Mobil (XOM)and Chevron (CVX), got a nice bounce, although the best performer in the S&P 500 was Oracle (ORCL), which reported strong earnings Wednesday afternoon. Oracle stock surged 10%.
Only 21 stocks out of the 500 in the S&P index were negative today.
But Michael Block, Chief Strategist at Rhino Trading Partners, isn't taking the "buy low" oil bait for now, and noted that oil had drifted off its earlier highs.
"I've seen this trap before," he wrote in a morning note. "The tremors are accelerating and that has me concerned short term even if everything's gonna be all right in the intermediate to longer term."