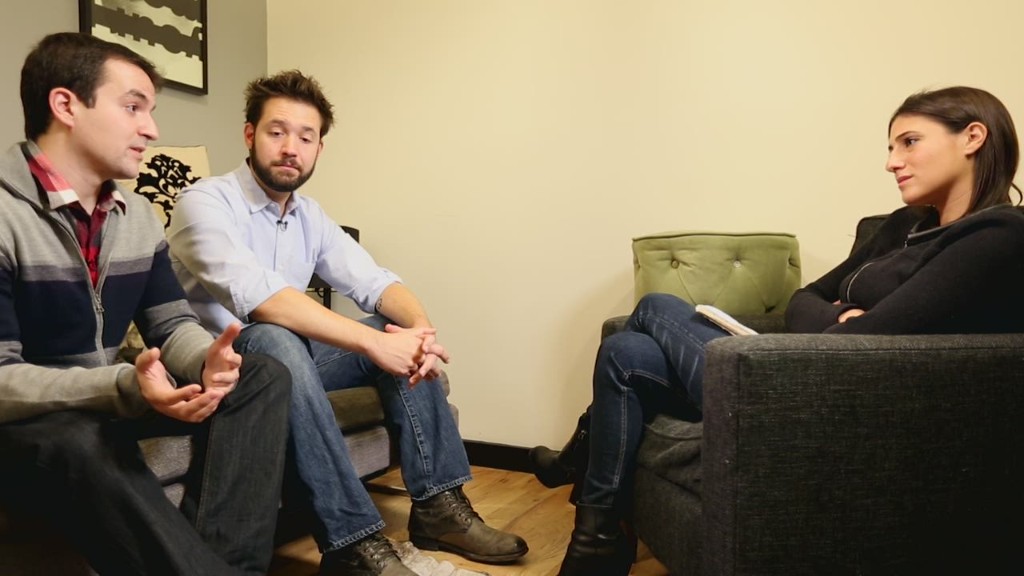 Antiquated visa policies could be the downfall of the U.S. tech boom. That's the warning that Reddit founder Alexis Ohanian is sounding.
"Although America leads the world right now, we've led the world in plenty of other industries before and seen that evaporate," said Ohanian, who recently rejoined Reddit as its executive chairman.
Ohanian has been actively crusading for immigration reform for years. Most recently, he's been advocating on behalf of Y Combinator, the Silicon Valley accelerator that backed Reddit. (He joined as a partner this summer.)
Foreign talent is integral to the tech industry. 44% of Silicon Valley startup founders are foreign-born, according to Vivek Wadhwa, a fellow at Stanford Law School. Ohanian says YC mirrors this stat: Roughly 40% of last summer's cohort were foreign-born.
High-skilled visa reform gets bundled into issues of broader immigration reform, but Ohanian and other advocates say it's a separate issue and should be treated as such. ("It's become a really toxic word to even talk about immigration," Ohanian said.)
There's a high demand for the H-1B visa, the most common one for high-skilled techies. But there's a strict quota -- only 65,000 slots are available each year (with an additional 20,000 for advanced degree holders), and they're filled through a lottery, not by merit. And while other countries like Canada offer a startup visa for foreign entrepreneurs, there is no such program in the U.S.
Related: Y Combinator makes push for diversity
When addressing immigration reform last month, President Obama included references to high-skilled workers but it was vague and most experts are unsure how it will play out.
For one, the H-1B visa quota could be expanded -- and should be, according to Ohanian -- to reflect the growing tech industry and its need for more talent. (That would require congressional approval.)
But Ohanian has also advocated for reform by way of the O-1A visa -- for individuals with extraordinary ability or achievement in science, education, business or athletics. There's an unlimited number of these visas available.
The H-1B lottery process doesn't assess for individual talent -- but the O-1A visa does. That said, it also requires various forms of documentation, like authorship of scholarly articles or outstanding achievement awards.
"The people who are reading applications for the O-1s are using the frameworks from 70, 80 years ago," said Ohanian."They might be helpful for identifying a talented scientist in the Soviet Union. But we're looking to help a 21-year-old -- who's built something that millions of people use -- come to America to start her company here."
Related: Four immigration fixes that could turbo-charge tech
The outdated visa policies are forcing talented entrepreneurs to launch their companies elsewhere.
"It's infuriating," said Ohanian. "We see companies opening offices across the border [just so that they] don't have to worry."
AeroFS is a Palo-Alto-based file-sharing startup backed by YC. The 20-employee firm just opened an office in Toronto in order to retain one talented engineer.
According to CEO and co-founder Yuri Sagalov -- who is also a part-time partner at YC -- it cost over $10,000 to set up the Canadian subsidiary.
"It's not ideal for anyone, but it's better than not having him work with us," said Sagalov, who is an H-1B holder himself. "This candidate was really, really worth fighting for. And most of them are."
But opening offices abroad also means that investor dollars are being spent elsewhere.
"We're talking about American investor dollars that are now going over to Canada or the U.K. to build offices, buy lunches, hire people," said Ohanian, who said that if it weren't for his career in tech, he would have pursued a career as an immigration lawyer.
"The next Stripe, or the next Google (GOOG), is one annoying visa application away from just starting in Canada," he said. "We're losing out on the next Zuckerberg just because of stupid visa applications."