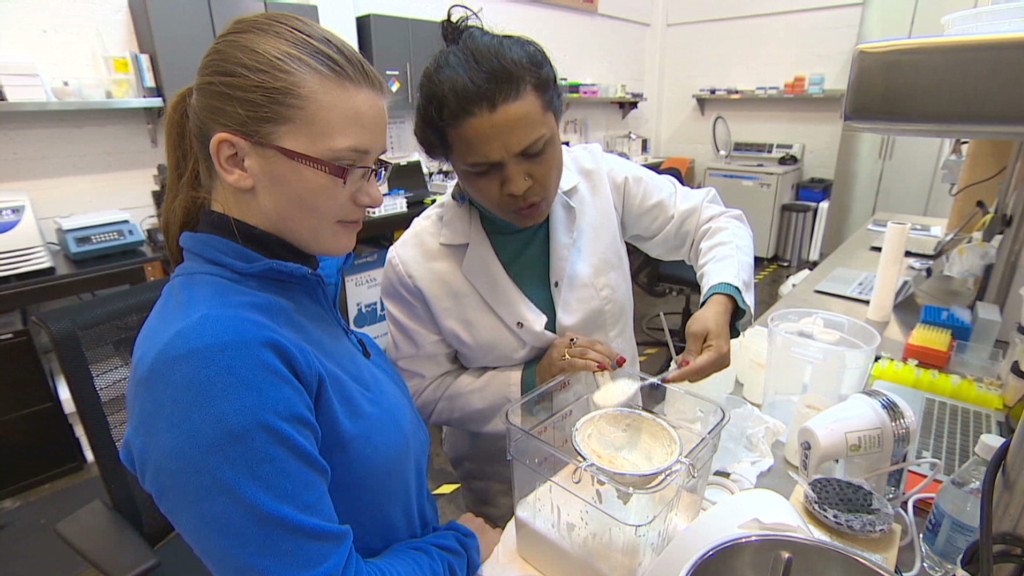 Unilever takes its mayonnaise very seriously. But this time, the global food giant appears to have egg on its face.
In October, Unilever filed a lawsuit against Hampton Creek, a San Francisco start-up that makes an egg-free mayonnaise substitute called Just Mayo.
Unilever (UL) owns Hellman's mayonnaise and Best Foods, and accused Hampton Creek of false advertising and unfair competition.
Unilever dropped the lawsuit Thursday. The company didn't give a reason why.
The lawsuit claimed that Just Mayo does not meet the legal definition of mayonnaise since it isn't made with eggs. Unilever also took issue with the Just Mayo label, which contains an image of an egg, and said the vegan sandwich spread was inferior in taste and "performance" to Best Foods and Hellman's mayo.
Critics started a petition on Change.org calling on Unilever to "stop bullying sustainable food companies." The petition received more than 112,000 signatures.
Related: These 10 food trends could dominate 2015
Unilever said in a statement that it withdrew the suit so that Hampton Creek "can address its label directly with industry groups and appropriate regulatory authorities."
Hampton Creek, which also makes egg-free cookie dough, is on a mission to develop plant-based alternatives to products made with eggs. The company argues that current egg production is unsustainable because it requires farms to produce vast amounts of chicken feed, using up valuable resources such as water and land.
The company recently raised $90 million in funding from private investors, including Marc Benioff, founder and CEO of Salesforce, and Eduardo Saverin, co-founder of Facebook (FB).
Related: Quinoa is now part of a complete, balanced, breakfast
Unilever, in its statement applauded Hampton Creek's commitment to innovation and developing sustainable food products.
"It is for these reasons that we believe Hampton Creek will take the appropriate steps in labeling its products going forward," said Unilever.
Hampton Creek chief executive Josh Tetrick welcomed Unilever's decision.
"Hampton Creek was founded to open our eyes to the problems the world faces," Tetrick said on Facebook. "This moment has only validated why."