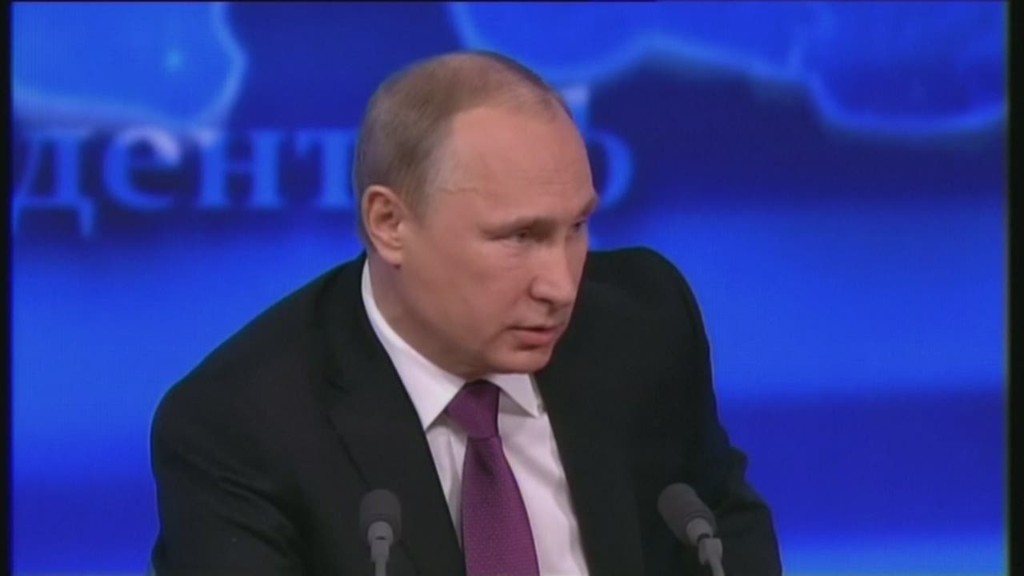 Russia's debt has been placed under review for a potential downgrade by Standard & Poor's.
The ratings agency said Tuesday the move "stems from what we view as a rapid deterioration of Russia's monetary flexibility and the impact of the weakening economy on its financial system."
The ratings agency currently rates Russia's debt at one notch above junk status and a downgrade would nudge Russia over.
S&P said that there is a 50% likelihood that Russia will be downgraded in the next 90 days.
Russia's economy has been pushed to the brink of recession by falling oil prices -- half of the government's revenue comes from oil and gas exports.
The nation's currency has plunged to all-time lows, raising concerns that it is headed for a full-blown financial crisis. The Russian central bank has hiked interest rates five times this year in an attempt to prop up the ruble.
Russians have been rushing to withdraw rubles and convert them into dollars, worried about the devaluation and the soaring price of imported goods.
The rates Russian banks lend to each other have more than doubled in the past month -- overnight lending rates now stand at 25% -- indicating just how serious the funding crisis has become.
Russia's central bank said Monday it would provide an emergency loan of 30 billion rubles ($545 million) to keep a struggling bank afloat and protect customers' deposits while it engineers a longer term bailout involving a bigger Russian bank.
The ruble gained ground Monday, after bouncing off a record low against the dollar last week as Russia drained billions more from reserves to buy its currency, and announced a series of measures aimed at shoring up the banking industry.
They include a plan to pump one trillion rubles ($16 billion) into Russian banks next year, and new deposit insurance that guarantees savings up to 1.4 million rubles ($23,200).